Stylish Loft Conversion & Reconfiguration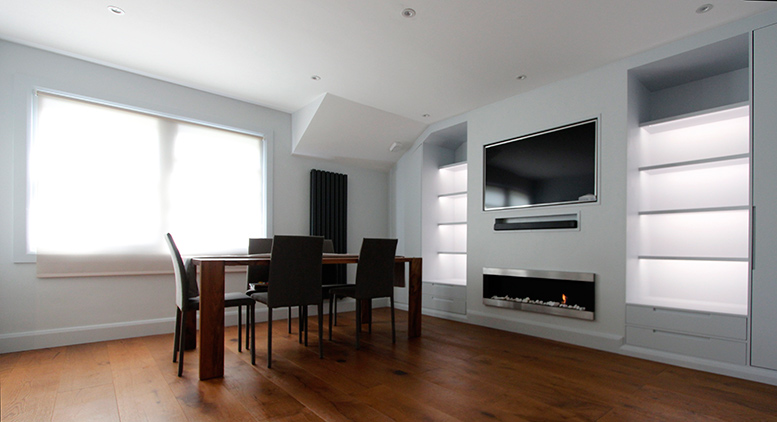 Recent stylish loft conversion & reconfiguration in South London by Extension Architecture.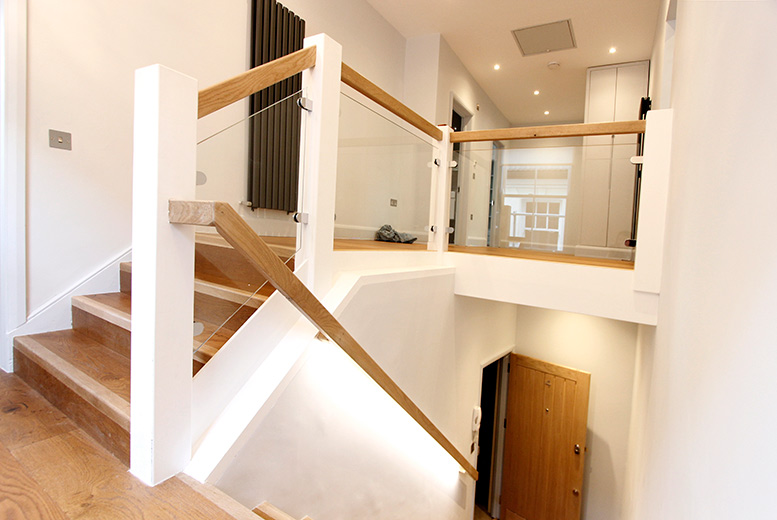 introduction
---
►

background information

This was a great project with one of our developer clients who had simultaneously done another project with us, near Battersea Park. There were similarities for example with the excellent finishes and styling, yet this one was larger in terms of room sizes, stairwells etc. (The other project is in a smaller cottage style flat which favoured technical solutions such as a sliding door and accordion wardrobing to optimise the space.)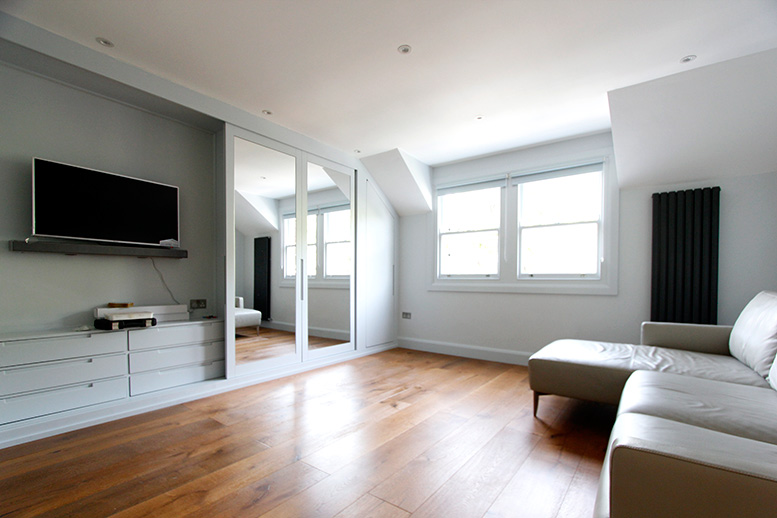 Now you see it…
►

original

scope

The top floor flat was to be transformed from two to three bedrooms via reconfiguration and a loft conversion, subject to permission from freeholders. The client requested 2 planning quotes for this project: 1. For front and rear dormers (unusually, there were precedents on the same street for front dormers). 2. For a rear dormer. This application was to retain the flat as one unit, (although the client would also like to convert it to two units at some point in the future. So far, it has just been refurbished (because permission to alter the substantial loft space is still pending, subject to imminent changes in ownership of one of the other three flats in this large, semi-detached house in SW16.)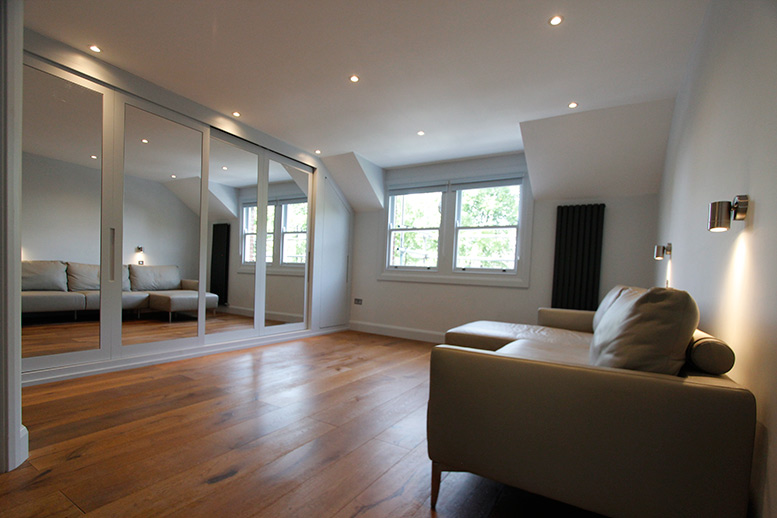 …now you don't!
One of the new spaces created by our Design Team, with the option to hide the TV.
►

the planning

route

The two projects had started simultaneously, then this one was put on hold whilst awaiting freeholders' confirmation. We commissioned a Feasibility Report as well as 3D Immersive Design renders and a Pre-planning application. The owner wanted to maximize the upper flat in a house which had already been converted to flats. He wanted a loft conversion and to divide the space into the maximum number of rooms, but our senior Italian architect had to adhere to minimum room sizes as per the council policy.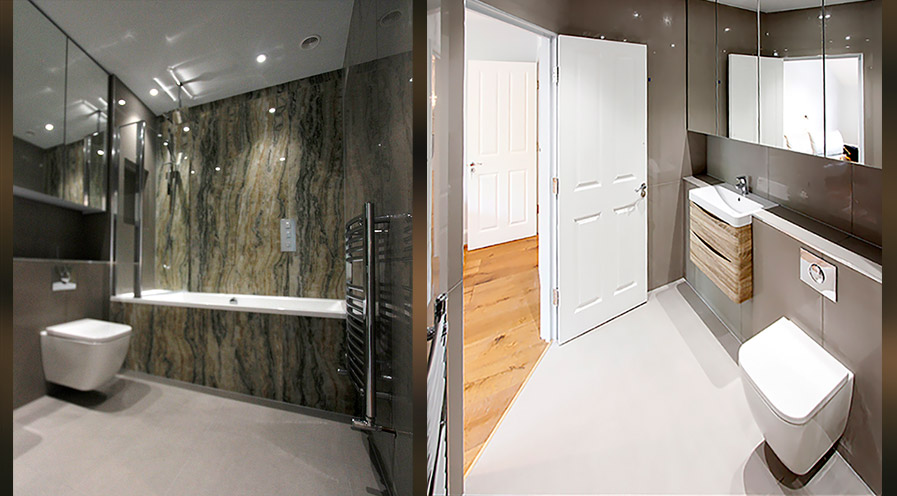 Part of our brief was to create an additional bathroom, and refurbish the existing one.
►

the final

results

This was a total fit-out / refurb which was beautifully done in tandem with the reconfigurations. The brief was to add a bedroom and second bathroom via the best, accepted option. It was worth the wait, as it all looks very appealing and smooth with nothing compromised, even though there would have inevitably been design hurdles to cross.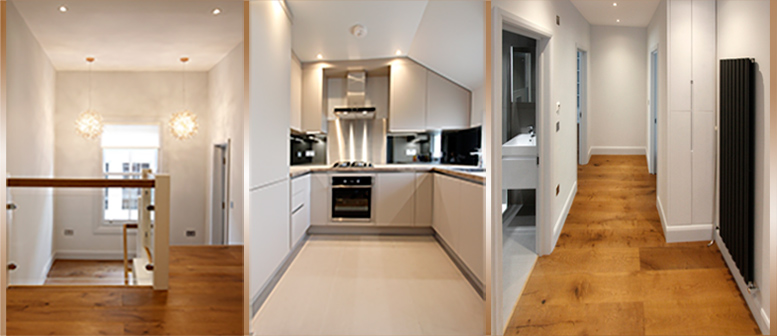 From left: landing, kitchen and hall.
a stylish loft conversion & reconfiguration
---
►

just for you

If you have you asked yourself: 'How much is a loft conversion?', we can guide you regarding the average cost of loft conversion work, as well as giving you a free quote for planning fees to get you on the road to your stylish loft conversion & reconfiguration.

Have a look at our extensive portfolio of loft conversions London style. We have good technical experience with loft stairs and other technical issues, as well as loft conversion price indications.

Our Tender Packs can specify the correct loft insulation so your property does not get too cold (or hot). We can indicate a loft conversion cost at this stage in terms of building quotes.
►

get

in touch

Contact our planning team to get you started with your dormer loft conversion. Call 0203 409 4215 or leave your details here. Our planning team will contact you for more details and a free quotation.
►

further

reading

The Planning Portal is handy for information such as general and specific guidelines on fire safety – and although these are the prerogative of Building Control – it is good to be aware of them yourself so they can be accountable for your safety.