Factors Affecting The Cost Of Double Storey Extensions
Of course, there is no set price for a double-storey extension – it depends on the size of the room, the materials used in the extension, the desired window size, and any extras. Generally, we consider a double-storey extension to cost 50% more than a single storey extension.
The average room size is 18 square metres, and for double-storey extensions, one square metre can cost up to £3000, depending on a few variables. This would put the price of a double-storey extension at £54,000 if there were no additional costs. Sometimes the cost per square metre is less; for example, if we quote it at £2,000, the total cost would be £36,000.
However, if you want your double-storey house extension London to be slightly more glamorous, with finishes like timber beams, skylights, and underfloor heating, the price could be significantly higher – possibly £80,000 or more.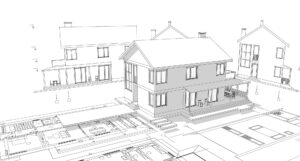 What Else Do You Need To Consider For Double Storey Extensions?
There are some other costs to consider when planning your extension. As this is significant work, you will need the appropriate planning permission to be able to go ahead with the project. Some things that you'll need to do include filing your planning application, which costs just over £1000, completing any building regulations and conducting a site survey, which also come with fees. This can easily total £3500, so it's important to bear these factors in mind when thinking about building a double-storey extension.
The costs of a double-storey extension vary greatly. If your floor area is smaller and you are happy to decorate the space yourself, you could end up spending a lot less. However, it will be significantly more if you want state-of-the-art finishes.
Invest In A Double-Storey Extension Today
Ultimately, getting a double-storey extension is generally cheaper than upsizing to a new home, so it is a great option for people who want more space but don't want to move. It's also worth remembering that any kind of extension on your house will give it a higher market value when it comes to selling it, so it can be an amazing investment. If you want to build this type of extension at your house, get in touch with Extension Architecture today for more information.