The government has recently permanently extended the Permitted Development rights. This means there is no longer the rush to have your development completed before May 30th!
Any such proposal will still be bound by the relevant Neighbour Consultation Scheme and your Local Planning Authority will be informed.
TABLE OF CONTENTS
Updates before 04 Apr 2019
As the year draws to a close many find themselves reflecting on their achievements and the goals they have yet to meet as the New Year makes its appearance. The approach of May 2019, in particular, marks the end of an exciting era of increased freedom for homeowners-the end of the Permitted Development Rights which made so many of our clients' dreams come true in recent years. Time is truly ticking on the manifestation of your dream home.
Contact us for an expert advice on your project queries for may 2019
What is Permitted Development?
Permitted Development Rights are a set of policies which allow homeowners greater freedom in enlarging their home, granting pre-approved permission. By acting upon these rights you can extend your property to a certain degree, greater than the norm, without the need for Full Planning Permission, which can be a more expensive and time-consuming process, as long as you comply with relevant rules.
This generally applies to the single-storey side or rear extensions, loft conversions, front porches, double storey extensions, outbuildings, solar panels, skylights of dormer windows and new windows or doors. However, even Permitted Development has its restrictions and does not cover double-storey extensions, larger loft conversions, flats or most properties in conservation areas.
The Origins of Permitted Development
Whilst Urban Planning Regulations are not new, the root of its conceptualisation dates back to an Act of Parliament in 1948 when the government desired more control and reduced the number of Planning Authorities to ensure clarity of the law. This became a keystone in the development of Town and Country Planning which governs us today.
New permitted development rules on two storey extensions
As of October 2019, new rules are being phased in which will allow homeowners to build extensions onto detached homes without requiring planning permission, under the usual rules of permitted development. This will make adding a two-storey extension to your home no more complicated than having a loft conversion.
This doesn't mean that there is no paperwork involved in undertaking a two-storey extension, but it will make obtaining permission for the extension much simpler. Applications for lawful development will need to be submitted to the council, but the requirements are much less strict and sometimes only a letter and a sketch will be enough evidence needed to gain permission.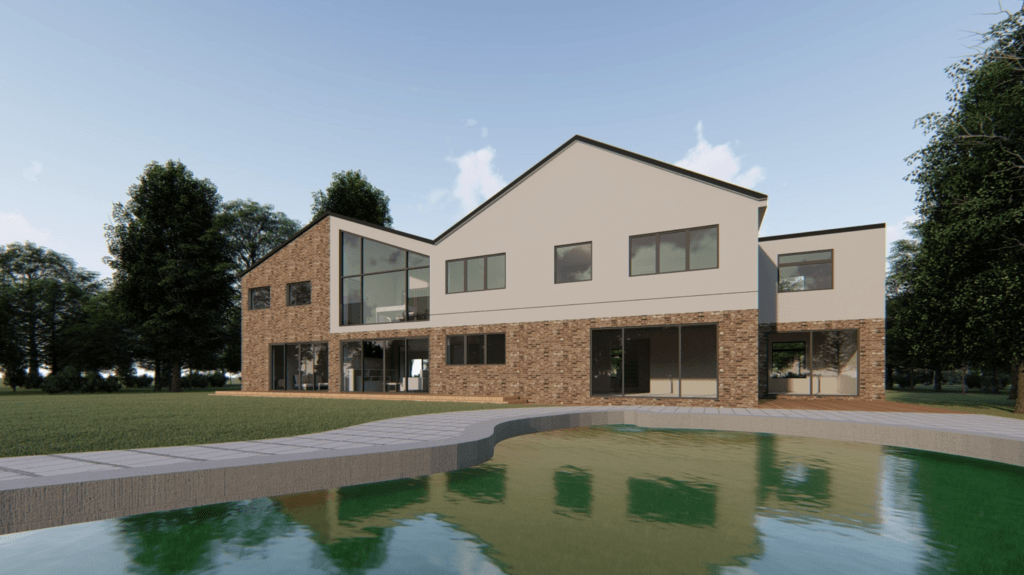 Homeowners will still need to comply with building regulations when developing their extension, but neighbours will have no routes to formally object since the extension will be covered by permitted development rules. These new rules are thought by the government to be beneficial in encouraging families to extend their existing homes rather than moving when more space is needed, as well as encouraging developers to add new homes to existing blocks of flats.
To begin with, the new rules are being rolled out to purpose-built blocks of flats, but it is intended that the rules will be rolled out to all detached properties over time, making this a crucial aspect of permitted development rights for families and homeowners living in the UK. While some critics have voiced concerns that this change in law will lead to unsightly developments, it will support families who would like to undertake a two-storey extension without enduring the cost and bureaucracy of obtaining planning permission.
Developers and small businesses will also appreciate the changes, which will simplify and hasten the process of extending small commercial premises and converting disused commercial premises into new homes. Developers will not have to get detailed planning permission to demolish disused properties under a 'permission in principle' system, which will go some way to reducing 'dead time' at the start of development.
Outlines for this change were originally set out by Sajid Javid over 18 months ago, with the initial plans being that two-storey extensions would still require light touch planning permission. The rules have since been fleshed out by Housing Secretary Robert Jenrick into a reform which completely eliminates the need for planning permission for two-storey extensions.
PLANNING PERMISSION FOR PERMITTED DEVELOPMENT AFTER MAY 2019
In more recent years, the more relaxed Permitted Development Rights enacted since 2015, have allowed families to have up to 75% more extension space without Full Planning permission, allowing twice the usual space allowed for single-storey rear extensions. However, in May 2019, these freedoms are set to expire with no clear statement from the Government or councils on its continuance on the platform of a severe housing crisis where homeowners are clambering to ensure the optimisation of their home.
As planning specialist we have had an array of projects maximising their space under Permitted Development rights and are able to make the journey for clients wishing to harness their rights a more relaxed and pleasant experience, complementing design creativity and flair with an in depth understanding of policies. Do not hesitate to contact us with projects or queries. Let's make that New Year's resolution to maximise the value and quality of your home come true. The time is now.
WILL PERMITTED DEVELOPMENT BE EXTENDED BEYOND 2019?
Guidelines
---
See below for a detailed guide to Permitted Development Rules for single and double storey rear extensions, side and roof extensions, loft conversions, porches and outbuildings. You can use it to check if your project proposal can be done within Permitted Development (PD) Rights – or if it will require a full Planning Application.

GPDO & recent changes in 2019
Urban planning restrictions are not new; King Henry's Mound in Richmond Park has a clear view to St Paul's which for which the king created an edict – or protected view in the year 1710. Conservationists in 2016 objected however, that a tower construction beyond St Pauls in Stratford nevertheless spoiled the view (by photobombing the background.) Unfortunately – to date – the build has not been halted.)
In 1948, an Act of Parliament became effective which included the introduction of Permitted Development and Planning Permission. The Act was central to the future of Town and Country Planning, with the advent of listing buildings of special interest.
It reduced the number of planning authorities from 1,400 to 145 and gave them a lot of control, whilst expecting them to prepare development policies autonomously, according to the particular character of their respective region of governance.
Permitted Development (PD) Rights state that you can extend your property to a certain degree, without the need for full permission, as long as you follow the relevant PD Rules. These Rights were reviewed in 2008, when certain conventional rules were replaced with more complex regulations regarding extensions and outbuildings.
Later in 2012, the rules were relaxed for a time to encourage the development of existing properties. An Order was created* in 2015 with some amendments to PD which was to be reviewed in May 2016. At that time it was then decided to further extend the new rules until 30 May 2019. Also at that time, minor changes were made to PD rules for commercial applications such as offices.
[The town and country planning (general permitted development) (England) order 2015]
[Permitted Development technical guidance 2016; general permitted development order 2016; town and country planning (general permitted development) (England) order 2016]
Under the more relaxed PD Rights, some families have enjoyed up to 75% extra extension space without needing any Planning Permission. They have been able to add twice the usual space allowed for single-storey rear extensions. (This is probably because of the pressure of an increasing population on our limited housing stock, making it easier for families to extend into their loft spaces or their back land.)
The clock is ticking, because on 30 May 2019 the Government's relaxed view about PD Rules will again be reviewed (and possibly revised). There is an argument to say the more ambient rules regarding domestic extensions may likely continue after May 2019, but there is no guarantee.
Larger home extension scheme after May 2019
Also, there could be additional changes and restrictions to observe again for commercial (and possibly residential applications). The reason for this confidence is that the trends of our rising population vs our housing stock issues have continued unchecked, especially in the capital. However, there is also the continued shortage of new sites and plots in congested areas, so it is not advisable to wait. Planning applications take the best part of 3 months to the process, so do take advantage of these guidelines while you can. You should be able to extend your home twice the previous maximum of 3-4m (terraced/end terrace/detached).
What can be done under Permitted Development?
The amount of work you can do with your PD Rights varies according to several considerations such as location and how much other development has taken place on the site since1948, even if it was done by a previous owner.
Front porches
Outbuildings
Solar panels
Skylights or dormer windows
New windows or doors
For conditions and more information, see Detailed Guide below.
WHAT CANNOT BE DONE UNDER PD?
class="alignnone size-full wp-image-30368″ src="https://extensionarchitecture.co.uk/wp-content/uploads/2017/11/loft.png" alt="interior loft image for article on permitted development" width="100%" height="auto" />Most lofts can be done under PD.
Double storey extensions to the boundary
Larger loft conversions
Any proposal in a flat (PD is only for houses)
Any proposal in a conservation area
For exceptions, see Detailed Guide below.
Summary
PD Rules are a good thing because you may not need to do a full planning application. Currently your extendable space is greater than before 2008. Applications under PD still have to go to the council, although the requirements are less stringent than with full planning. With full planning you need professional architectural plans, sections and elevations, whereas with some planning departments a letter and hand-drawing can suffice. That said, your approval will more sure if you include architectural drawings and calculations, which we can help with.
UNDERSTANDING YOUR PD RIGHTS
With us you can easily learn which PD rules affect you. We give free consultations, planning advice and quotations. If you are thinking of doing an extension or a loft conversion, call us and we can study your proposal free of charge to ascertain whether your Planning Authority Department policies will require a full planning application, or if it can be done under Permitted Development Guidelines.
How we can help you
We can help you by preparing submitting your application to make the process a lot easier for you, and to give you the best chances of approval. Call us on 0203 409 4215 or email us your details for a call back.
Permitted Development & Extensions

Single Storey Extension
Kitchen extension
Double Storey Extension
Loft Conversion
Written By

Request a free quote
Free consultation : 02034094215