Planning Applications
How Extension Architecture takes on planning proposals
Following the initial site assessment (which can be conducted remotely to be efficient), a site survey would be carried out to gather all the existing dimensions and a photographic survey to document the existing site. Usually within 1-2 weeks, the initial drawings are prepared with options for the client to consider and can be discussed with our consultants for the best proposal. We always ensure communication with the clients liaising with them the optimised design solutions, amending drawings to the client's feedback but making sure that they are feasible for planning application. Once everything is finalised and approved by the client, the application will be submitted to the local authority.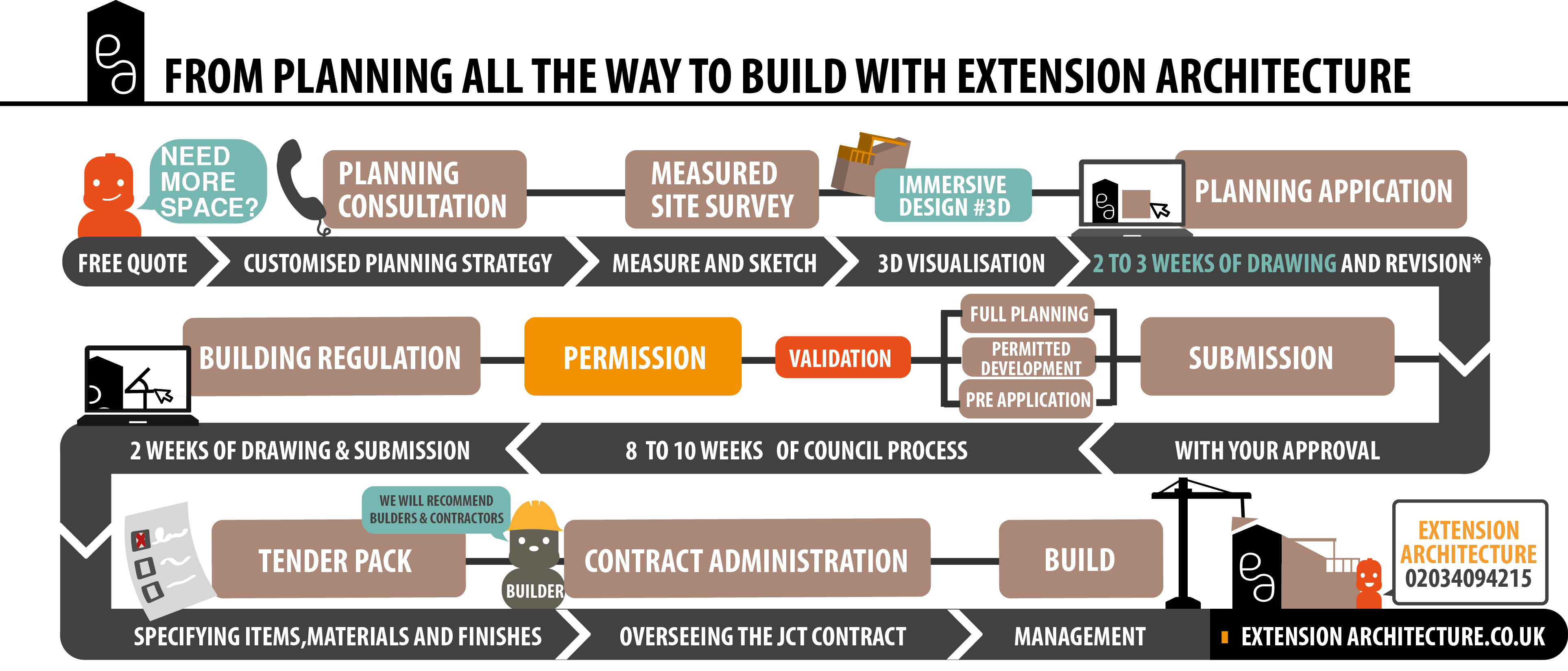 Before undertaking a design project we would assess the history and context of the site and its surroundings. We research the local planning authority and establish what planning applications previous neighbouring properties have proposed, either accepted or refused. We also examine whether the property is under a Conservation Area, a listed building or within a floor
risk zone. These factors would affect the planning applications and additional documentation is required to supplement the proposal. However, such constraints we would guide the client appropriately.
Our consultants at Extension Architecture submit most applications online using the planning portal. However, there are occasions (usually for larger developments) when it may be necessary to prepare a written application with bound drawings and documents. Please note – Extension Architecture cannot guarantee that planning applications will be granted.  
What do planning applications require?
Full planning applications include:
All existing drawings of the property (floor plans, elevations, sections)
All proposed drawings (floor plans, elevations, sections, site plans)
A detailed Design and Access Statement (if required)
Heritage Statement, Flood Risk Assessment, Arboricultural Report etc (we will advise if these are required for your planning applications)
Site plan and block plan, Ordnance Survey Map
Application forms, Notification letters, CIL Questions
Click the Link below to read the relevant topics
WHAT ARE PLANNING DECISIONS BASED ON?
PLANNING PERMISSION AND THE LAW
WHAT IS THE NEIGHBOURHOOD PLAN?
MATERIAL CONSIDERATIONS WHICH CAN AFFECT APPLICATIONS
APPEARANCE, MATERIALS & DESIGN / ARCHAEOLOGY
DENSITY OF THE BUILDING & LAYOUT / DEVELOPMENT BENEFITS
WHAT IS THE NEIGHBOURHOOD PLAN?
PLANNING APPLICATIONS
HOW TO – Step by Step
 Does your project need planning permission? This is determined by factors like the size of your build, the permitted development rights which apply to your property, and whether you live in a conservation area. You will be aware that the application process can be daunting, so if you require permission, use this guide to improve your chances of success.
This guide is conveniently presented topic by topic, for your information:
What are planning decisions based on?

How material considerations affect applications

Things that won't affect applications

Things to do before you start

See this information before you submit

Sending your applications to the council

What happens next?

FAQs about planning applications

What are planning decisions based on?
What are planning decisions based on?
Main points
Local Planning Authority development policy and material considerations

Many factors relate to land development, although private matters do not

See your local neighbourhood plans for relevant development policies
PLANNING PERMISSION AND THE LAW
It is lawful for planning applications to be decided according to development policy, unless there are contra-indications with material considerations. Application decisions are therefore policy-led, as opposed to influence-led. Near neighbours and the public will be consulted in most cases, but the result of the application will not be decided via popularity or grievance. Planning policies prevent results being decided by arbitrary, perverse or improper factors.
WHAT IS THE NEIGHBOURHOOD PLAN?
This is the plan intended to give best policy to the local community via consulting the people who use the area, from its residents to businesses, stakeholders and local MPs.
These plans are the first policy documents a Local Planning Authority will consult. They are made up of written policies, explanations and proposal maps covering issues such as:
Area-specific issues

Community

Countryside

Design

Development Control Criteria

Employment

General Strategy

Green Belt

Heritage

Housing

Sustainability

Tourism & Leisure

Transport
Councils sometimes add to local plan use via Supplementary Planning Documents or Guidance (SPD or SPGs) which give further guidance about affordable housing, financial contributions, design and other area-specific considerations. Local plan policy needs to be in line with the government's national planning policy framework (NPPF).
MATERIAL CONSIDERATIONS WHICH CAN AFFECT APPLICATIONS
Local Authority Planning Departments base their decisions on material considerations. This can be complex since what defines a material consideration is not specified in law. Moreover, not every material consideration applies to each project. The most common material considerations which might impact applications are:
APPEARANCE, MATERIALS & DESIGN
Design covers things like dimensions, shape, proportions, materials, style and finish of a building. Acceptable design is subjective and variable. With respect to material considerations, the design should fit its surroundings by following, reflecting or tastefully contrasting the design of adjoining buildings.
ARCHAEOLOGY
If an area contains an archaeological site, it may be protected. It may not result in a refusal, but the site will normally require excavation before work starts. The developer should also take extra care with the site.
DENSITY OF THE BUILDING & LAYOUT
The proposed scale and design of a new build should match the existing site with respect to the nearby buildings, retaining the character of the area.
The amount of space round a build is also important, as well as where it sits within the plot. Following the pattern of the area in this respect also defines the character of an area.
DEVELOPMENT BENEFITS
Sometimes the benefits of a proposal outweigh local or policy objections. This clearly is a positive material consideration.
ENVIRONMENT
The planning authority will consider the impact of new proposals on trees and plantlife, and wildlife, especially with any protected species (such as otters.)
GREEN BELT
In green belts, most new builds will be viewed as inappropriate, so material considerations will be very restrictive. However, there is a limited set of acceptable development criteria in the NPPF (National Planning Policy Framework).
Agricultural and forestry buildings

Outdoor sports facilities and, providing that open spaces and green belt purposes remain unaffected, outdoor recreation and cemeteries.

Extensions and alterations to existing

buildings,

provided they do not result in disproportionate additions to the scale of the original property.

You can replace existing buildings, provided the new building does not mean a change of

use,

and is not larger than the previous building

Limited housing for the local community and limited infilling of properties in villages so long as they follow the policies in the Local Plan

Limited infilling or partial or complex redevelopment of brownfield sites which are either redundant or in continuing use (not including temporary buildings), so long as openness and green belt purposes are unaffected.
PARKING & ACCESS
The noise of cars in parking places and access drives can constitute a material consideration, especially if the development is adjacent to existing residential properties with gardens. Highway safety will be considered, adequate physical access parking provision and turning space. Councils vary re parking requirements, for example the amount of off-street parking required is reduced if there are good public transport links, adequate road parking or public car parks.
PERMITTED DEVELOPMENT
What will also be considered is the level of permitted development rights.
PHYSICAL FACTORS
What this means is which buildings or obstacles are currently present. It is also the underlying ground conditions, and mapping & charting of the site as per existing topography. These can influence or constrain the preferred position of a proposal within a site. In addition, access to local services and amenities are common material considerations.
PLANNING HISTORY
This is a search of past approved permissions, refusals and appeals in the immediate area. This is a material consideration.
PRECEDENT
Even though planning history is considered, each case has to be looked at on its individual merits. Planners should be fair and consistent when applying their policies.
RESIDENTIAL AMENITIES
New builds need to be aware of their neighbours' right to light and privacy; generally respecting their amenities. Things like overshadowing or loss of comfort will be taken into consideration.
RISK OF FLOODING
Applications for new builds in vulnerable areas are likely to be unsuccessful, unless there are no other options outside the risk zone. 
SPECIAL DESIGNATIONS
The new build may possibly impact on areas of outstanding natural beauty, conservation areas or listed buildings. Buildings, views and open spaces contribute to an area's character, which is quite a big material consideration. Planners try to protect listed buildings, whilst the law protects conservation areas.
SUPPORT / OPPOSITION LEVEL
If public opinion lends weight to a subjective judgement, such as on its design merits, then this will be a material consideration.
Start your planning application with us
Our experienced team is ready to help you and provide FREE planning advice. We are here to help so pick up the phone and call us at 0203 409 4215.
our service
Our Prices & Case Study
Residential
Single Storey Extension
Double Storey Extension
Convert to Flat
Loft Conversion
Basement Extension
3D Visualisation
Developers
New Builds
Change of Use