Planning Applications
Double Storey Extension in Banstead

Date: October 2016.

Project Type: Double storey rear extension,
single storey side exension, Loft conversion.

Brief: Extension architecture were instructed to design a double storey extension to a detached house in Banstead. Our team of architects in London created  a rear extension to enlarge the dining / kitchen area, a new utility room with skylight, larger windows and bi-folding doors to maximise natural daylight.

Conversion to Two Units in Ealing

Date: July 2017.

Project Type: Replace double storey side / rear
wrap-around extension and conversion to 2 units.

Brief: Our client's house was on a large corner plot with a double
storey side extension that looked juxtaposed with the host building.
Our brief was to create a fluid cohesion on the front elevation, an in-fill extension at the rear and a conversion to two units. Existing and proposed front views.

First Class Extension in Tooting

Date: March 2017.

Project Type: Single storey rear extension and internal reconfigurations.

Brief: This client wanted a first class extension for their rental flat which they rented out. Later they decided to move in themselves, so the spec. was altered to their bespoke preferences. The existing rear extension needed extending to accommodate their reconfiguration proposal.

Smart Double Storey Extension in Kingston

Date: August 2016.

Project Type: storey extension, Loft conversion.

Brief: This client wanted a double storey extension and loft conversion London. Our team created strong 3D renders as visuals. Our planning consultants decided the best route for his chances of approval was to submit two the separate applications.

Reconfiguration in Epsom

Date: June 2017.

Project Type: Loft conversion and first floor rear extension.

Brief: This client wanted a loft conversion, first floor rear extension and internal reconfigurations to add a bedroom to their large semi. Because it the house is considered a 'positive' building in conservation and next to a listed building, we could not alter the roof pitch or height.

Extension and Landscaping in Sutton

Date: February 2017.

Project Type: Single storey rear extension and landscaping.

Brief: This family was a referral from one of our flagship project clients, for a single storey in-fill extension, internal reconfigurations on two floors, garage conversion and landscaping. We created a stunning new extension and stepped garden design for them.

Extension & Loft Conversion, Kingston

Date: September 2015.

Project Type: Double storey rear extension, Loft conversion.

Brief: The proposal was to redesign and modernize this detached house. To comply with the Council's planning regulations, our designers used a sensitive approach regarding the existing materials and form to preserve the character of the local residential architecture.

Double Storey Extension in Croydon

Date: April 2017.

Project Type: Double storey exension.

Brief: We were appointed to extend this semi-detached house in South Norwood to create a large dining and kitchen area for their busy family lifestyle. The planning approval was facilitated by a precedent which had been set by a neighbour who added two storeys.
Extension Architecture
---
Preferred Planning Strategies
Following the initial site assessment (which can be conducted remotely to be efficient), a site survey would be carried out to gather all the existing dimensions and a photographic survey to document the existing site. Usually within 1-2 weeks, the initial drawings are prepared with options for the client to consider and can be discussed with our consultants for the best proposal. We always ensure communication with the clients liaising with them the optimised design solutions, amending drawings to the client's feedback but making sure that they are feasible for planning application. Once everything is finalised and approved by the client, the application will be submitted to the local authority. </p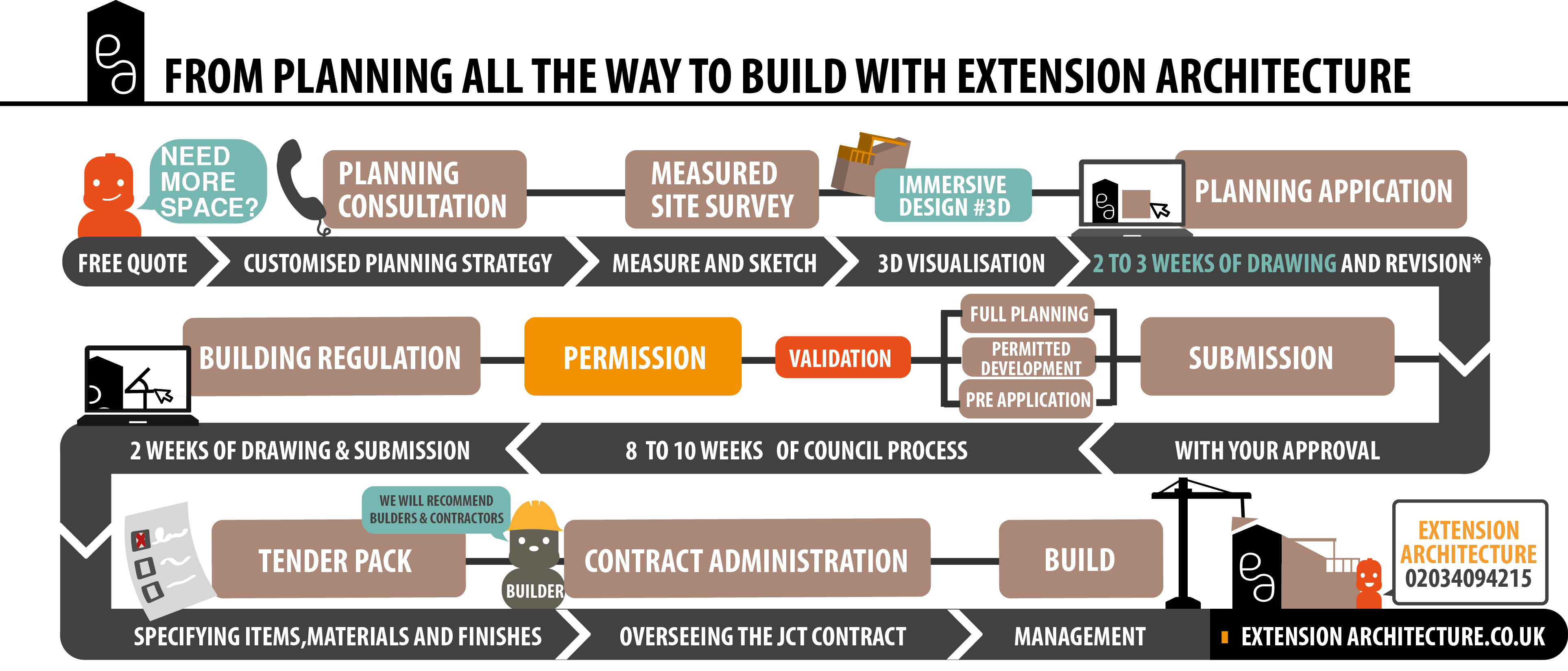 Before undertaking a design project we would assess the history and context of the site and its surroundings. We research the local planning authority and establish what planning applications previous neighbouring properties have proposed, either accepted or refused. We also examine whether the property is under a Conservation Area, a listed building or within a floor risk zone. These factors would affect the planning applications and additional documentation is required to supplement the proposal. However, such constraints we would guide the client appropriately.
Our consultants at Extension Architecture submit most applications online using the planning portal. However, there are occasions (usually for larger developments) when it may be necessary to prepare a written application with bound drawings and documents. Please note – Extension Architecture cannot guarantee that planning applications will be granted.
What do applications require?
---
Full Planning Applications include:
All existing drawings of the property (floor plans, elevations, sections)
All proposed drawings (floor plans, elevations, sections, site plans)
A detailed Design and Access Statement (if required)
Heritage Statement, Flood Risk Assessment, Arboricultural Report etc
(we will advise if these are required for your planning applications)
Site plan and block plan, Ordnance Survey Map
Application forms, Notification letters, CIL Questions
Click the links below to read more 
Our Services
---
Start your application with us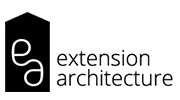 Get your planning application in motion here today.   
Our experienced team is ready to help you and provide FREE planning advice.
We are here to help so pick up the phone and call us at 0207 801 0566.
Choose from:
---
---
Our Prices & Case Studies
---
Residential
Single Storey Extension

Double Storey Extension

Convert to Flat

Loft Conversion

Basement Extension

3D Visualisation

Developers
New Builds

Change of Use