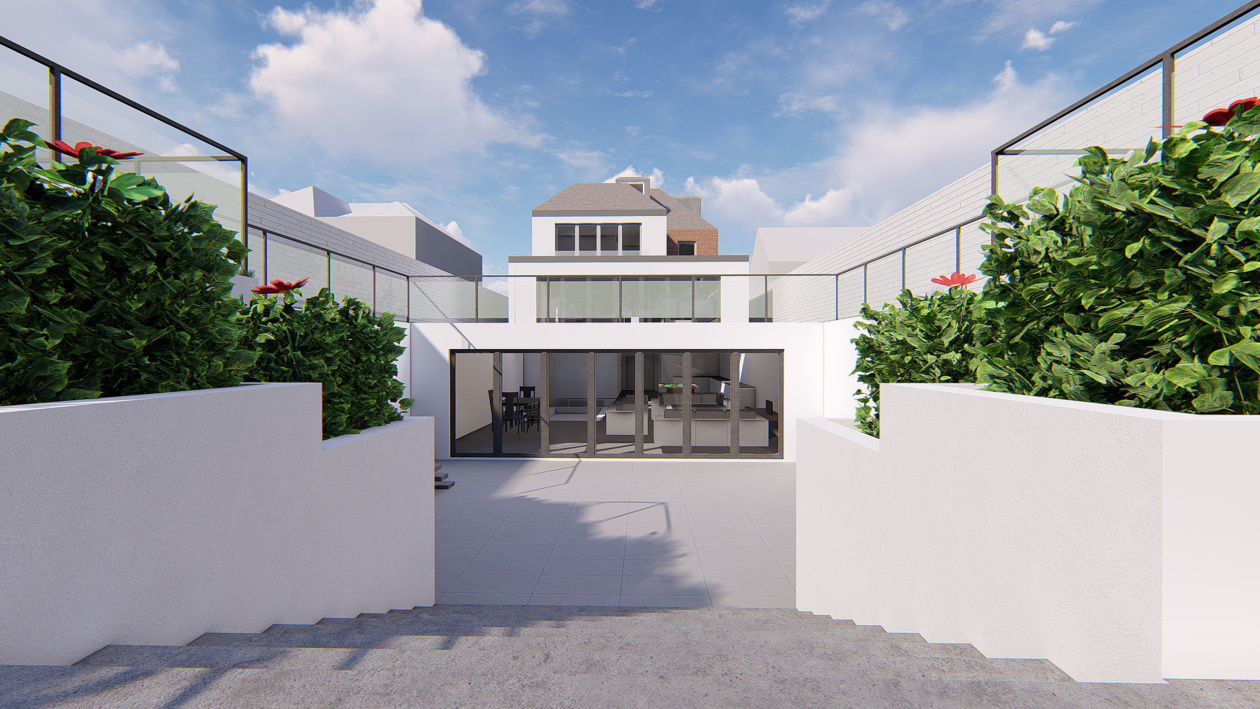 Basement Conversion in London
Find out our services for Basement Conversion in London
What are you interested in?

Our Services for Basement Conversion in London
Contact our basement conversion experts today and let us transform your London basement into a functional space. 
Our Services for Basement Conversion 
Increase your living space with a London basement conversion, offering a unique extension architecture solution that creates a distinctive room. If a traditional house extension isn't feasible in your location, a basement conversion provides the perfect opportunity to design your dream space away from the outside world, whether it's a bedroom, home office, playroom, gym, or even a swimming pool.  
One great advantage of a London basement conversion is the addition of internal living space without sacrificing your outdoor area or undergoing a complex construction project, making planning approval easier to obtain. Not only does a London basement refurbishment provide extra space for your enjoyment, but it also enhances the value of your property, particularly in desirable urban areas where space is highly valued. 
Our Works for Basement Extensions
Maximising Your Space with Basement Conversions in London
In a bustling city, limited space is often an unavoidable compromise. However, if loft conversion in London, a single-storey extension, or double-storey extensions aren't suitable, a London basement refurbishment provides an excellent opportunity to expand your home's space while preserving the outdoor area.  
Although some may be hesitant about the basement's potential darkness and coldness, its versatility offers immense possibilities. Being separate from the main house, you have the freedom to create an interior tailored to your needs without concerns about consistency. London basement conversions have become the preferred choice for home extensions in the city, offering endless possibilities.
Cellar conversions and basement refurbishments in London
When it comes to optimising space in London homes, both cellar conversions and basement refurbishments offer valuable options. While they share the common goal of transforming underutilised areas into functional living spaces, there are some distinctions to consider. 
Cellar conversions typically refer to the process of renovating an existing cellar or below-ground space that is already present in the property. These areas are often characterised by lower ceilings and limited natural light. However, with the expertise of our architects in London, even the darkest cellars can be revitalised and transformed into welcoming and practical spaces.  
Unlike cellars, basements are typically situated closer to ground level, allowing for more natural light and higher ceilings. This enables greater flexibility in design options and the ability to create spacious and well-illuminated living areas.  
Discuss Your Basement Conversion in London
If you're eager to explore the potential within your property, we encourage you to reach out to us today. Our team is ready to engage in a discussion about your objectives and guide you towards the most suitable approach, all while providing a free quote without any obligation. If you're seeking inspiration for your own home, we invite you to browse through a curated selection of our past projects below, allowing you to envision the possibilities that await. Don't hesitate to take the first step towards transforming your space into something extraordinary.
Basement Conversion FAQs
What is the cost of a Basement Extension?
The cost of a basement extension varies depending on factors such as the building type, size, location, geology, and conservation area considerations. Here are estimated costs provided by the Basement Waterproofing Association: 
Conversion of an existing basement: £900 – £1,400 per square metre.

 

Lowering the floor level of an existing basement: £1,500 – £2,000 per square metre.

 

Excavating a new basement space and underpinning: £2,500 – £3,000 per square metre.

 
Digging a new basement: £1,500 – £2,000 per square metre.

 

Creating a light well or external access: £5,000 – £7,500 per square metre.

 
Additional expenses to consider: 
Planning application council fees (if required): £206 (householder application), £462 (if new unit of accommodation is proposed).

 

Building Regulations application: At least £750.

 
Party Wall agreement (if required): At least £700 per neighbour.

 

Additional tax if using VAT-registered contractors: +20%.

 
Remember to take these factors and costs into account when planning your basement extension project. 
Do I need planning permission for Basement Extensions?
If your plan involves converting an existing basement without excavation or altering the external appearance of your property, it is unlikely that you will need planning permission. That said, if you intend to retrofit the basement by adding light, ventilation, or additional structural elements, or if you're considering creating an entirely new basement, planning permission, along with other required Supplementary Planning Documents (SPDs), will be necessary. Contact us for assistance from a London structural engineer on our team!
Can a Basement Extension boost property value?
Absolutely! A basement extension has the potential to increase the value of your home by as much as 30%. This is particularly evident in areas such as Hammersmith and Fulham, where space is limited, making basement conversions the most sought-after type of extension.  
I'm highly recommending Extension Architecture for their expertise to turn around a difficult planning application that I had refused from 2 other architects and they managed to get my additional new house at the end. A 3 year journey, but it was well worth it! I cannot appreciate enough their planning knowledge, and also now we are breaking ground. Their tender pack has saved me alot of hassle in choosing material inside the house myself. Especially their kitchen design has been great and cannot wait to see it realised. Thanks for all your input so far…
★★★★★
Delighted with the application approval that we got yesterday. As discussed initially, we were dubious of our chances as our property in Weybridge sits in a flood risk area + conservation area. But our full application for the 4m extension to the rear have been approved without any hassle. Also Elmbridge council was able to give us the approval within 7 weeks, so an added bonus. Thanks Especially to Youno who was very helpful in outlining all the pitfalls and guiding us to this position.
★★★★★
Thank you for your efficient service. Really impressed with the level of service and the speed!
★★★★★
Working with Nadir at Extension Architecture was a truly trouble-free experience. They explained the process and was always at hand whenever I had questions. I trusted their judgement whenever they provided amendments to my initial plan and was thoroughly happy with the end result! 11/10
★★★★★
Beautiful extension, Thank you!
★★★★★
Previous
Next