Architectural Drawings for Basement extension in Wandsworth by London architects, Extension Architecture.
Brief for Basement Extension in Wandsworth
---
This family had an L-shaped basement to the rear of the footprint, with a playroom and a long, skinny walk-in closet. Our brief was to extend their existing basement via creating a logical in-fill extension to the previous L-shape, to the boundaries of the footprint at the front and side lines. In doing this, we were able to add a guest room with an en-suite bathroom, shortening the closet and adding storage in the playroom.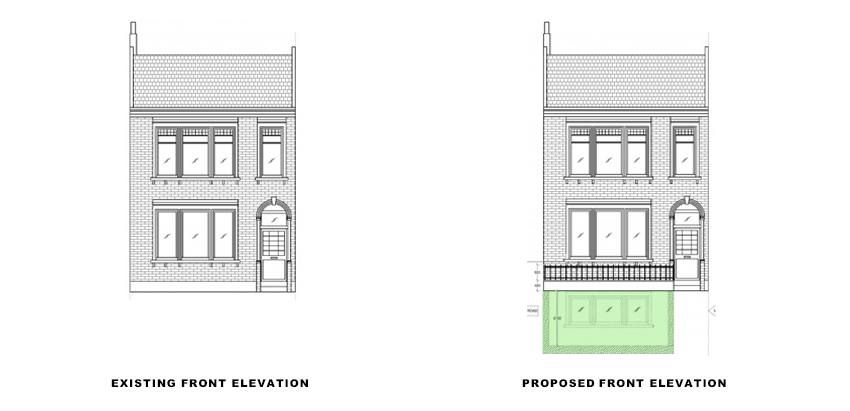 In addition, the rear of the house at ground floor level had also been another natural 'L', as per the mirrored designs of every pair of houses on the street (see block plan). The client also briefed us to create a partial in-fill to the L, extending almost to the side line, but allowing turning space to facilitate access to the side gate via a 'bite' out of the side in-fill.
We also completely reworked the functionality of this space, which previously had a toilet and bathroom on either side of the rear entrance. We replaced those 3 with bi-fold doors and a large kitchen / dining area, adding a bathroom to the left of the entrance to the kitchen from the main part of the house, and a utility room to the right of that doorway.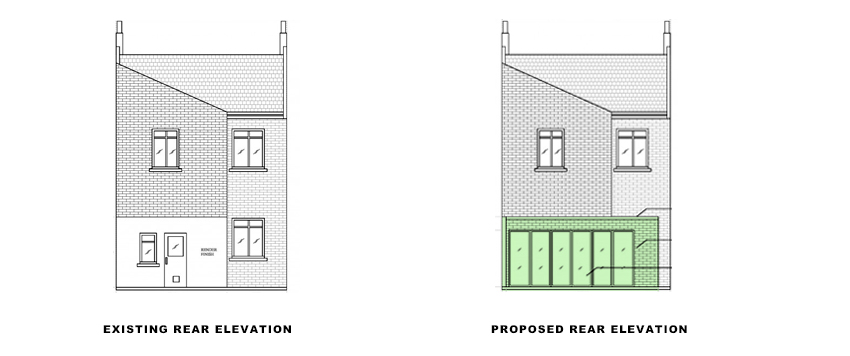 Planning Success for our Basement extension in Wandsworth
Planning consultants are part of our team, who can help you to make a strong application. In addition, we offer a 3D Immersive Design package which is an effective tool in convincing planning officers of the aesthetics of your build. We can also suggest the Pre-planning Application route, in the event of any contention with a proposal. (This used to be called 'outline planning permission'. See the Pre-app section on the Planning Portal for more details.)
If you need some advice regarding why you will need to satisfy the Building Control department of your local council, even for a small single storey rear or side extension, we can explain their role and process. We let you know about the council's planning application fees, to which we don't add VAT. We offer to submit your application and liaise with officers on your behalf for no extra charge.
Are you considering a basement?
Whether you are thinking of a Basement extension in Wandsworth or Wanstead, and are consulting the list of architects in London, we can help with general pointers such as regarding the supporting statement needed to obtain planning permission for your excavation. It is called a Construction Method Statement, and its requirements and cost can vary from borough to borough. We can commission this statement externally for you if you wish. The Construction Method Statement is to convince the planning officers about the safety of your build. We can also advise regarding basement extension costs.
We can help
---
How we can help you with your basement proposal:
Because of basement conversion costs, it used to be thought that only very exclusive areas would be viable for basement excavations, since the rising house prices in sought-after, desirable wards meant that with the increased property value, owners could guarantee recouping their investment costs later upon sale. Now we are seeing evidence of new excavations in more and more districts, such as SW16 (they had been more common in SW17). This shows that; contrary to the former thinking, people will build:
a) If they can afford it (build costs can be 2-3 times higher per square foot). b) If they can obtain planning consent, based on precedent cases in their respective areas.
Contact Us
Give us a quick call or send your details via button below to talk about your ideas. We can help realise your dream proposal, whether it is a loft conversion, basement or rear extension. We can do a free mini-feasibility study for you or invite you in for coffee and a presentation of similar, precedent cases which we have created.
Related Projects