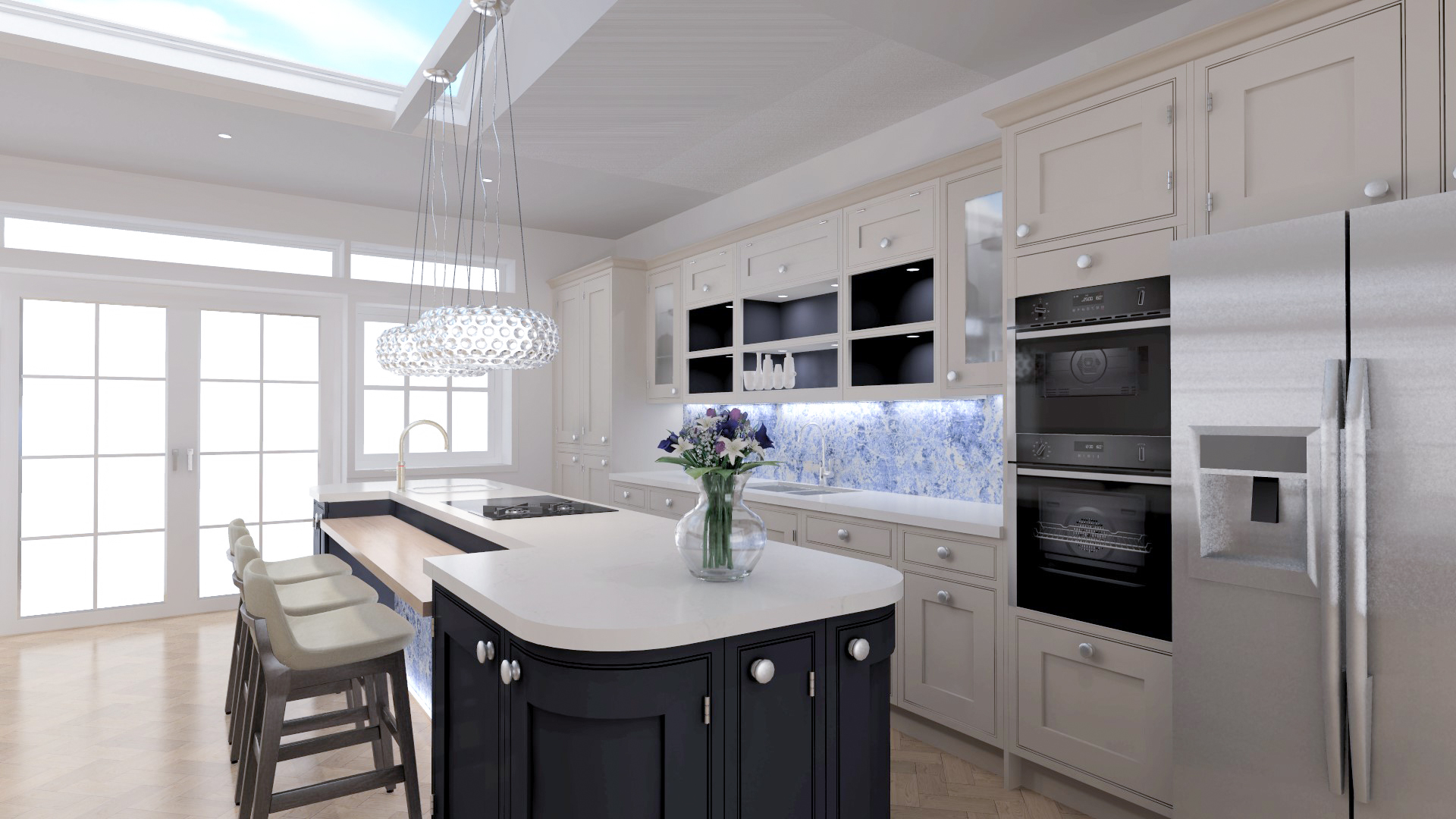 London Kitchen Extensions
Find out our services for London Kitchen Extensions
What are you interested in?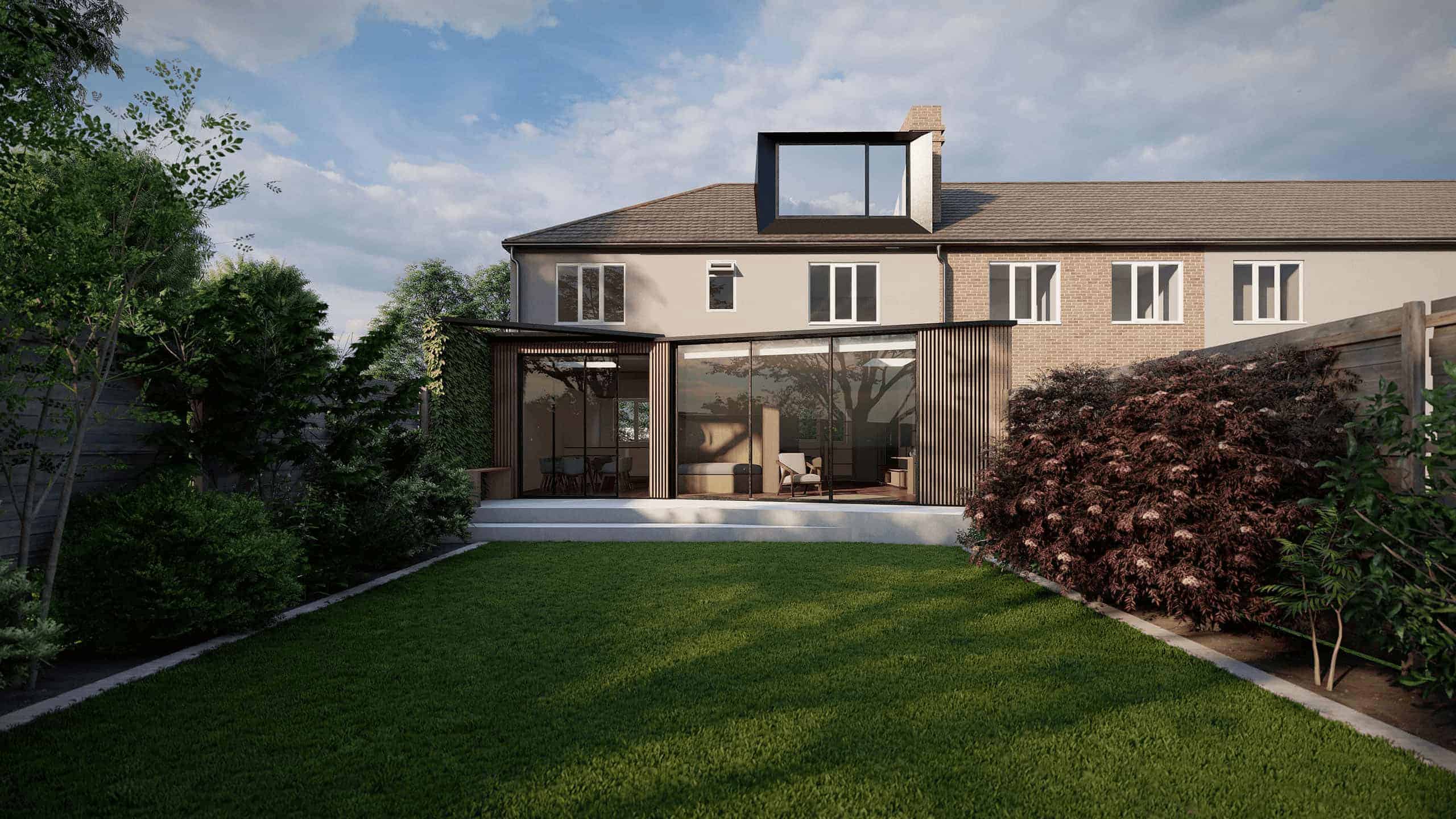 Our Services for London Kitchen Extensions
Discover our London kitchen extension services and find out how our architects can help you design a kitchen side extension for your home.  
Our Kitchen Extension London Services 
A single-storey kitchen extension in London offers an exciting opportunity to enhance your home with a vibrant and stylish new space. As the central hub of your daily activities, the kitchen holds significant importance, with the average adult spending over an hour there each day. A London kitchen extension can significantly increase your home's value, unlock its potential, and provide a personalised, practical, and comfortable environment. 
Extension Architecture specialises in single-storey extensions for your kitchen in London, offering tailored solutions to improve your kitchen. By choosing an extension, you enhance your property's value and create a functional and cosy space within your home. 
There are various types of kitchen extensions available in London, including kitchen side extensions and open-plan designs. Our expert kitchen designers and planners will guide you in selecting the best option to maximise your kitchen space, ensuring seamless integration with your existing home. From initial designs, including 3D visualisations, to construction, we provide comprehensive solutions to meet all your requirements. Contact us today to discover how we can transform your kitchen with our exceptional London kitchen extension designs. 
Our Works for Kitchen Extensions
Small Kitchen Extension Ideas
If you're considering a kitchen extension to create a charming kitchen-diner, we have a range of small kitchen extension ideas to inspire you. Contact our London structural engineers and architects today for more information and a free quote. Our experienced team has worked with various property types and can offer innovative solutions to increase your space efficiently and within budget.  
Whether you have a narrow plot or desire a luxury glass kitchen extension, we will provide expert advice and ensure the highest quality results. You may even be able to utilise permitted development rights for a side, rear, or orangery kitchen extension, making the process even easier. Let our design team assist you with planning permission, layout plans, kitchen design, and cost estimation to bring your kitchen extension goals to life. 
Large Kitchen Extension Ideas
For those seeking spacious kitchen extensions, our architects are here to help. We specialise in creating large kitchen extensions that optimise your space and provide a seamless flow. Consider options such as a U-shaped kitchen, an L-shaped kitchen with a central island and breakfast bar, or a linear kitchen extension that opens up the room and expands the floor area for additional activities.  
When designing your kitchen extension, we prioritise the triangle rule, ensuring easy accessibility between the sink, oven, and fridge. This layout enhances efficiency and comfort in your kitchen. Trust our expertise in planning permission and bespoke kitchen design to deliver the perfect space for your needs. Contact us today to explore the possibilities and transform your kitchen. 
London Kitchen Extensions: How Much do they Cost?
London kitchen extensions are highly sought-after home improvements, especially considering the kitchen's central role in daily life. Small extensions offer a cost-effective solution to expand existing space, while larger extensions can be truly transformative. The average kitchen extension cost in the UK is £30,000, with London extensions reaching around £50,000.  
However, prices can vary greatly based on factors like tradespeople, materials, and finishes. It's crucial to consider all aspects, including size, location, materials, and external costs, which will influence the overall price. Consider single or double-storey extensions for maximum project benefits, but be sure to budget for materials, labour, fixtures, and additional expenses such as structural engineer fees.  
How Much Value Will a Kitchen Extension Add?
A kitchen extension in London not only adds value to your home but also attracts potential buyers or renters, increasing the chances of a quick sale. On average, kitchen extensions boost home value by 20-30%, influenced by the build quality, design, and kitchen itself. The kitchen is the heart of the home, with adults spending significant time cooking, eating, and entertaining.  
An open plan kitchen extension connected to a living and dining space will further enhance this experience, making it a valuable addition. Ready to transform your kitchen with a stunning extension? Contact us today and let our expert architects bring your vision to life. 
Frequently Asked Questions about London Kitchen Extensions
What's the cost of a Single Storey Kitchen Extension?
If the design aspect of the project can be fun on one side, coming up with general costs and a budget can be challenging. The available cost of your extension will ultimately depend on your brief. However, some general costs for a single-storey rear extension can be summarised as follows:
– UK Average sqm: £ 1,200
– London Average sqm: £ 1,600
These are general costs for an average quality extension. The high-end project costs in London can go up to £2,300 sqm.
A further breakdown of general costs can be summarised as follows: The use of your extension will also impact prices. Having an idea of how much you are willing to spend on a new kitchen or a new bathroom will be crucial when planning the cost for your unique project. Bathrooms and kitchens are trickier to budget than a bedroom or a living room as there is plumbing to consider and appliances and fittings. The cost of adding a kitchen to your extension will start at around 10,000 £ for a cheaper kitchen design. The final price will depend on the quality of the materials and appliances. Adding a bathroom to the project will increase the cost by about 5,000£, but this will also depend on the type of finishes you choose.
Rule of Thumb: As there are many variables to the costs of your project, it is good to have a general idea of how the budget will be spread and how the costs for professionals will impact the total cost: Architects London average fees 10% / Administration fees: 1% / Structural engineer: 4% / Surveyors: 3% / Contractors:30% / Materials 20% / Fittings 5% / Glazing: 15% / VAT 20%
Do I need planning permission for a Single Storey Kitchen Extension?
If you live in a terraced or semi-detached house in 2020, the good news is that Local Planning Authorities have relaxed the rules and allow extensions to go to 6 meters. If you live in a detached house, single-storey rear extensions can be up to 8 meters in depth. Just be aware that if your property type is a flat, maisonette or in a conservation area, then you will need full planning permission.
Side Extensions: Side extensions fall under permitted development if they do not extend more than half the width of the original house. You can extend a maximum of 3 meters if it is a single-storey extension and does not extend past the front elevation.
Will a single-storey extension add property value?
Research carried out by Nationwide shows how home improvements and home extensions can add significant value to your property. Adding a double bedroom to your house and an en-suite can increase its value by 23%. Adding square footage with a kitchen extension and a single storey rear extension more generally will boost the value of your property by 13%.
Please see our video for your Extension
I'm highly recommending Extension Architecture for their expertise to turn around a difficult planning application that I had refused from 2 other architects and they managed to get my additional new house at the end. A 3 year journey, but it was well worth it! I cannot appreciate enough their planning knowledge, and also now we are breaking ground. Their tender pack has saved me alot of hassle in choosing material inside the house myself. Especially their kitchen design has been great and cannot wait to see it realised. Thanks for all your input so far…
★★★★★
Delighted with the application approval that we got yesterday. As discussed initially, we were dubious of our chances as our property in Weybridge sits in a flood risk area + conservation area. But our full application for the 4m extension to the rear have been approved without any hassle. Also Elmbridge council was able to give us the approval within 7 weeks, so an added bonus. Thanks Especially to Youno who was very helpful in outlining all the pitfalls and guiding us to this position.
★★★★★
Thank you for your efficient service. Really impressed with the level of service and the speed!
★★★★★
Working with Nadir at Extension Architecture was a truly trouble-free experience. They explained the process and was always at hand whenever I had questions. I trusted their judgement whenever they provided amendments to my initial plan and was thoroughly happy with the end result! 11/10
★★★★★
Beautiful extension, Thank you!
★★★★★
Previous
Next