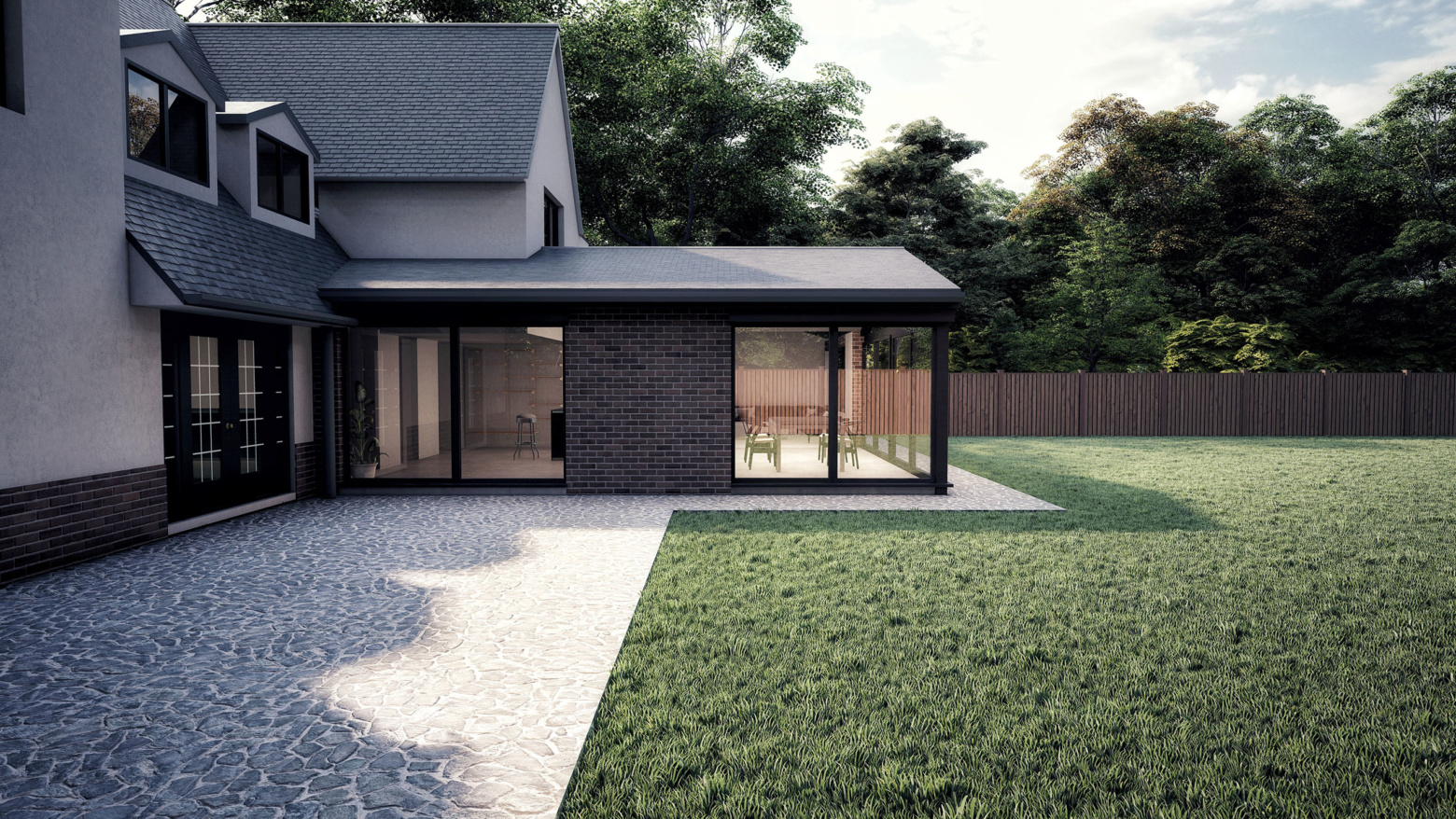 Find out our services for Single Storey Extension
What are you interested in?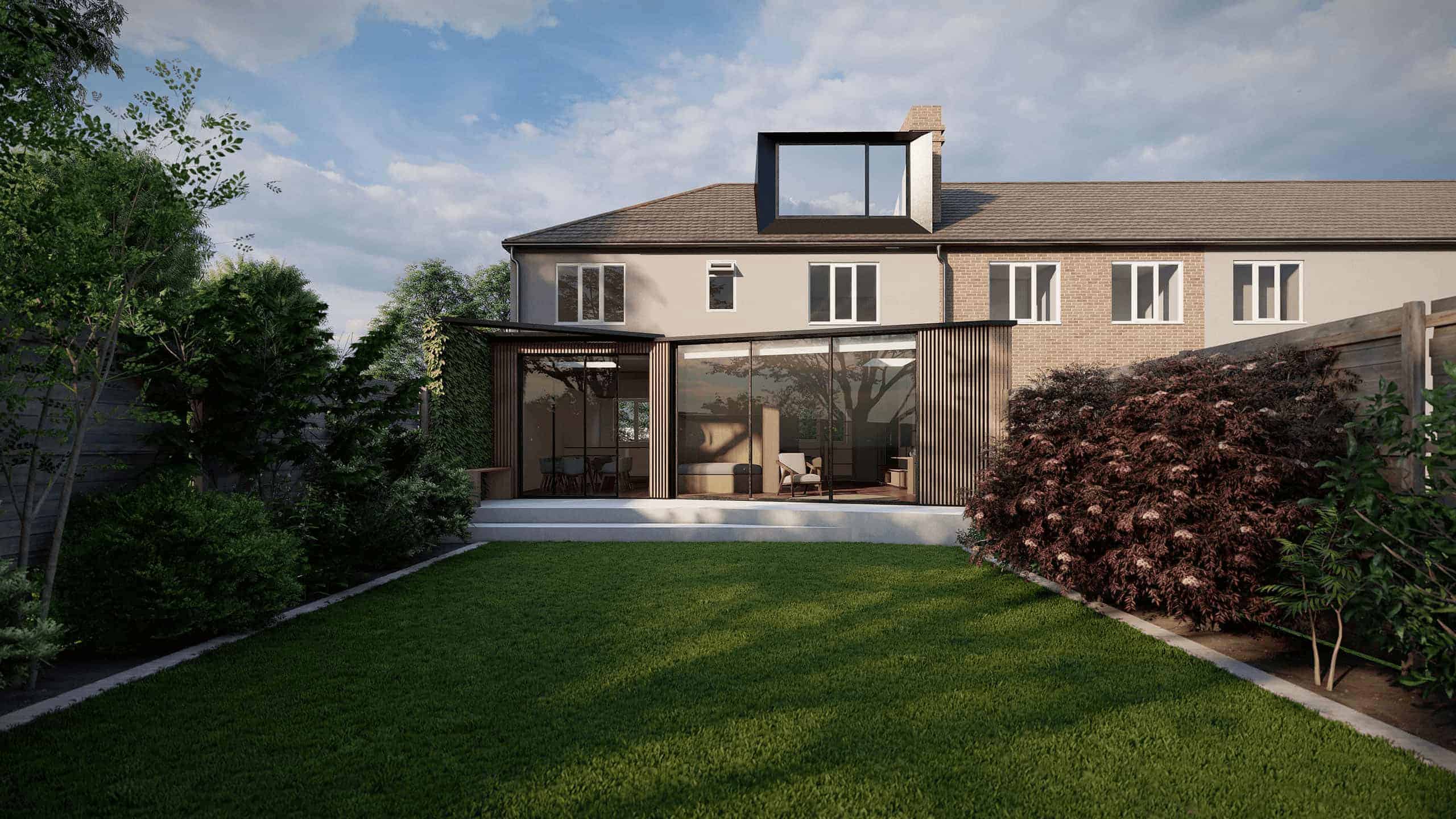 Our Services for Single Storey Extension
If you have outgrown your home or want to add value to your property, then a single-storey extension could be the ideal solution for you. Our architects in London have extensive knowledge and experience in dealing with house extensions London and single-storey extensions in London boroughs & Surrey, including Kensington & Chelsea, Lambeth, Merton, Wandsworth, Croydon, Elmbridge and Kingston.
Whether you are looking for small kitchen extension ideas or a dining room or snug; to transform your home with an open-plan extension; or even add a statement space such as an indoor pool or cinema room; our team of in-house professionals will work closely with you to design your back extensions, advise on planning permission and building control and manage your project through to completion. 
Plus, with our Immersive Design services, you can be sure of what you can expect from your single storey extension before you commit!
No matter what type of single-storey extension you're interested in adding to your London or Surrey property, Extension Architecture is here to provide rear extensions ideas for your property. Take a look at our case studies below or get in touch to speak to one of our specialist advisors for more information.
Our Works for Single Storey Extensions
Ideas for Single Storey House Extensions
Kitchen Extensions
A kitchen extension is a great opportunity to create a vibrant new space to complement any style of home or design taste. As the heart of your home, the average adult spends over 1 hour a day in the kitchen! This means that whatever your aesthetic, a kitchen extension can not only add significant value to your home but also unlock its potential and bring enhanced functionality and emotional benefits.
In addition to this, if you are thinking about adding a new space by means of a side, rear, or orangery kitchen extension, you may even be able to utilise your permitted development rights, meaning you won't need to apply under a full planning application- it has never been easier to create that much-needed space!
If you need some kitchen extension ideas, Extension Architectures' design team will help to bring your goals to life, with planning permission, layout plans, and kitchen extension cost. As experts in both planning permission for kitchen extensions and bespoke kitchen design, we have the professional experience and collaborative team to produce the perfect space for you.
Wraparound Extensions
If you are considering extending your home to create an open plan living space, and to provide plenty of flexible space for every occasion, a wraparound extension may be for you! 
Most common on detached homes or Victorian Terraces, a wraparound extension is, as opposed to a side or rear extension, one which wraps itself around the original building. Due to this, it will require a householder or full planning application, and subsequent approval from your local council.
Wraparound extensions in London & Surrey are one of the best ways of creating additional space and adding value to your home without a heavy financial burden, with open plan living arrangements and lots of natural light ranking as two of the top 10 most desirable features for potential buyers. Not only does it add significant value at a lower cost, but the potential space-gained for cost per square meter is unparalleled when compared with double-storey extensions or loft extensions.
Why choose us for your Single Storey Extension?
A single-storey extension is one of the simplest and most cost-effective ways of adding value to your home, and with the recent relaxation of permitted development rights, there is no time like the present to get started!
Our professional team can provide professional services right from the initial concept design to detailed interiors and kitchen design. Following this, we can further manage your project up to completion with our local, fully vetted construction professionals and offer competitive build quotes. No matter what the size of your single-storey extension, Extension Architecture is here to help.
Following an initial phone consultation, one of our experienced surveyors will visit your property to get the ball rolling. At this stage, we will work alongside you to develop the brief and ensure that we can generate a feasible proposal that aligns with both your priorities and the requirements of your local planning authority. If you are looking for architectural services now, contact us today to organise an initial consultation and receive a personalised quote!
Frequently Asked Questions about Single Storey Extension
What's the cost of a Single Storey Extension?
If on one side the design aspect of the project can be fun, coming up with general costs and budget can be difficult. The general cost of your extension will ultimately depend on your brief. However, some general costs for a single storey rear extension can be summarized as follows:
– UK Average sqm: £ 1,200
– London Average sqm: £ 1,400
These are general costs for an average quality extension. The higher end projects cost in London can go up to 2,300£ sqm.
A further breakdown of general costs can be summarized as follows: The use of your extension will also impact costs. Having an idea of how much you are willing to spend on a new kitchen or a new bathroom will be crucial when planning the cost for your new project. Bathrooms and kitchens are trickier to budget than a bedroom or a living room as there is plumbing to take into consideration as well as appliances and fittings.The cost of adding a kitchen to your extension will start around 10,000 £ for a cheaper kitchen design. The final cost will depend on the quality of the materials and appliances. dding a bathroom to the project will increase the cost of about 5,000£, but this will also depend on the type of finishes you want.
Rule of Thumb: As there are many variables to the costs of your project, it is good to have a general idea of how the budget will be spread and how the costs for professionals will impact the total cost: Architects London average fees 10% / Administration fees: 1% / Structural angineer: 4% / Surveyors: 3% / Contractors:30% / Materials 20% / Fittings 5% / Glazing: 15% / VAT 20%
Do I need planning permission for a Single Storey Extension?
The good news is, if you live in a terrced or semi-detached house in 2020, Local Planning Authorities have relaxed the rules and allow for extensions to go to 6 meters . If you live in a detahced house, single storey rear extensions can be up to 8 meters in depth. Just be aware that if your property type is a flat, maisonette or in a conservation area, then you will need full planning permission.
Side Extensions: Side extensions fall under permitted developent if they do not extend more than half the width of the original house. You can extend a maximum of 3 meters as long as it is a single storey extension and does not extend pas the front elevation.
Will a single storey extension add property value?
Research carried out by Nationwide shows how home improvements and home extensions can add significant value to your property. Adding a double bedroom to your house and an en-suite can increase value by 23%. Adding square footage with a kitchen extension and more in general a single storey rear extension will boost the value of your property by 13%.
Please see our video for your Single Storey Extension
I'm highly recommending Extension Architecture for their expertise to turn around a difficult planning application that I had refused from 2 other architects and they managed to get my additional new house at the end. A 3 year journey, but it was well worth it! I cannot appreciate enough their planning knowledge, and also now we are breaking ground. Their tender pack has saved me alot of hassle in choosing material inside the house myself. Especially their kitchen design has been great and cannot wait to see it realised. Thanks for all your input so far…
★★★★★
Delighted with the application approval that we got yesterday. As discussed initially, we were dubious of our chances as our property in Weybridge sits in a flood risk area + conservation area. But our full application for the 4m extension to the rear have been approved without any hassle. Also Elmbridge council was able to give us the approval within 7 weeks, so an added bonus. Thanks Especially to Youno who was very helpful in outlining all the pitfalls and guiding us to this position.
★★★★★
Thank you for your efficient service. Really impressed with the level of service and the speed!
★★★★★
Working with Nadir at Extension Architecture was a truly trouble-free experience. They explained the process and was always at hand whenever I had questions. I trusted their judgement whenever they provided amendments to my initial plan and was thoroughly happy with the end result! 11/10
★★★★★
Beautiful extension, Thank you!
★★★★★
Previous
Next