Architects for Planning in Wandsworth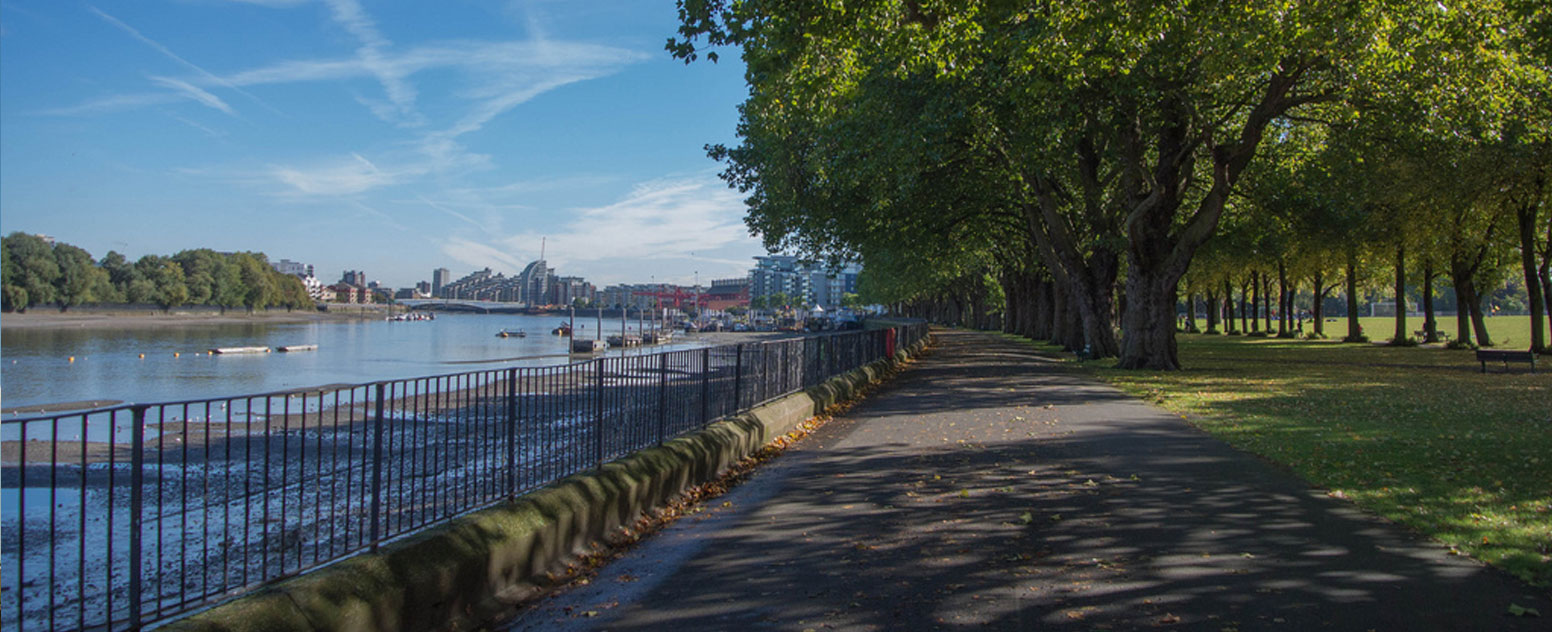 PLANNING & ARCHITECTURAL SERVICE IN WANDSWORTH
As experts in the field, it is safe to say that the Borough of Wandsworth is brimming with building potential. To get started, meet with one of our Wandsworth architects to discuss your needs. After the meeting, we will provide you with an immersive 3D visualisation of our designs. From Wandsworth building applications to bespoke interior designs, Extension Architecture will support you every step of the way. Our team members are conveniently located to oversee all Wandsworth projects. When it comes to the area's unique architectural designs and styles, we are very well informed. We have already worked on a selection of Wandsworth properties including a brand new semi-detached house and a skylight in a single-storey extension.

We provide a full range of services in the Wandsworth area including:
Planning Application Drawings (including Plans, Sections, Elevations etc.)
Retrospective Planning
Building Regulation Drawings for Building Control in Wandsworth
Consultancy for Commercial Development
3D Visualisations (Immersive Design)
Interior Design
Spatial Planning and Layout
Feasibility Consultancy
Extension Architecture's extensive experience of building and extending residential homes in London has given us an understanding of the different needs in the various boroughs we have worked in across the city. Over many years in the business, we have found that an in-depth local knowledge is vital for ensuring all design work is in keeping with the aesthetic of the area, so it is important that, as London architects, we make sure that our projects are sympathetic to the surrounding building designs, so as not to damage the traditional character of the area. Any conservation issues, historical interest or planning restrictions that become apparent in the early stage of research for an extension project will be expertly assessed by our team. That way, you can be confident we will find the best solution for your extension or conversion. With many rewarding projects under our belt, Extension Architecture have successfully achieved planning permission and completed a range of residential architectural projects across Wandsworth, including simple single storey extensions, complex double storey extensions, loft conversions and even window elevations. Whatever your needs are, our dedicated team of architects, construction experts, interior designers and planning consultants know the borough of Wandsworth intricately, so will know exactly what to submit to the local planning department to successfully secure planning permission for you.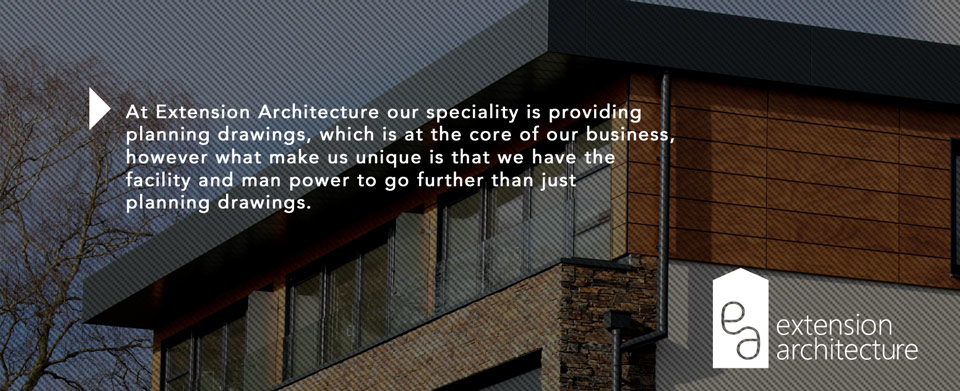 Our Range of Service in Wandsworth & London Area
We provide a full range of services in the Wandsworth area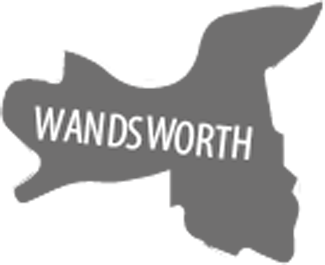 Email: [email protected]
Wandsworth Council Planning Portal:
http://www.wandsworth.gov.uk/planning
Our experienced IN HOUSE TEAM of experts are ready to help you and provide FREE planning advice. We are here to help so pick up the phone and call us at 0203 409 4215. Our experience is proven, see our CASE STUDIES to find out what we can do for you! We can help and give free advice in:
Balham
,
Battersea
,
Earlsfield
,
Nine Elms
,
Putney
,
Roehampton
,
Southfields
,
Tooting
,
Wandsworth Park
,
Wimbledon Common
and the following postcodes: SW4, SW8, SW11, SW12, SW15, SW16, SW18 and SW19. Residential Service: planning permissions and designs for single/double storey side/ rear extension, basement extension, loft conversion, dormer extension, rooftop terrace. House conversion into flats, window/door elevations. annex/maisonette/conservatory/garage conversion, interior/exterior design, garden design, new build development Commercial Service: planning permissions and designs for restaurant, bar, cafe, retail shops, stores, hotel. change of use, Planning applications, building regulation drawings.
Wandsworth Quadrangle Interior Fit out
For this client we prepared 6 3D immersive renders to enable him to visualise several options for a luxury refurbishment to the property. We included day and night views of the interior to show how lighting design could add to the opulent effect of the scheme.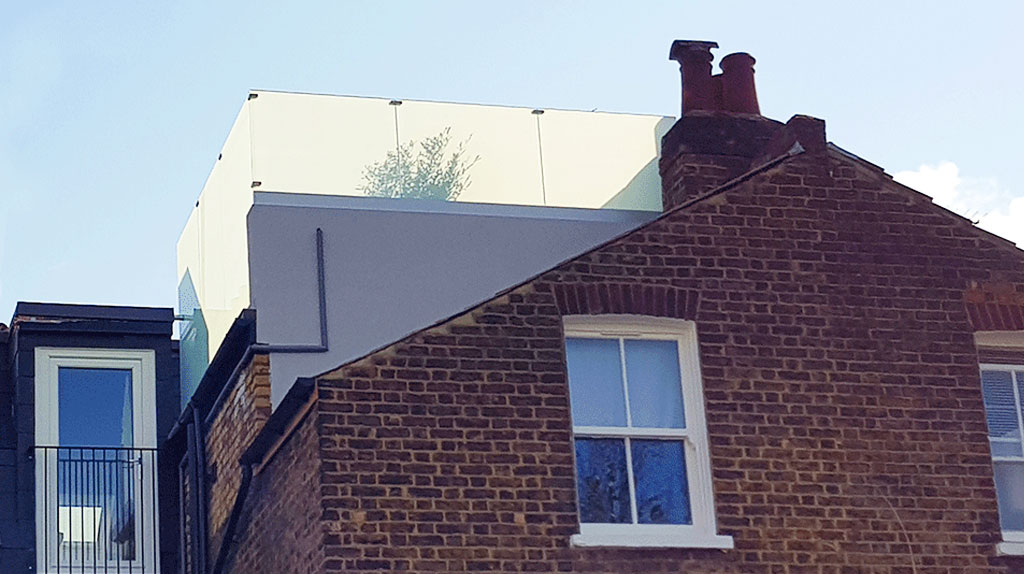 Battersea loft conversion by Wandsworth architect
This developer wanted to extend his rental flat via a loft conversion and skylights with French balcony, rear roof terrace with metal / glass balustrade. We created beautiful new spaces for him to use as a professional let.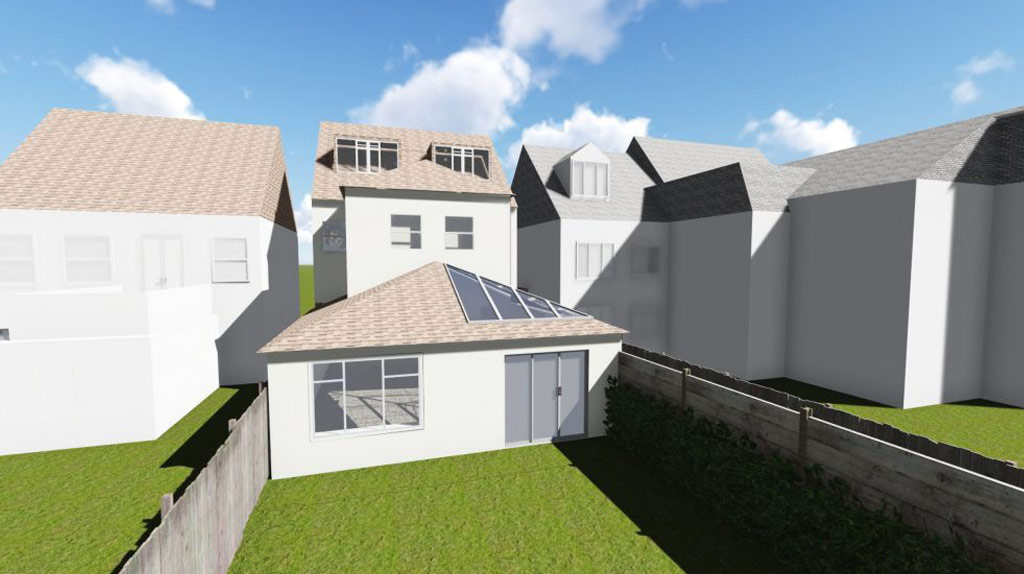 Skylight feature for single storey rear extension in Wandsworth
The project involved a conversion of a semi-detached house in the urban area, into 3 flats consisting of 2 x2 bedroom and 1 x 1 bedroom with existing parking space for 2 cars.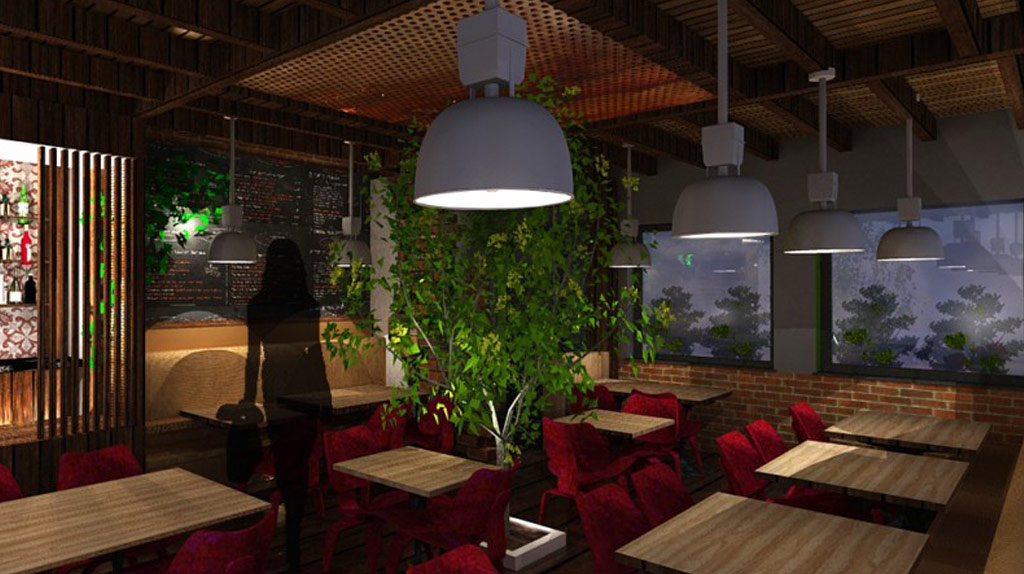 New Build Semi Detached House in Wandsworth
The brief included design for a newly built semi-detached house with an open space ground floor accommodating the kitchen, living and dinning rooms, as well as three bedrooms.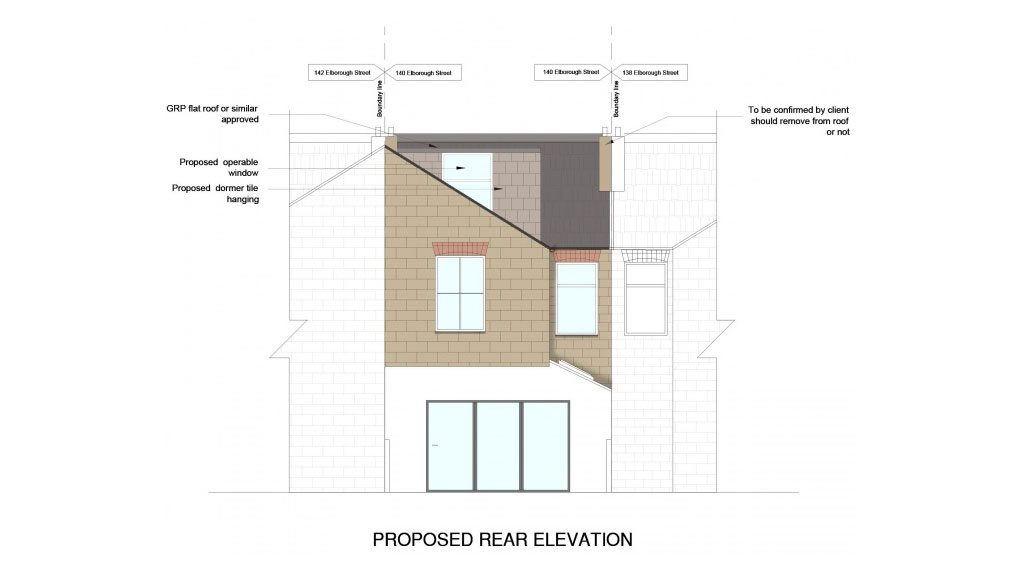 Loft Conversion in Wandsworth
We added a loft conversion to this three bedroom Victorian house, with expert use of natural light to illuminate the new spaces. The design of the dormer and the colours used externally blended with the host building.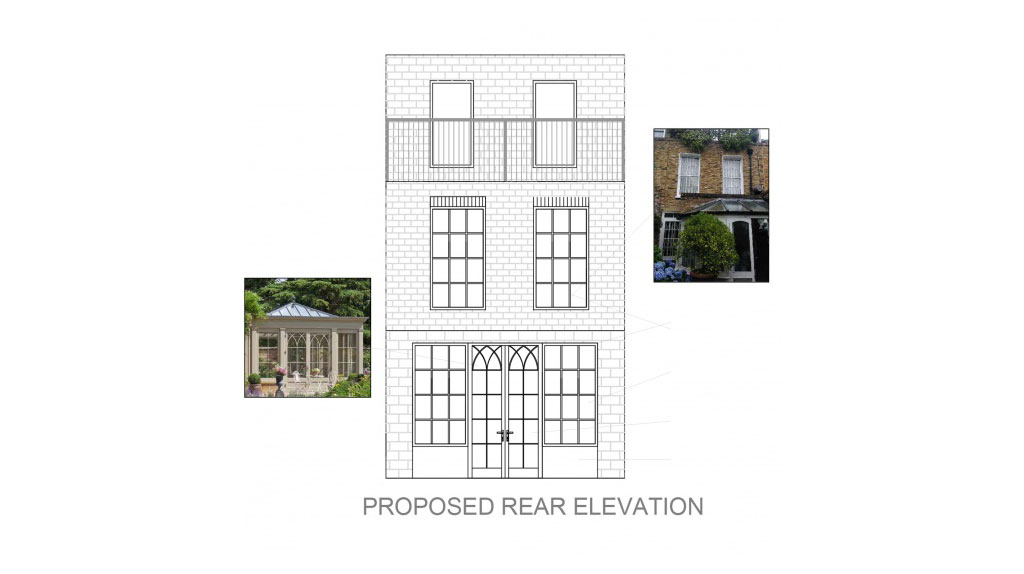 Rear Extension in Wandsworth
This family wished to open, enlarge and add light to their rear living area, with good use of glass and additional matching skylights. Making better use of the large plot, they replaced the old conservatory, filling the new space with daylight.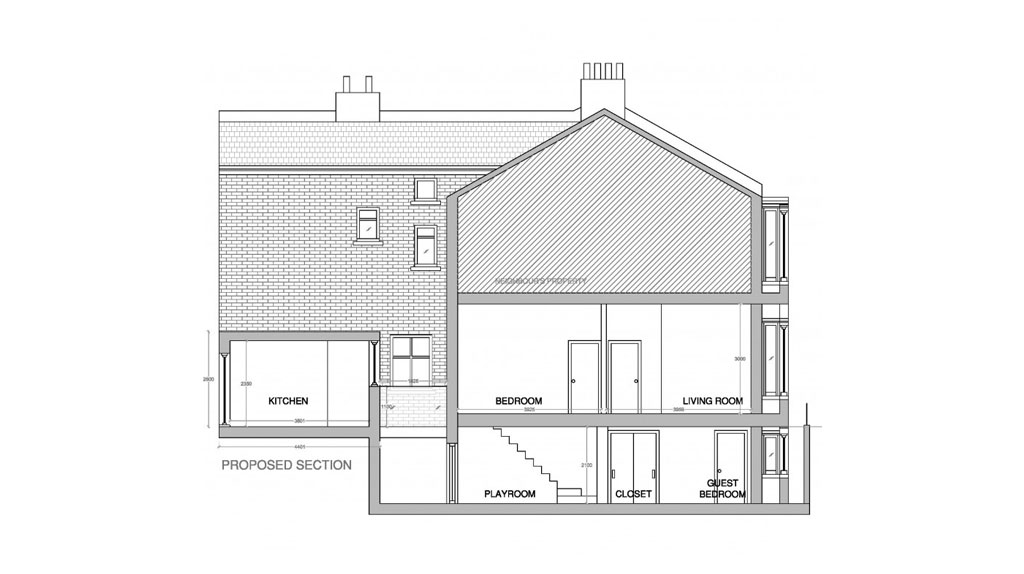 Wandsworth Council
For this family we extended the side extension forward, nearer to the frontline, and also backwards, replacing their detached garage and shed. This created a sunroom with a slight wrap-around the backline, leaving almost 2/3 of the rear width for a newly landscaped garden.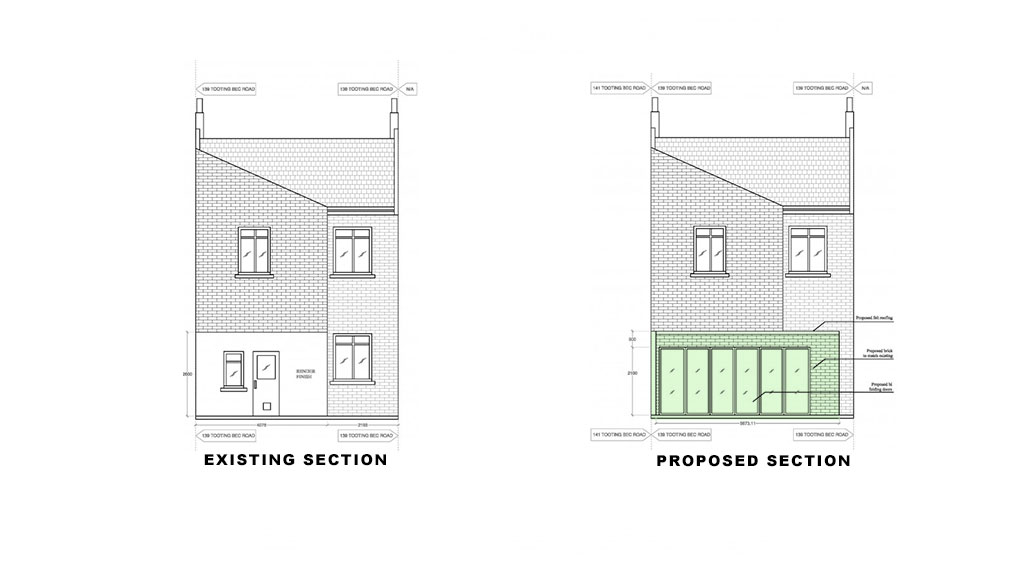 First-class Extension to basement in Tooting, Wandsworth
This client had an L-shaped basement to the rear of the footprint, with a playroom and a long, skinny walk-in closet. We created an in-fill extension to add a guest room with ensuite, shortening the closet and adding storage in the playroom.
Architectural Service in Wandsworth – Process
Extension Architecture's expert knowledge allows us to provide a smooth progression from the first site visit to your completed planning application drawings for submission. We can also help with the pre-construction and build stages, e.g. Building Control, Structural Engineers, Tender Packs and Contract Administration. We will support you until the project is completed to your satisfaction. Despite moves towards better consistency with planning requirements generally across Greater London, the individual requirements of each LPA still vary dramatically – and change frequently. Hence our planning consultants, architectural designers and managers keep up to date with any relevant revisions to building regulations and planning application criteria in Wandsworth. The team also ensures that they are aware of other planning permissions granted in the borough, paying particular attention to which projects do not get approval and why. This dedication enables us to provide a very good service to our clients, because our architects and planning advisors can provide the most appropriate advice for your unique proposed development. With Extension Architecture, you can be reassured that you will receive the most optimal outcome for your project design, ensuring your home improvement will be a successful and satisfying addition to your family home. Having worked with many clients in Wandsworth over the past several years, we do understand how an extension or loft can disrupt your day-to-day living life, from planning your initial sketch and organising professional services the chaos of living in a building site. We aim to minimise this disturbance for your family. Our USP is that we can manage each phase of your home improvement project. From submitting your planning application to finding the best builders and interior design, Extension Architecture will deliver an exceptional service to give you peace of mind. Our team have a vast range of experience in several types of building alterations. From a single storey extension at the rear to a double storey extension on the side, from a loft conversion to even a change of use project, we can help. If you would like to take a look at what you could potentially achieve, have a browse through our Case Studies page. Whatever you hope to achieve for your home in Wandsworth, Extension Architecture would love to discuss various options with you to provide a better insight into the services we can offer. Why not call us today for a free consultation, or fill out the contact form. One of our team will be in touch with you directly. If you prefer a face to face chat, then please feel free to call or email to arrange a visit to our Battersea office.

 
Residential
Single Storey Extension

Double Storey Extension

Convert to Flat

Loft Conversion

Basement Extension

3D Visualisation

Developers
New Builds

Change of Use

Check our local architecture services in London: