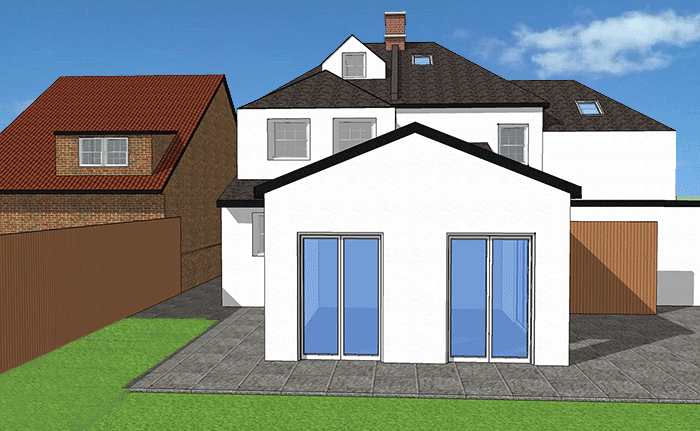 Brief
---
This client's property was in a leafy, rural area bordering Epsom Common, with large, semi-detached houses. It is not accessed from the main road but from a private path shared with one neighbour. Ultimately her intention is to sell the property, but for now it is still the family home. She wanted internal reconfigurations, to her two storey, semi to achieve a better flow of movement on the first floor by improving the arrangement of the bedrooms in relation to the family bathroom. Also she wanted a loft conversion and an additional first floor storey, creating a double storey rear extension.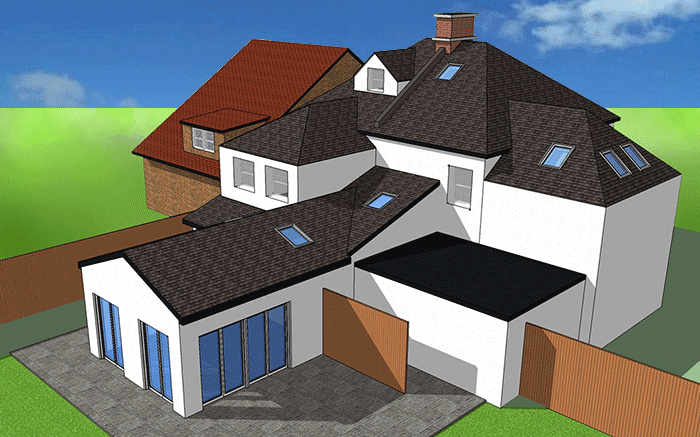 Design for our reconfiguration in leafy conservation area
It was a generous space so they were able to rearrange the rooms on the first floor, as well as to add a bedroom on the first floor. The loft space was not very large, so it was a challenge to get the 7.5m2 floor space needed to be considered a bedroom. Because it was in a conservation area, and because her house is considered a positive building, we could not alter the roof pitch or ridge height. We added a small dormer so as not to make the house rear look overbalanced with the additional first floor rear extension. We pitched the roofs on both to increase our chances of approval.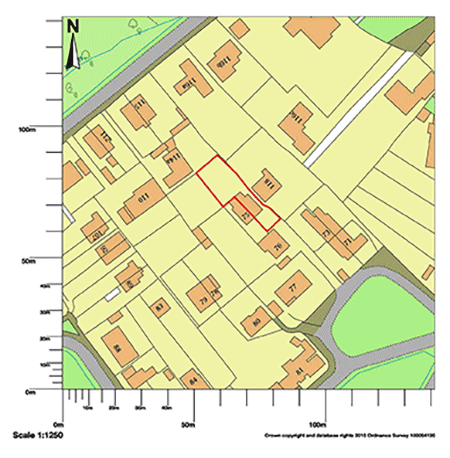 The boundary line is not standard, since the rear garden is wide. Also, as mentioned, the front access is off-road, adding to the countryside feel. There was a precedent for her proposal, since the attached neighbour had been granted approval for a double storey side extension and a loft conversion in 2013.
However the detached neighbour has a Grade II Listed building which is quite a challenge to design next to for approval. Therefore the design had to be more traditional than modern. Because of this we stepped the double storey rear extension, which is less contentious than blocking full out.
She also requested our 3D Render service, opting to instruct a Basic immersive design with us, as opposed to the full animated package we also offer.
Block plan showing boundary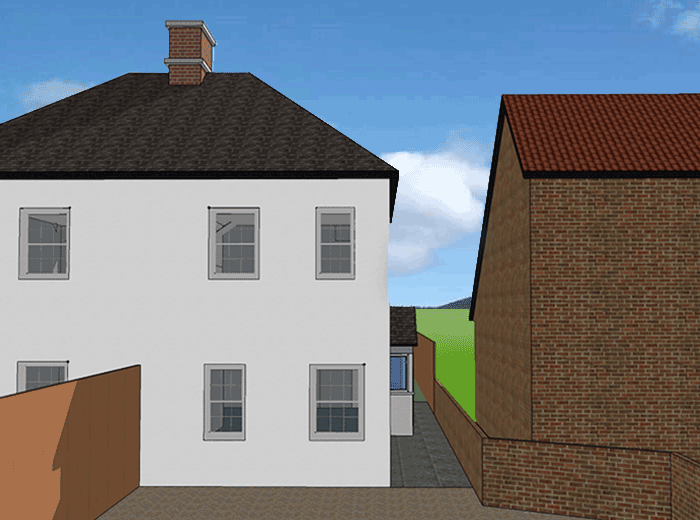 Here are the main reasons applications are generally refused:
Right To Light: Our design did not cause loss of light to a neighbour
Overlooking: The new windows did not overlook the habitable rooms of neighbours
Massing: We made sure the extension was not too bulky
Design: We made sure the design was reflective of the conservation area
The Planning Route
A Design & Access statement was needed for the Stamford Green Conservation area, designated in 1982 because of its open spaces, village ethos and pleasing 19th & 20th Century cottages. They are always needed with applications in conservation areas, to demonstrate how the proposed additions would be respectful of the lines of the host dwelling, as well as sympathetic to the surrounding properties and to the area in general.
Ours had to show that the relevant policies of Epsom and Ewell had been adhered to, and that Stamford Green Conservation area would not be adversely affected by this design. This was especially important, as it is also a Green Belt area.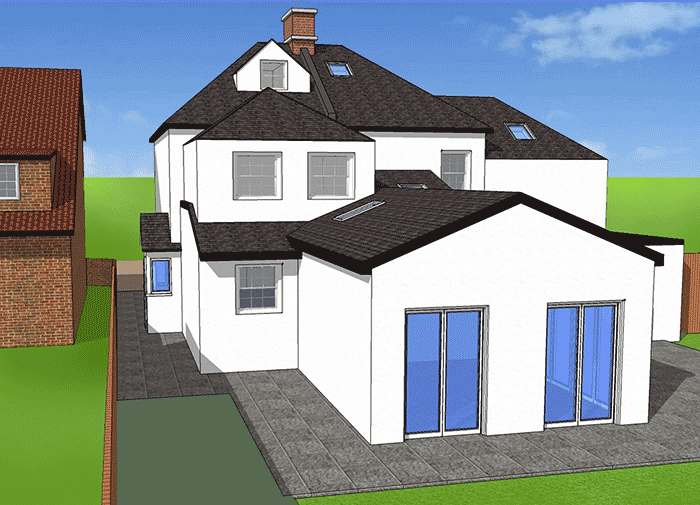 We strongly recommended taking the pre-app. route for the loft conversion and additional storey to the rear, to further reduce any potential contention, given that the proposal is in a conservation area. Once we had the pre-app. advice, our planning consultants and architectural designers prepared the main application for him.
The Pre-app meeting is currently pending, at the time of writing. There had been nine previous planning applications at this address, although 5 of them were to do with TPOs (Tree Protection Orders. The others were demolish and replace a single storey rear extension and modify the porch; to replace a window, to add a single storey rear extension, and to discharge a condition relating to the single storey rear extension.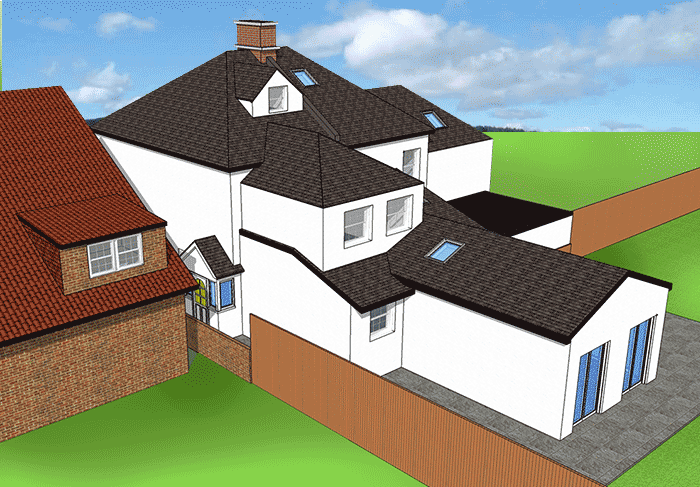 We always closely follow pre-app. advice so we are confident our proposal will be approved by Epsom & Ewell Council. Our standard service always offers a second option for the same quote with the planning services and if you instruct our 3D Immersive Design package, we create unlimited revisions until our client is pleased with the proposal. Our 3D service is an effective tool for convincing planning officers that your build will not be contentious but will blend with and enhance its surroundings.
We enjoyed the challenges of this project, since it was another opportunity for our design team to excel in their discipline. If you are wondering about planning permission for extensions, need rear extension ideas or if you would like us to plan your ">loft conversion or reconfiguration in leafy conservation area, contact us today. Please peruse some other loft conversion case studies. See also the page on our projects in the borough of Epsom & Ewell.  
We can help
---
Whether you live in Epsom or East Ham, we work within the M25 and the home counties. We can also answer questions about getting your planning consent for an extension, and discuss what you can achieve under Permitted Development.
If you need planning full permission, we can help you get it or we can let you know if your permission is still valid. We don't add VAT to the council's planning application fees when we submit your application, and we liaise with the planning department on your behalf. There is no extra charge for this.
We sometimes suggest the pre-app. Route, in the event of a slightly contentious proposal. See the Pre-app section on the Planning Portal for more details. We can also help you understand why you will need to satisfy Building Control even for small projects.
Value Added
We can guide you re estimated build costs whether you want an ambitious development in Epsom or a loft conversion in Esher. We can also design a great rear extension or garden room to increase your property value. As well as the design & build costs, we can indicate the resale value likely to be added via your development
Bespoke design for your reconfiguration in leafy conservation area
If you are wondering what adds most value to a property, we can give you a great design which will be good for residents in terms of practical functionality, aesthetics and increased value. If you would like to have a discussion about development costs, bounce off ideas for home improvements, or brainstorm your reconfiguration in leafy conservation area, please contact us so we can help you plan your proposal.
Architecture companies in London
If you are thinking of hiring a local architect or consulting the London architects list for a residential architect, have a look at some of our case studies. Extension Architecture are expert at home extensions & house design, with vast experience as London architects. Based in Battersea, we have built many projects locally in Wandsworth, Kensington & Chelsea, Kingston, and Richmond, as well as in other boroughs across London such as Westminster, Camden, Islington, Brent , Harrow and Sutton.
Related Projects
---