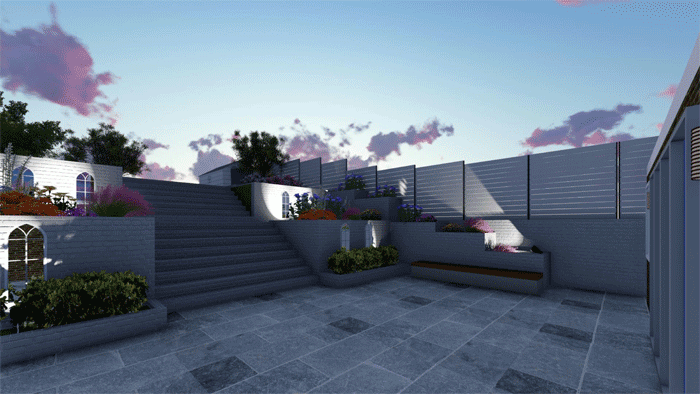 The client will have a stunning new extension and landscaping, with our stepped design for his garden.
Brief for Extension and Landscaping
---
Our client came to us – following a referral from one of our flagship project clients – for a single storey in-fill extension and landscaping, garage conversion to a new kitchen, internal reconfiguration works to ground and first floor, and for the garden design it was to be a split-level design with 3D Visualisation.
The Project Trail for Extension and Landscaping Project
The client has a 4 bed house, and this project was for a single storey infill extension to square off the L shape created by the garage footprint (which was converted-to-a-kitchen). He also wanted internal work to create new floors and a new bathroom on the first floor, and on the ground floor he had a new kitchen, new open living space, utility room and shower room.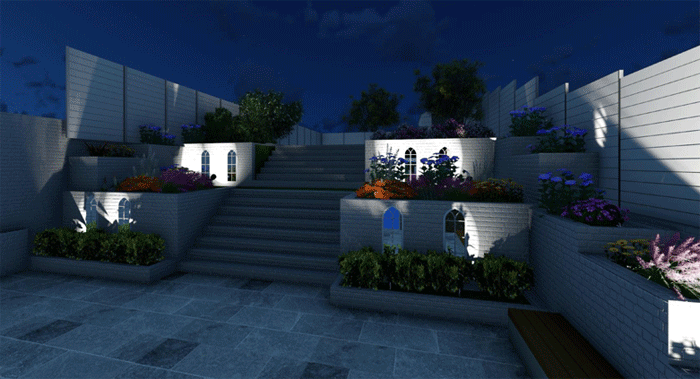 3D Visual renders are effective for convincing planning officers that an extension and landscaping will not be contentious..
We did landscaping to create a stunning design for his split level garden. (Incidentally, planning permission is usually required to raise or lower your garden level, unless it is a nominal change, although you can have a decked platform of up to 30cm high without the need for permission. If your platform is to be higher, it would need to be included in the application.)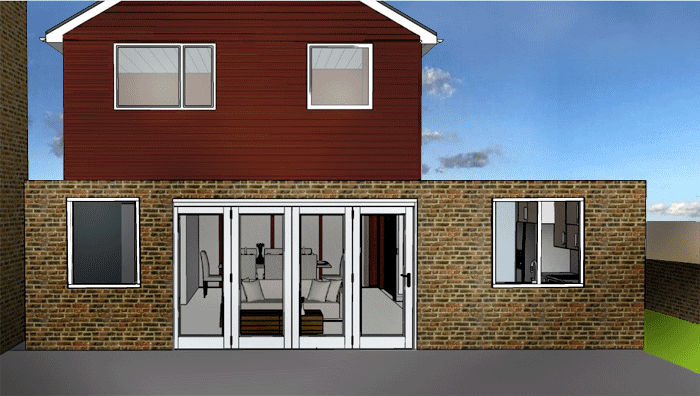 The family are having a new kitchen over the garage footprint, and an in-fill extension to box off the L shape, giving a larger open living space.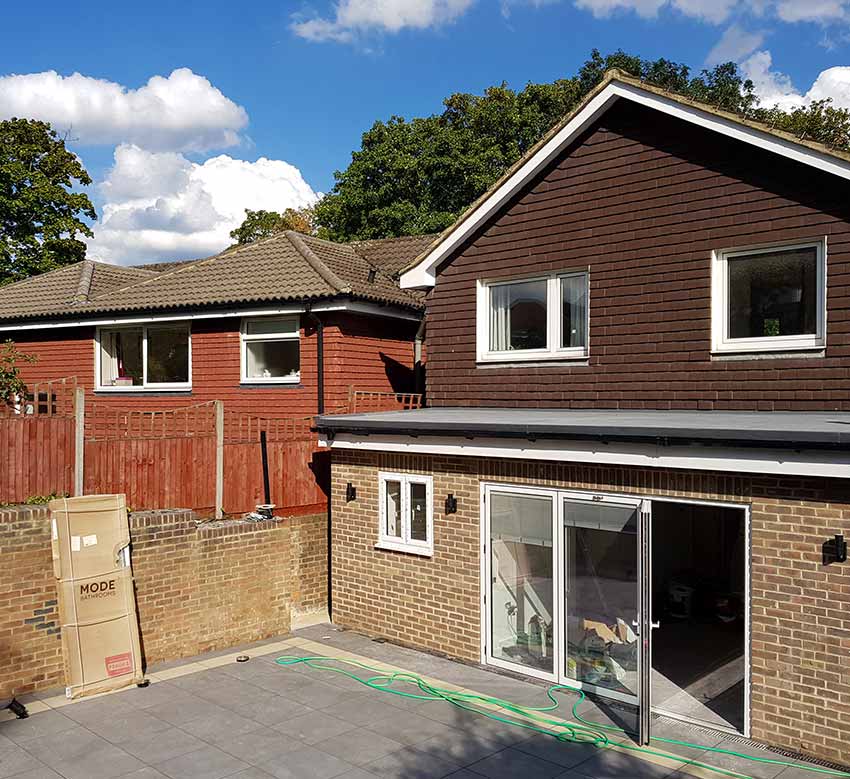 Pre-build
After our agreed extension
and landscaping designs gained planning
approval, our client continued with us to the
pre-build stage for Building Control, so we created more
detailed Building Regulations drawings for his extension. He
also instructed us for support with his construction phase,
so we did Tender Packs and Contract Administration to
manage the builder interaction, costing, payments etc. The
project has been completed and the contingency
issues are being finalised
with the builder.

Let us help you
Whether you would like an extension or landscaping in Sutton, Stratford or Stanmore, we can help. Get in touch for your free consultation and quotation.
Value Added
---
If you are wondering what adds the most value to a property, we can guide you re estimated build costs whether you want an ambitious development in Epsom or a loft conversion in Esher. We can also design a great rear extension or garden room to increase your property value. As well as the design & build costs, we can indicate the resale value likely to be added via your development.
Bespoke Design for your extension or garden design
Whether you are thinking of side and rear extensions in Wandsworth or Wanstead, we can give you a great design which will be good for residents in terms of practical functionality, aesthetics and increased value. If you would like to have a discussion about development costs or just bounce off ideas for home improvements, please contact us so we can help you plan your proposal.
Architecture companies in London
If you are thinking of hiring a local architect or consulting the London architects list for a residential architect, have a look at some of our case studies. Extension Architecture are experts at home extensions & house design, with vast experience as London architects.
Based in Battersea, we have built many projects locally in Wandsworth, Kensington & Chelsea, Kingston, and Richmond, as well as in other boroughs across London such as Westminster, Camden, Islington, Brent, Harrow and Sutton.
Planning Success
Our team has planning consultants as well as architectural designers, who can help you to make a strong application. As mentioned, our 3D Immersive Design package is an effective tool in convincing planning officers of the aesthetics of your build.
We would also suggest the Pre-planning Application route, in the event of any contention with a proposal. (This used to be called 'outline planning permission'. See the Pre-app section on the Planning Portal for more details.)
With us you can understand why you will need to satisfy the Building Control department of your local council, even for a small single storey rear or side extension. The council's planning application fees will be set out clearly for you, to which we don't add VAT. We offer to submit your application and liaise with officers on your behalf for no extra charge.
Other Projects
---