Date: November 2016
Borough: Greenwich
Project Type: Single storey exension side & rear Wrap-around Extension and internal reconfigurations on the ground floor.
Brief
---
Our concept design and materials for this rear extension had to closely match the host building, to comply with the policies for planning permission for extensions in Greenwich. We also had to observe the rule for corner plots, meaning we had to step back one metre from the boundary. In order to observe these guidelines to preserve character, we proposed a mixed pitch & flat roof to continue same degree of the pitch on the host building. They were also thinking of replacing detached garages with a bungalow, although this aspect was later shelved in favour of the extension only.
The new side extension has a small bathroom and utility / storage area for the new large kitchen space. The new rear extension has a good sized dining area and 6m sliding doors to allow as much natural light as possible. In our careful planning and design of the extension, we wanted to add a beautiful new space for them as they are planning to start a family.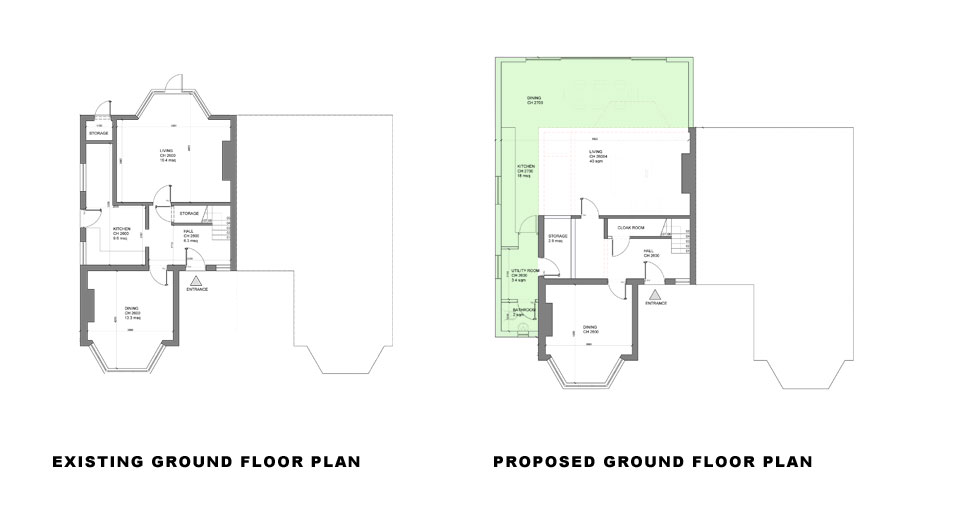 There are many conservation areas in Greenwich borough, though this house did not fall within one of these. Therefore, achieving our design was a more fluid process for our client and our designers. We took photographs during the construction process. If you have some rear extension ideas, we can help you to realise them.
How we can help you
---
We can also help with general questions about planning permission for extensions, or how far you can extend under Permitted Development. We can help you understand why you will need to satisfy the Building Control department of your local council even for a small side or single storey
rear extension.
If you want a two storey side extension we can help you make a successful application in most cases. We offer and 3D Immersive Design package which is an effective tool in convincing planning officers of the aesthetics of your build. Pre-planning Applications: We also suggest the pre-app. route in the event of any contention with a proposal. See the Pre-app. section on the Planning Portal See the Pre-app section on the Planning Portal for more details. This used to be called 'outline planning permission'.
We can guide you re estimated build costs and whether or not you would need planning permission for a conservatory and if so, what kind of permission
will suffice. We will tell you how to get planning permission, explain permitted development rules and let you know if your permission is still valid. We let you know about the council's planning application fees, to which we don't add VAT. We offer to submit your application and liase with officers on your behalf for no
extra charge.
Related Projects