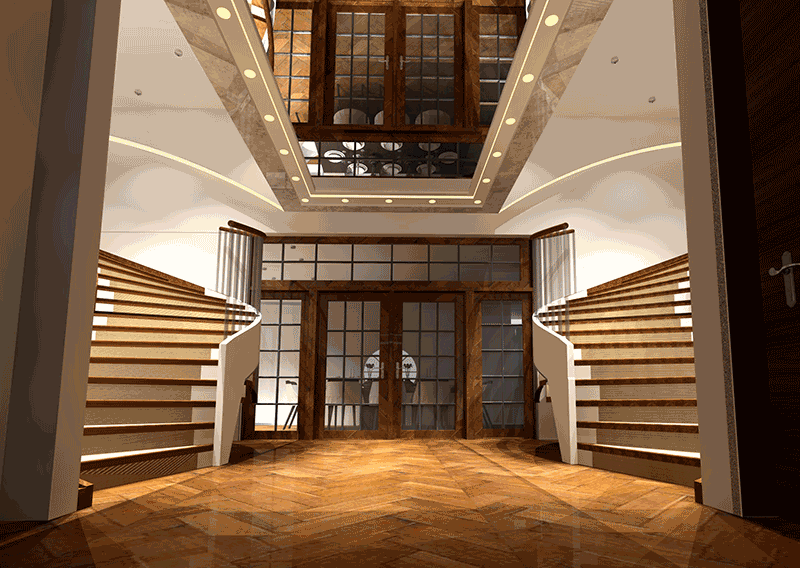 Opulent new stairwells in our loft conversion specialist project.
Brief
---
The brief was to plan, design and build a new upper floor of a large, detached house in the London Borough of Merton. Our client wanted an architectural practice with experience in Merton to create planning drawings which would get approval for the project, in order to increase the habitable area in the property. We did a pre-planning application with Merton Planning Department to ascertain the likelihood of planning consent. Two possible options were a flat conversion or a loft conversion. We offered our interior design service for the decided option.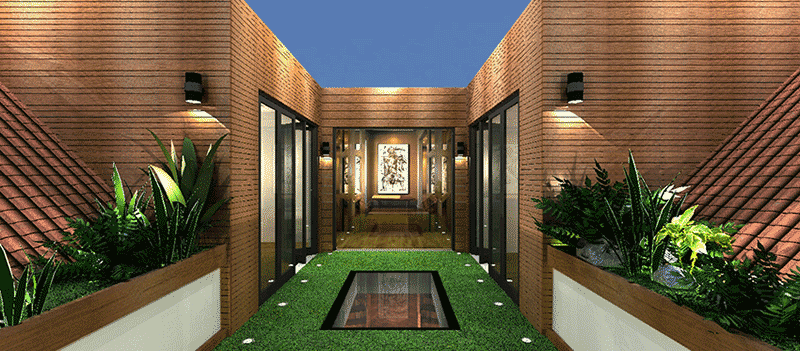 Extra cubic volume created within the butterfly roof.
Planning Success
Our client chose to extend into his loft-space. By building between the wings of his butterfly roof, we were able to significantly increase the cubic space (and value) via the new 2nd floor (as you can see in the render). Inward-facing dormers were added to the loft-space, levelling the butterfly wings. We adjusted the first floor ceiling by 300mm to optimise head height in the four new rooms abov. Velux windows were added to the central roof slopes only, so the external façades were not altered.

The Planning Route</2>
---
1 Data Collection
We undertook an analysis of the site and surroundings, followed by a measured site survey and a photographic survey. We assessed which of the fixtures and fittings could be re-used or not, then did a basic mechanical and electrical survey.
2 Scheme Design and Pre-Consultation
We did some initial research in the area to look for precedents of the surrounding streets. We instructed a Design and Access Statement and prepared existing and proposed plans and elevations for the scheme. We met with the local planning authority for an indication of their views.

3 Planning Application
We drew the existing plans, elevations, and M&E layout on AutoCAD, then met with our client regarding initial concepts for the proposal and to discuss arrangement of the spatial division before drawing up options for a flat conversion or extension. We then drew the agreed internal layout proposal on CAD and presented those to the client before submitting the planning application to Merton Council on their behalf, along with the Design & Access Statement.
4 Interior Design & Finishes
We planned the scheme for the interior spaces, as well as the fixtures, furniture and equipment specifications (FF&E) via presentations of initial sketch concepts and research work. This was then developed to a full mood board with two scheme options as 3D views.
 
Section render of upper levels.
5-6 Pre-construction and Build Phases
To prepare for the build, we created a specification of works – including M&E plans and construction drawings – to guide the builders, as well as Building Regulation Drawings for Building Control. We then Procured and Managed the build via our Tendering and Contract Administration services.
We can build with you too as your Loft Conversion Specialist
---
If you are interested in having a London architecthelp you win planning permission fo r extensions or are looking for a flat conversion or loft conversion specialist in South West London, we have lots of experience of London property conversions and can offer you our 3D Immersive Design and Building Regulations Drawings services. You can contact us here to get started.
Related Projects
---