The month of July saw the merging of two very popular interests; stamps and architecture. Of course, our passion lies predominantly in the latter (architecture's in our name, after all), but who doesn't love a good collection of stamps? They're cultural, artistic and even a good investment.
Royal Mail is well known for bringing out special collections of themed stamps – in fact, they've been doing it for over 50 years. From celebrating significant events such as the London 2012 Olympics to charting the history of children's TV, you can usually find a collection on pretty much anything. Well, you can now anyway.
Why Architecture?
The celebration of UK architecture is a great choice for stamps. Architecture is largely about interesting design and visuals, so it's a theme that's perfect for a set.
We also want to point out that when we say UK architecture, that doesn't mean those buildings are designed exclusively by Brits. The architects behind these incredible buildings are from a mix of nationalities, which is representative of the UK's beautifully wide and diverse mix of cultures. Just as these stamps show, our country and architectural history takes inspiration from people and cultures across the world.
They also delve into what architecture represents in terms of our culture. Each building is selected from a different part of our country, from London to Cardiff, and each symbolises a different aspect of the patchwork of culture that makes Britain what it is. Sport, science, government, education and art all feature in the stamp collection. It's a celebration of our country and it's achievements through some of our most prominent buildings.
The Stamps Themselves
Royal Mail never fails to create a collection of stamps that look incredible both as a whole set and individually. This set certainly doesn't let their reputation down.
There are 10 stamps altogether, each featuring a different building with a sunny blue backdrop in most which subtly ties the whole collection together. Each building is a photograph, though there is a slightly unreal look to each – perhaps due to the lack of people in the shots or from alterations done after the images were taken. They're great shots of each building, enhancing the beauty of the design and really pinpointing what makes these architectural feats so amazing.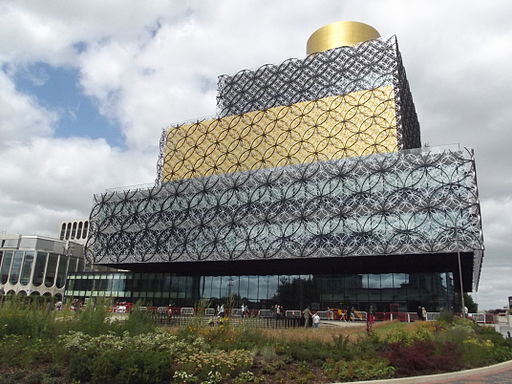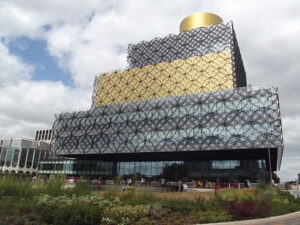 If you want to know which buildings made it onto this set of stamps (unfortunately, no Extension Architecture designs featured – yet!), then we've put together this full list, including their location and designer:
London Aquatics Centre – Dame Zaha Hadid
Library of Birmingham – Francine Houben
Blavatnik Building (previously known as Switch House), Tate Modern, London – Herzog & de Meuron
SEC Armadillo, Glasgow – Foster + Partners
Scottish Parliament, Edinburgh – Enric Miralles and Benedetta Tagliabue
National Assembly for Wales, Cardiff – Richard Rogers Partnership
IWM North, Manchester – Daniel Libeskind
Giants' Causeway Visitor Centre, Northern Ireland – Heneghan Peng
Everyman Theatre, Liverpool – Haworth Tompkins
Eden Project, St Austell – Richard Buckminster Fullerv
There you have it. As you can see, the buildings selected are representative of the whole of Great Britain and definitely show our diverse culture. Each building selected is well-renowned and a significant part of our country's landscape, as well as being of high importance to those in the nearby locations.
The stamps are also a great look at modern-day architecture as a culmination of contemporary buildings at their best. We like to imagine that in many hundreds of years to come, this set will feature in architecture history books, detailing both the look of buildings we so proudly display as well as how we used them. When times change, this architecture will remain as a reminder of the Britain we live in right now. Isn't that brilliant?
What about us?
As an architecture company, we could only dream for one of our works to be such a significant part of the British landscape! But you never know – maybe you have just the project that will put all our names on the map.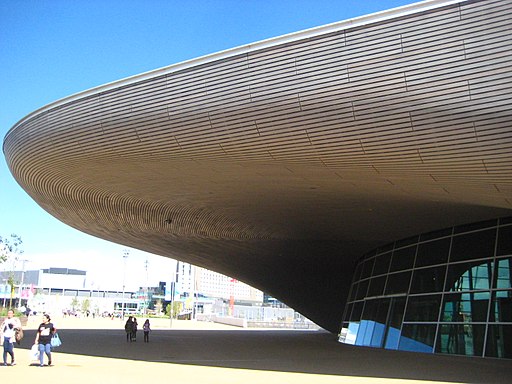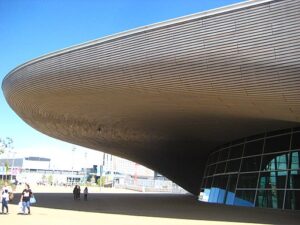 If you do have an extension project you need help with, get in touch with us. We're always happy to offer friendly, expert advice to those who need it, and we can begin to take your idea and turn it into a reality. You never know, maybe it'll even feature on the next set of architecture stamps; you have to dream big, right?
If you're interested in buying the 'Landmark Buildings Special Stamps' or just want to take a look at the designs then you can do so on the Royal Mail website. You can also find more information about the stamps and details of the buildings featured.
Get in Touch
If you want to discuss gaining planning permission or have a project you'd like us on board for, get in touch with our team today. We can offer expert advice and get the ball rolling to create something your whole community will love.
Email us at [email protected] or phone 0203 409 4215. On our website, you'll also find a Request A Free Quote form, which you can send to us and we'll get back to you right away.