Christmas Lunch
---
Our Christmas Festivities this year were lots of fun. At Extension Architecture, we place much value on teamwork and unity. To this end, we socialise together whenever there is a birthday or if one of the team is taking a sabbatical for travel or further study. Sometimes we go out for no particular occasion, except that it has been a while since the last excursion.
Developing Traditions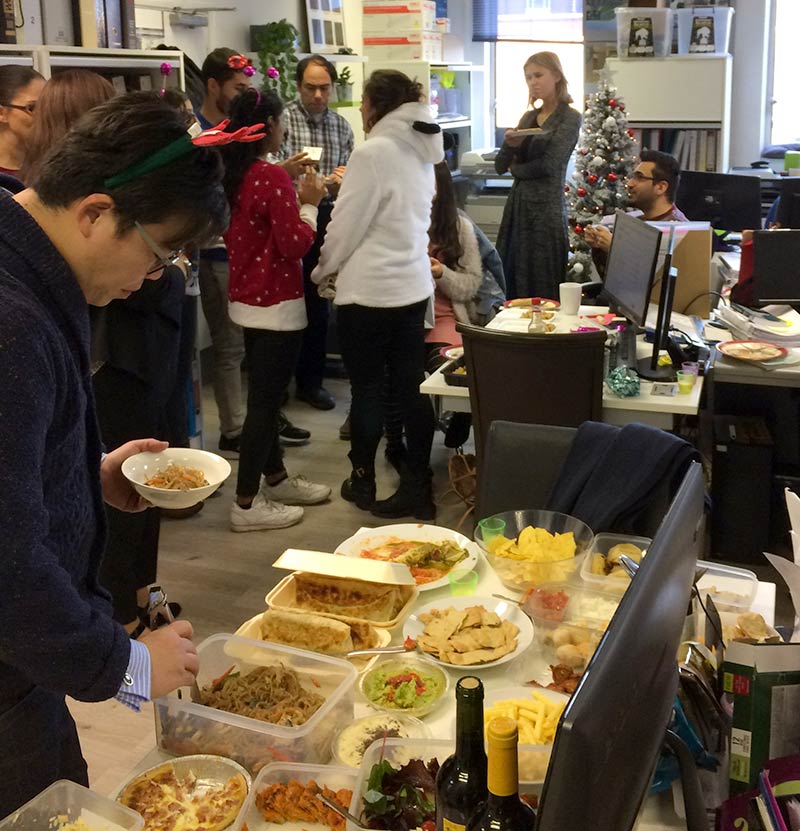 The Director contemplates our international dishes.
For the last few years, we have had a Christmas Lunch in the office for our ever-expanding team. Our team could not be more cosmopolitan, with members hailing from as far as Lithuania, Korea, Spain, China, Italy, Japan, Scotland, Guyana, England, Jamaica and Turkey. Talking of Turkey, it is worth mentioning that we did not request traditional British Christmas fare in our food contributions! That is because it is always far more interesting to create an international meal by asking our team to bring their respective national dishes. We also added the fun of a Secret Santa, which went down very well.
Our Night Out
---
Our company director Youno Kim – together with the other managers – created the perfect night for us by choosing the prestigious Battersea Evolution as the venue for our annual dinner. The theme was Après-Ski, so there were stalls and games along that vein in the space between the foyer and the vast dining area. The décor to go with those stations were suspended cable cars, but when we entered the dinner hall, it was starlit with thousands of light points on the black ceiling. There were 200 tables of 10 places each, which was no small task for the teams of servers, who were being co-ordinated by a floor manager via constant audio contact. It was nice that the servers had time for courteous greetings – in addition to their mammoth task – which really had to be run like a military operation.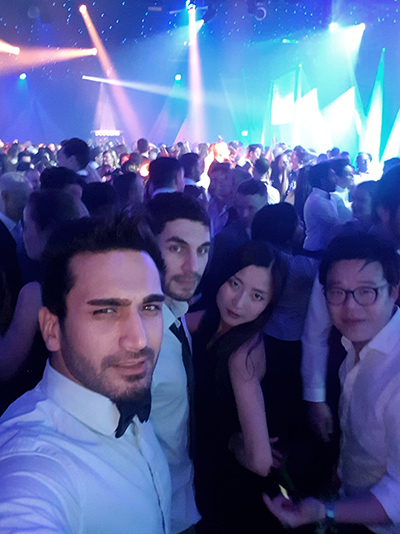 Highlights
We were served a three-course meal, which was like a blend of A La Carte with Nouvelle Cuisine. The refreshments – including fine wines – came in 2 baskets per table. Our Principal ensured dynamic conversation by moving around the seating arrangements between our 2 tables of 10. During the meal, we were treated to various acrobatic spectacles of entertainment in the central area. There was a pair of circus dancers who were both strong enough to carry their partner. Later there was a display of skaters, followed by a troupe of entertainers suspended from wires and sashes in a trapeze-style display.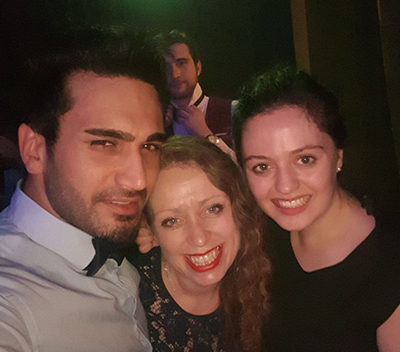 After dinner, we created our own entertainment by hitting the dance floor, then later trying out the nostalgic Dodgem Cars. The evening continued until 1.30am, with all but 2 of our team able to attend this wonderful event. Even though we were there with countless other staff parties, it was spacious enough not to feel crowded. Also, it was possible to have our own privacy because the acoustics made conversation audible.
Thanks to the Managers
The evening was thoroughly enjoyed and an instant success. We would all like to thank our Management for taking us to such a luxury – yet fun – event, for our Christmas Party. We have worked hard all year, so it was good to relax together (and great for team-building).  
Open as Usual
Our opening hours are 9.00am to 6.00pm, Monday to Friday. We will be open every day over the holidays, apart from the public holidays. So we are closed on Christmas Day, Boxing Day and News Years Day. If you would like to call us between Christmas and New Year, our planning team will be here. Otherwise we will be available from 2nd January onwards.  
Merry Christmas
As 2017 rushes to its curtain-fall – and we prepare to usher in 2018 – we would like to wish all of our clients and website visitors a very happy Christmas, and a safe and healthy New Year.
---