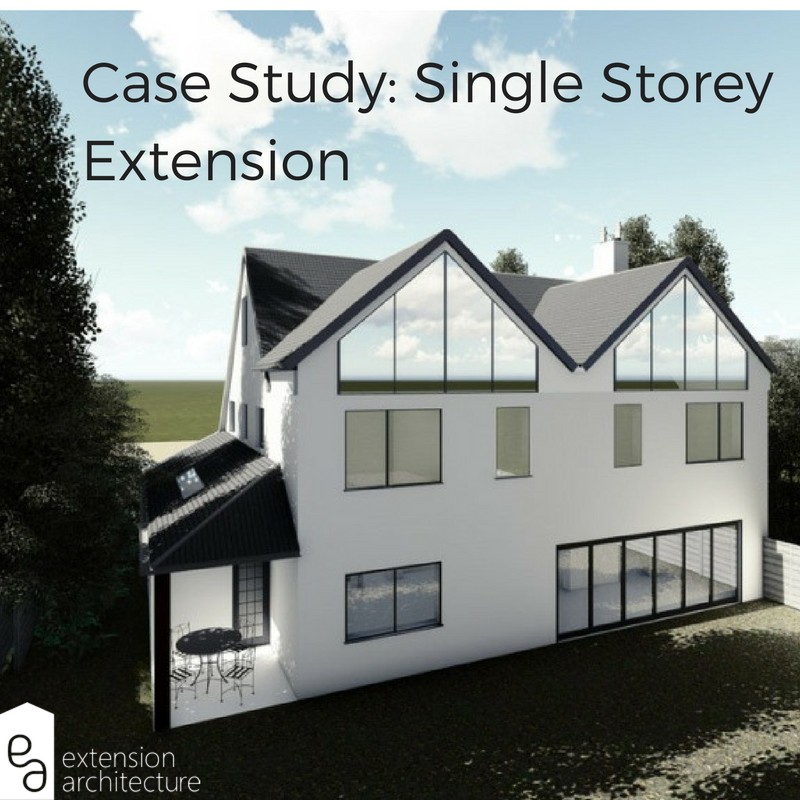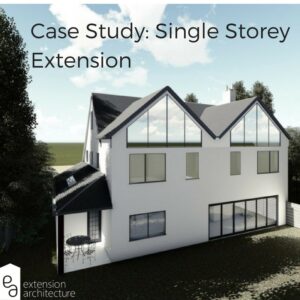 What do you need to do to transform your home? Space is the key, and getting more of it will provide the means to make your home different. Plus, the overall cost, when compared to moving, is generally going to be cheaper, especially if you're looking at increasing the size of your property.
The single storey extension is an ideal way to extend your property: generally, the designing and planning are straightforward, and in terms of adding value to a property, increased living space tends to work more in your favour than, say, increasing bedroom space.
The important thing is to think about how you will want to use your extension to get the most out of it and improve your lifestyle – the added value aspect is a bonus. Here, we look at the issues around single storey extensions, and we zoom in on a case study: a single storey extension we completed for a client in Molesey, Elmbridge.


Begin at the End
Work backwards here, by first thinking about what you want to achieve with your single storey extension. What will you use it for? Some people want more kitchen space, or an area they can use as an office. Understanding the function of your space from the start will help in how you then design and build it.
This will inform decisions such as flooring and heating, and windows. Your single storey extension may open out onto the garden, in which case you might want doors you can open wide in the summer. Will you extend your existing central heating system or opt for underfloor heating?
When getting professional support from your architect, you will want to discuss these various aspects of your new living space, and that's where Extension Architecture's experience and expertise really comes to the fore. 


Planning Permission
Not all developments require planning permission and, depending on the size and nature of your extension, you may be able to build onto your house under permitted development rights. This will also depend on whether you live in a conservation area, and what rules your local planning authority apply.
If you are planning a rear single storey and it won't extend beyond three metres of your rear wall if your house is detached, then it should come under permitted development rights. For detached houses, the limit is four metres. There are other conditions, and permitted development rights are updated all the time, so always check with your architect.
You will also need planning permission if your extension covers half the area of land surrounding your home, or if you are using materials that are different from the original style of your home.
Whatever changes you have in mind though, preparation is vital when it comes to planning and costing your single storey extension, so make sure you talk to your architect and builder. That's what this previous client did, and here is their story.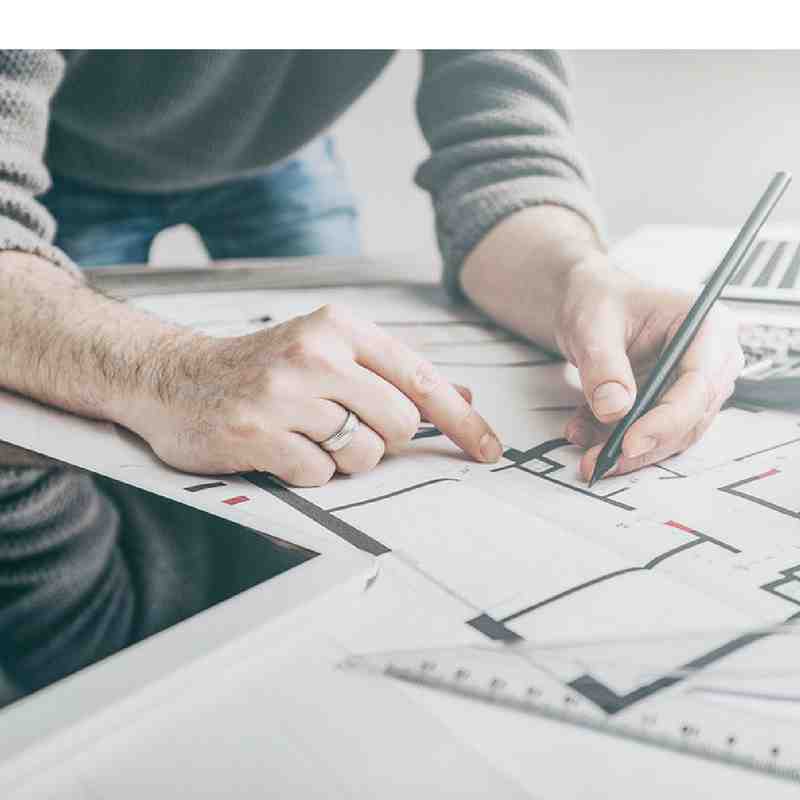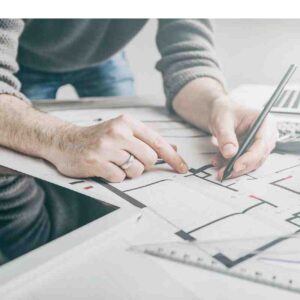 The Brief
Our client wanted to be able to work from home with a more effective use of space. He required a more user-friendly environment with a dedicated area for his work.
Often the difficulty people find with working from home is marking the boundary between work and home life. To a certain extent this division, or the lack of it, is psychological, but clearly making physical adjustments to available living space will help resolve the issue.
The client's home was a detached house in Molesey, Elmbridge. This area is a continuation of London's built-up suburbs but has a conservation area and heathland.
The house currently has an existing rear extension, within which the client normally works from home. However, this is also currently a communal family space. The objective was to create a more private work area for the client while retaining the existing rear extension. The concept was to clearly define the boundaries of this new space while keeping it connected to the remainder of the house, in keeping with the client's desire to be able to work privately, to be in the home but not at home.
Another key element of the brief was the proposed cost. The client was keen to work to a budget, which meant making the new rear extension economical but supremely functional.
Our Design Solution
We came up with a rear box extension. This was three metres square, with a width that would be half that of the house. The study area would be next to the dining room and would open out onto the garden with large, bi-folding doors.
This increases the sense of space and the amount of light in the study area, and means that our client, when using it, has the option of facing outwards, away from the domestic setting, onto the world outside, thereby aiding the sense of partition between work and home.
At the same time, we needed to preserve a sense of continuity between the existing house and the new box extension. We achieved this through the removal of certain structural elements such as ceiling beams, giving the impression of a seamless transition between one space and another. Obviously, the roof design of the single storey extension would be critical to the success of the design and the completed project, reiterating the continuity the client desired between the existing structure and the new, additional space.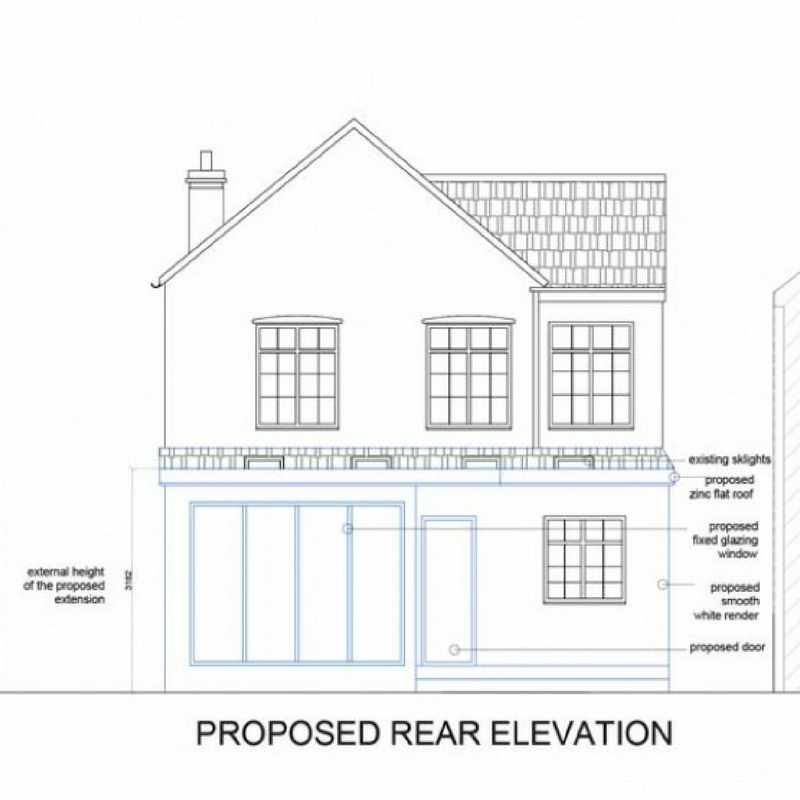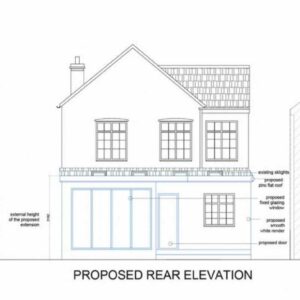 Conclusion
The single storey extension may seem like a modest alteration to a home but, designed effectively, it can make a huge amount of difference to living space, punching well above its weight. Nevertheless, it's vital to strike the right balance between gaining a striking new addition to an existing home and maintaining a sense of balance and equilibrium between what already exists and what you can add to it.
In this case, we recognised that the client's need to gain privacy while not completely detaching himself from the day-to-day workings of the house itself, striking a clever balance between work and home with a seamless extended use of space.
Get In Touch
Do you want to start the process to transform your living space and create something new for your home? Talk to us and let us help you design the perfect extension for your home. We're ready to listen to you.
Email us at [email protected] or phone 0203 409 4215. On our website, you'll also find a Request A Free Quote form, which you can send to us and we'll get back to you right away.