Your Permitted Development Rights For Loft Conversions
You won't need planning permission if it's a straightforward loft conversion London, because it will be considered permitted development. Permitted development allows you to undertake house extensions London or convert your living space, without the need to apply for planning consent, but you do have to meet certain criteria.
If you live in a detached or semi-detached house you can convert your loft and add extra living space by up to 50 cubic metres, and if you live in a terraced house, you're allowed 40 cubic metres. Keep the lighting simple with roof lights or windows that do not project out more than 150mm, and within those cubic metres, you won't need planning permission. However, you will still need a Building Regulations certificate to say that any improvement you have made is safe.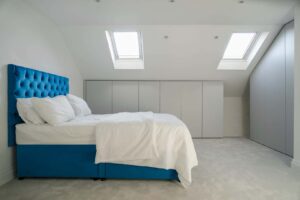 Loft Conversions: What If I Live In A Flat Or A Maisonette ?
If you live in a top floor flat or maisonette and you use the loft for storage, there is more than likely going to be leasehold implications. If you own the freehold, you might own the roof and the loft floorboards, but not necessarily the space in between. So you'll need to do your homework, as you might find that you'll need to purchase the freehold to the loft space or get permission from the freeholder before you can convert the loft. If you own a flat that has a shared freehold, you'll need to first check if you own the freehold to the loft space, and Building Regulations still apply.
When planning permission is required
You'll definitely need to obtain planning consent if your loft conversion London exceeds the permitted development allowance.
If you plan to extend higher than your current roofline.
You live in a conservation area, or the property is a listed building.
You have the space and would like to add a roof terrace.
The windows will project out more than 150mm, or you plan to build a dormer window.
Our architects in London have bucket loads of experience in designing and building loft conversions. Get our expert advice on choosing the ideal conversion to transform your loft into a truly amazing space. With our knowledge, we can carefully guide you through the entire process. We serve the London area where we know living space is at a premium, so contact us and we'll help you maximise the space in your home.