Mansard Loft Conversion Architects
Find out how we can help with your Mansard Loft Conversion project today!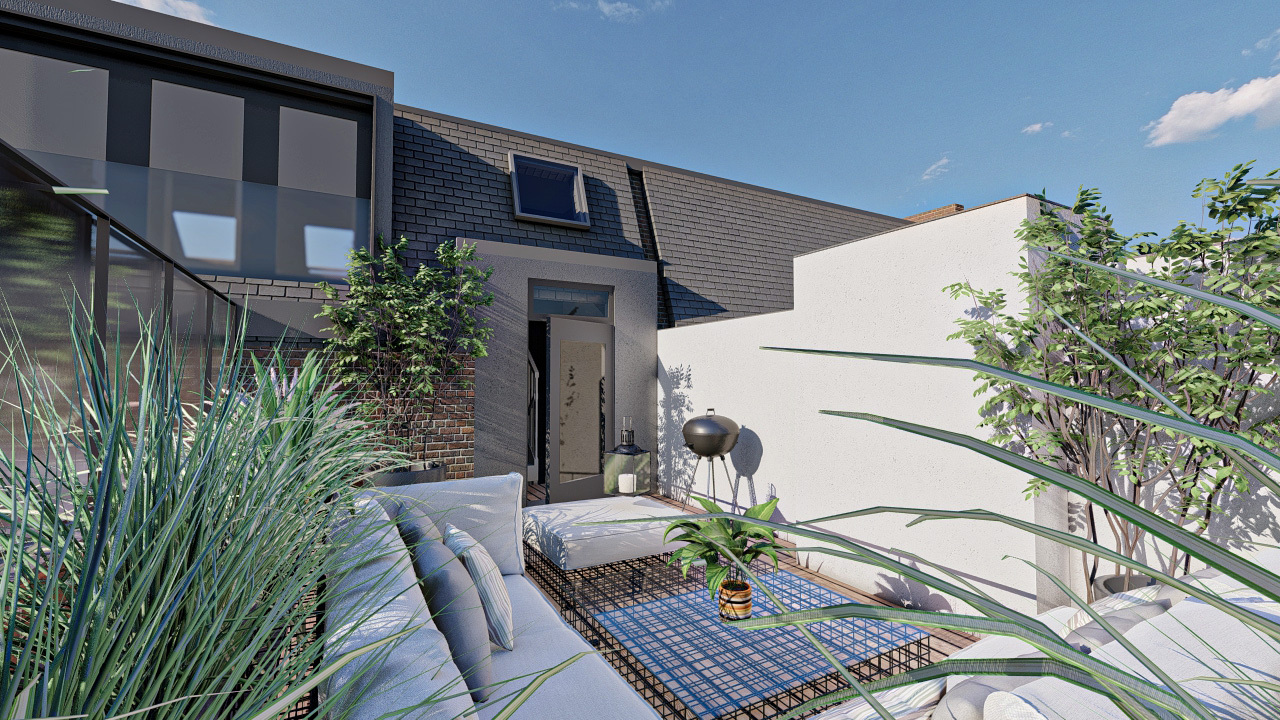 Mansard Loft Conversion Architect
Extension Architecture are a team of experienced and highly qualified architects, designers and project managers with the necessary expertise to carry a project from initial conception all the way through to construction and handover. With 13 years of industry experience working on both residential and commercial projects across London and the surrounding areas, you can rest assured that we have completed a similar project to yours!

Having seen it all, we know exactly what to expect when obtaining planning permission for mansard loft conversions.

Typically we find that a mansard loft conversion is considered when the character of the existing dwelling is at risk from a more traditional dormer extension, or in built-up areas where the council may not approve significant development. By angling the roof slope of up to 70 degrees to create a mansard, and cladding the externals in roof tiles similar to the existing roof, these constraints can often be mitigated, creating the illusion of a less obstructive extension yet granting you a significant gain in internal space!
Do I need Planning Permission for a Mansard Loft Conversion?
As opposed to more traditional loft conversion types, you will often need to seek planning permission for mansard loft conversions. This is especially the case when:
Altering the front roof slope of your property into a mansard (70 degree) slope;
Your property is split into flats;
Your property is situated within a conservation area or is a listed building.
Most mansard loft conversion projects are sought in an already built up area, typically on terraced or end-of-terrace properties. It is quite uncommon to find a mansard loft conversion on a semi-detached home. However, there are also cases where a mansard loft can be incorporated on detached properties, often of a large scale, to gain extra space under a central crown roof!
However, if none of the above points cover your property, you may be able to add a mansard loft extension to the rear of your property using your permitted development rights. However, we would always recommend consulting a mansard loft conversion architect to ensure you have all of the necessary information and statutory obligations in place before you begin construction.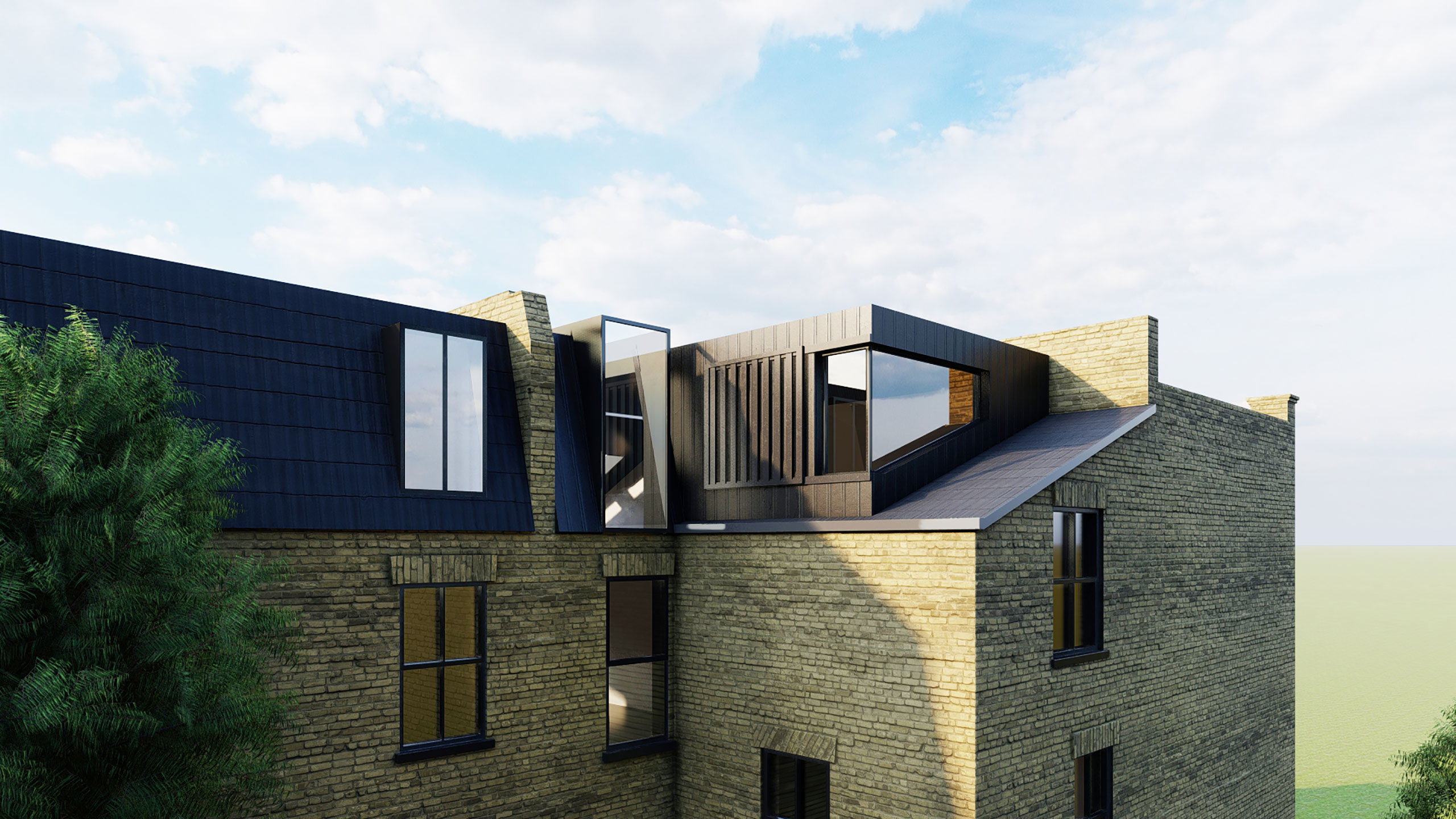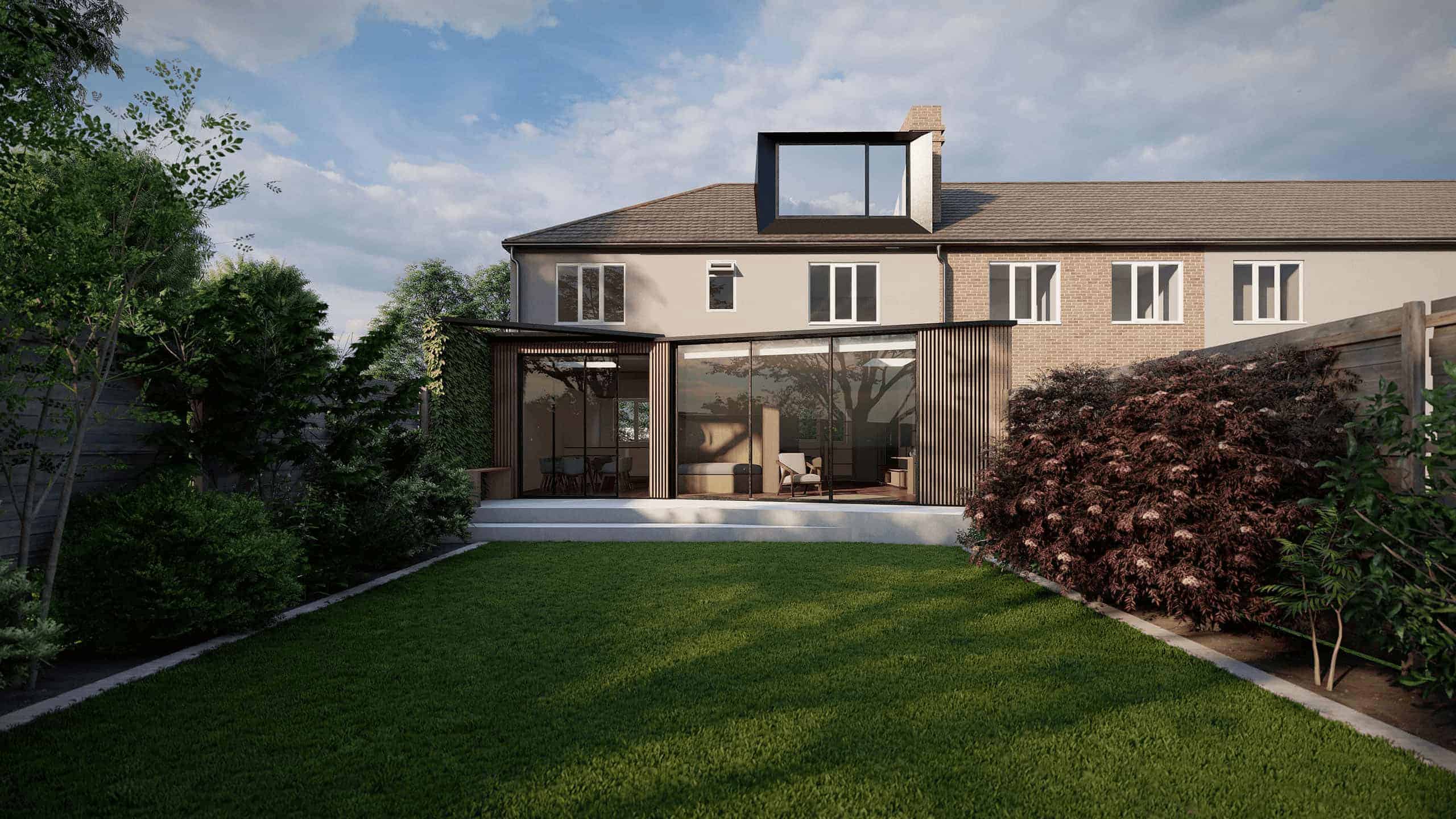 Our Services for Mansard Loft Conversions
If you have outgrown your home or looking for ways to remodel and add value to your home, then a mansard loft conversion could be the ideal solution for you. Our architects in London boast extensive knowledge and experience in dealing with house extensions in London, including mansard loft conversions, in all of the London boroughs and surrounding areas. Our locations include Kensington & Chelsea, Lambeth, Merton, Wandsworth, Enfield, Croydon, Elmbridge, and Kingston and everywhere in-between!
Whether you have an existing loft conversion and are looking to add a mansard roof slope, or whether you currently have no conversion and are looking into different styles to maximise your chances through planning, get in touch today to speak with one of our specialist loft conversion london architects to see how we can help. With an experienced, in-house team of professionals from all corners of the industry, you can rest assured that you are in good hands from start to end. With an exclusive turn-key approach to design and construction, we can advise you on every aspect of the design to ensure a smooth transition from department to department!
No matter what type of extension you're interested in adding to your London or Surrey property, Extension Architecture is here to provide extension ideas for your property. Look at our case studies below or get in touch to speak to one of our specialist advisors for more information.
Mansard Loft Conversion
A mansard loft conversion is a type of roof conversion that involves altering the shape and pitch of the existing roof to create additional living space. This is achieved by extending the sloping sides of the roof to create a nearly vertical wall, known as a "cheek wall", which is then topped by a flat roof with a slight slope. The result is a distinctive style of roof that is commonly found in urban areas and historic buildings.
The process of creating a mansard roof involves various technical aspects, including the use of structural steelwork to support the weight of the new roof and the installation of dormer windows to provide natural light and ventilation. A mansard loft conversion typically requires planning permission due to the significant changes to the roof structure and appearance of the building.
Other technical considerations include insulation, fire safety measures, and the installation of plumbing and electrical systems to accommodate the new living space. The design of a mansard loft conversion may also involve integrating features such as skylights, balconies, or green roofs.
Overall, a mansard loft conversion is a complex and sophisticated construction project that requires careful planning, skilled design and engineering, and the use of specialized materials and techniques.
Mansard Loft Conversion Cost
A mansard loft conversion is often considered one of the most costly loft conversion types due to the need for skilled labourers and the typical size. You can expect, on average in 2022, to spend approximately £1800per square metre + VAT, and this will include the complete shell of the conversion and reinforcement of the existing floor. As expected, the final project cost can vary greatly depending on the level of internal finishing your require.

Our team of mansard loft conversion architects, designers and project managers will work with you closely to define the brief and ensure that your project is feasible and within budget every step of the way.

On average, you can expect to spend anywhere from £70,000 to £120,000 for your mansard loft conversion up to completion. However, the rewards of this investment can highly boost the value of your home, with most London Boroughs valuating a singular square meter anywhere from £5000 to £30,000!
How much space can a Mansard Loft Conversion provide?
By extending upwards and creating a mansard loft conversion, you are essentially adding an entirely new storey to your existing property!

The rewards of doing so can be huge, and can boost the value of your home by almost 25% in total! The vast space created could be used as an additional bedroom or two, plus a new bathroom or en-suuite, depending how large the footprint of your property is. This makes it one of the most space-maximising extension types commonly seen today.

However, before you consider a mansard loft conversion, it is important to speak with an experienced loft conversion architect near you to determine the feasibility and buildability. A good, local architect will be able to help you navigate the often strict council guidelines on mansard lofts, and give you the best chance of planning approval first time.
Why choose us for your Mansard Loft Conversion Project??
Our professional team can support the initial concept design to detailed interior design, followed by project management to completion with our local, fully vetted construction professionals who offer competitive build quotes. No matter the size of your mansard loft conversion, Extension Architecture is here to help.
Following an initial phone consultation, one of our experienced surveyors will visit your property to get the ball rolling. At this stage, we will work alongside you to develop the brief and ensure that we can generate a feasible proposal that aligns with both your priorities and the requirements of your local planning authority. Contact us today to organise an initial consultation and receive a personalised quote if you are looking for architectural services!
I'm highly recommending Extension Architecture for their expertise to turn around a difficult planning application that I had refused from 2 other architects and they managed to get my additional new house at the end. A 3 year journey, but it was well worth it! I cannot appreciate enough their planning knowledge, and also now we are breaking ground. Their tender pack has saved me alot of hassle in choosing material inside the house myself. Especially their kitchen design has been great and cannot wait to see it realised. Thanks for all your input so far…
★★★★★
Delighted with the application approval that we got yesterday. As discussed initially, we were dubious of our chances as our property in Weybridge sits in a flood risk area +
conservation area. But our full application for the 4m extension to the rear have been approved without any hassle. Also Elmbridge council was able to give us the approval within 7
weeks, so an added bonus. Thanks Especially to Youno who was very helpful in outlining all the pitfalls and guiding us to this position.
★★★★★
Thank you for your efficient service. Really impressed with the level of service and the speed!
★★★★★
Working with Nadir at Extension Architecture was a truly trouble-free experience. They explained the process and was always at hand whenever I had questions. I trusted their
judgement whenever they provided amendments to my initial plan and was thoroughly happy with the end result! 11/10
★★★★★
Beautiful extension, Thank you!
★★★★★
Previous
Next