Islington Planning Applications
Lonsdale Square, Islington. Extension Architecture have made several Islington Planning Applications.
Planning & Architecture in Islington
---
ISLINGTON TOWN PLANNING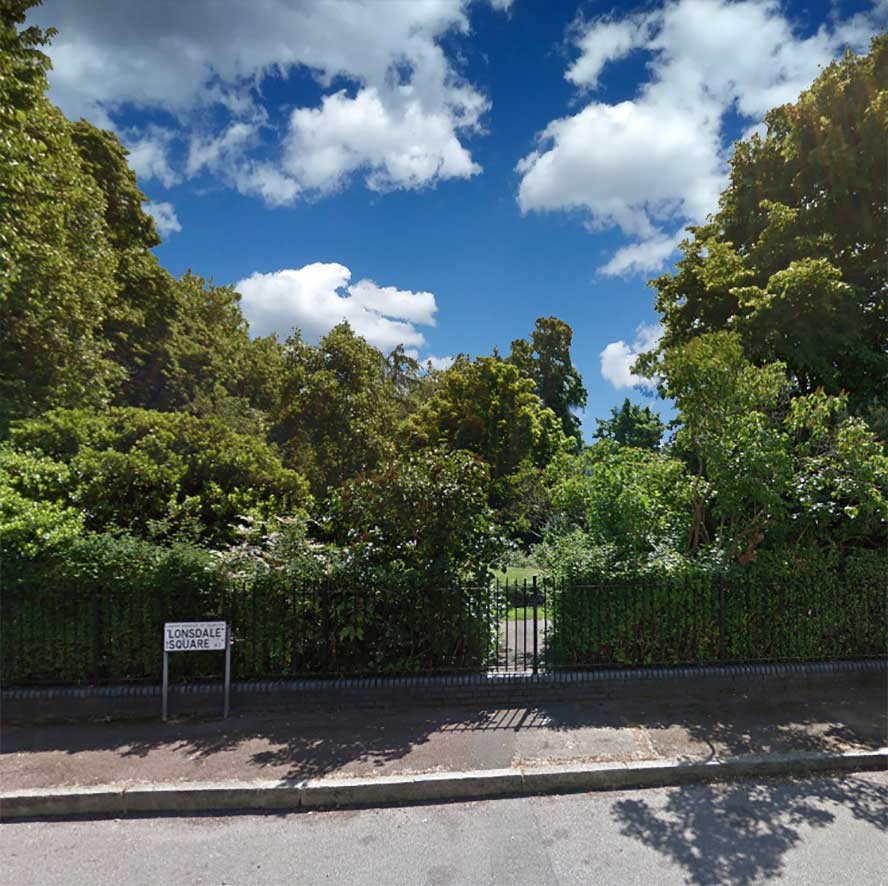 Islington is a small but diverse and popular borough with some impressive traditional architecture, in particular its attractive Georgian garden squares [right and top]. Its classical style tends to be well-proportioned 3-4 storey houses with regular windows and London (butterfly) roofs. It has also managed to retain the street layout set down in the 19th C, and still has many historical buildings such as Sadlers Wells theatre, rebuilt no less than 5 times.
There are some contemporary financial buildings along Islington's City border, yet the planning department has succeeded in retaining the character of Islington by implementing planning policies that refuse poorly designed or inappropriate applications. It is worth noting that they do approve planning applications which improve neglected areas, or reflect local historical tradition.
Islington's regeneration policy therefore ensures vibrant – yet conservative – forward development, in terms of aesthetics and functionality. There is much pressure from developers, which the council endeavours to answer by not only rigorously preserving but even enhancing the distinction of its characteristic appeal and traditional aesthetic image.
One of Islington's Georgian garden squares.
ISLINGTON

PLANNING

DEPARTMENT
Islington
Planning

likes:

 
| | | | | | |
| --- | --- | --- | --- | --- | --- |
| Clear information, see 1. | Definition & Safety, see 2. | Green walls & roofs, see 3. | Improvement applications, see 4. | Well-lit paths, see 5. | Natural Surveillance, see 6. |
Islington appreciates clear and transparent information in its applications, which are individual to the site and not prescriptive or generic. Information should focus on the design solution along with policy requirements.
Islington likes developments which define a space and promote community safety. [This can be enabled by avoiding dark, unlit corners in a new design.] They should fit in the background or in context with public life in order to connect communities. These are so important that Islington considers them as design features, along with aesthetics.
Islington also promotes green walls and roofs to reduce pollution levels and promote cooling in urban centres. The residential density is high, and the ratio per capita of open spaces is low, hence green infrastructure is very much encouraged.
Applications which improve and reintegrate low standard sites with the good character of the rest of the area.
Well-lit pedestrian routes with clear sightlines [no alleys or tunnels with corners].
Natural surveillance. Communal courtyards or adjacent spaces should not be walled but have windows to inhibit crime or unsocial activity.
Islington
Planning

resists:

 
| | | | | |
| --- | --- | --- | --- | --- |
| Flat Conversions, see 1. | HMOs, see 2. | Gated Communities, see 3. | Gated Routes, see 4. | Unlit corners, see 5. |
Flat conversions are a popular application theme, as are HMOs (Houses in Multiple Occupation). This is probably due to prospective revenue, but also possible because of the demand for single units. However because of the shortage of larger units, these tend to be resisted by council planning departments, particularly if there are already conversions along the same street, because each road tends to have a certain quota.
Moreover, Islington will not allow an HMO if it negates larger units, which invariably it would in nearly 100% of cases! Exceptions to this would be if it was a change of use from non-residential, or if it was a new build.
Gated communities; as these undermine natural surveillance and disconnect communities.
Gated routes; which are not a solution to design or community flaws and obstruct thoroughfare.
Unlit corners: these promote crime and adversely impact feelings of safety.
The original Angel Inn [left] is now a Grade II Listed Building.

The original building today [centre], with adjacent namesake pub [right] (since 1998).
Islington
Planning

advantages:

 
| | |
| --- | --- |
| Variety, see 1.                                    | Inclusion, see 2. |
A good thing about Islington's attitude to design is that they do not wish for a blanket style across an entire area. In this way, they actively encourage innovative design solutions instead of the monotonous procedure of ticking boxes. Again, the result goes beyond pleasing aesthetics as the planning department understands the social and economic impact of good design in its four commercial town centres and the smaller local groups of businesses in residential regions that are pivotal to the borough's strong economy.
Another inspirational initiative on the part of Islington is their cohesive approach that affordable housing should not be of a lower standard than private accommodation. This social policy has positive and far-reaching implications to reduce ubiquitous social segregation in the near future.
Islington
Planning

on flat conversions

If you wish to do a flat conversion, the property needs to be at least 125m2, and one of the units must be 2 beds (or larger). If the house is 140+m2, 2 of the units must be 1 x 2 bed and 1 x 3 bed, which is clearly due to the pressure on housing stock for larger units.

The borough policies aim to ensure good accommodation to enhance quality of life. To this end, amenity space must be provided as follows:

LevelI – 2 OccupantsAdditional OccupantsFamily Units (3+ bed)
| | | | |
| --- | --- | --- | --- |
| Ground Floor | 15m2 | 5m2 for each | 30+m2 combined total |
| Upper Floor | 5m2 | 1m2 for each | (see above) |
PLANNING & ARCHITECTURAL PRACTICE IN ISLINGTON
Extension Architecture provides a full range of services in the Islington area; including:
Planning Application Drawings (including Plans, Sections, Elevations) for Islington

Planning

Retrospective Planning
Building Regulation Drawings for Islington Building Control
Consultancy for Commercial Development
3D Visualisations (Immersive Design)
Spatial Planning and Layout
Feasibility Consultancy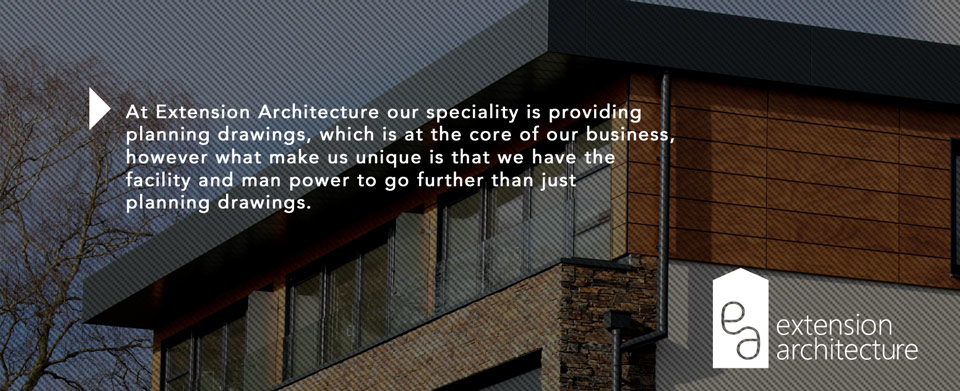 Extension Architecture in Islington & the London Area
Further Information & London Case Studies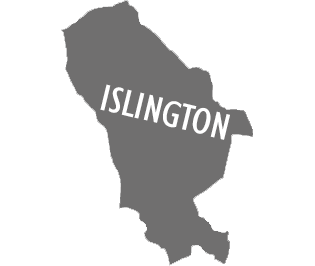 Email: [email protected]
Neighbouring Boroughs: | Camden | Hackney | Westminster | Haringey |
Within Islington Borough:
■ Angel ■ Archway ■ Barnsbury ■ Canonbury ■ Clerkenwell ■ Farringdon ■ Finsbury ■ Highbury ■ Holloway ■ Kings Cross ■ Newington Green
■ Old Street ■ Tufnell Park
Extension Architecture's portfolio includes several planning applications with Islington Council and designs in the London Borough of Islington. Therefore, we have a good under-standing of Islington Planning Department's changing policies.
By keeping up with relevant planning and con-servation legislation changes, we have retained a high rate of approved applications. Our projects in Islington have included extensions and retail applications in conservation areas.
If you are looking at Islington architectural practices or architectural designers in London, we can advise you of Islington's conditions and size requirements for flat conversions, HMOs or new properties.
Before you do an Islington Council planning search, speak to our planning team who can explain things like Community Infrastructure Levy (CIL), and whether it would apply to your application or not.
ARCHITECTURAL PRACTICE IN ISLINGTON
Our Processes and Services:
Get in touch for a free consultation
Our user-friendly services can assist you through design, planning permissions, pre-build and construction in residential or commercial applications. See below for how our planning and design teams optimise your chances of planning approval.
Residential Applications
You may have considered a loft or garage conversion; a rear or side extension; a basement, or even a back-land development or new build. As well as Planning Application drawings, our 3D Renders service is a great tool to clarify any of these proposal designs to clients & their families, but also for their neighbours and especially the officers at Islington Planning.
No project is too small; as we also offer roof terrace designs as well as dropped kerb applications. We can also create Building Regulations drawings for your Building Control at the pre-build stage; and why not ask us to add Interior Design to your quote, so we can create beautiful soft furnishings for your new spaces.
Commercial Applications
For commercial applications, we offer change-of-use applications and fit-outs in retail, bars, restaurants, hotels and cafés. We have interior design and 3D Immersive services to get you the best spatial design solution, as well as rebranding and print design for a new business launch.
Our Planning Team
We have in-house Planning Consultants who offer free consultations and advice regarding planning routes or supporting statements. They are always ready to help; so do call them on 0203 409 4215 to book a site survey, or if you have any other questions about which services would benefit your proposal.
Our Design Team
Our architects, architectural designers and interior designers come up with creative and functional solutions for your project. With a new project in Islington, they would look at the history and context of the site in relation to its surroundings, closely referencing local policies and constraints within the design process. They then create contemporary or traditional solution options which are sympathetic to the character of the neighbouring properties; using natural materials with matching hues. Before submission, they peruse recent applications to Islington Planning – both approved and refused – to strengthen your chances of approval.
Consumer Confidence
Because of their expertise and experience, you can use our planning and design teams for optimum success with your permission and design. Call n 0203 409 4215 for your free initial, no-obligation consultation, or to arrange a visit and get your proposal moving along. This way you can see what kind of Design Proposal we could build with you. Tell us about your ideal project, and we can invite you to our office for a free presentation of examples which are similar to the works you have in mind.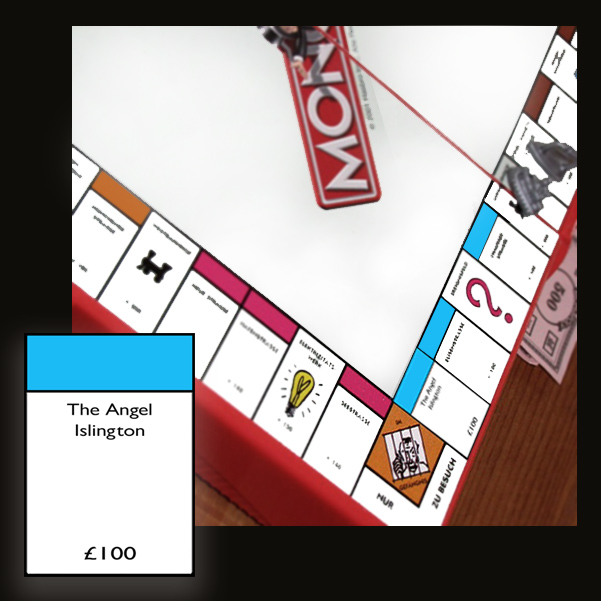 HISTORICAL INTEREST
Home to Monopoly's 'Angel of Islington', the borough is not short of historical interest. The Angel had been an inn in the 17th C. Named after Gabriel from the painting referenced in the sign, it made a safe haven as travelers to the City of London needed armed escorts because highwaymen used the dairy farms and woods around the City to ambush wealthy messengers.
Much of the area had been previously owned by monasteries in the 16th C, before being handed to aristocrats upon their closure. The actual inn building has had many changes of use over the centuries, and is still used as a bank and offices today. (Apparently, one of its owners was fined for contravening building regulations as far back as 1638, showing that Building Control is not a new decree!)
The board game which has become
an icon of family leisure.
Changes of Use Over Time:
Here are some of the uses that Islington has seen over the past few centuries:
Dates
New Uses over Islington's History
Dates
New Uses over Islington's History
Dates
New Uses over Islington's History
16th C

livestock markets
spas
metalworks
hamlets
monasteries
cattle grazing (Islington Green)

18th C – Georgian Era

Largest jail in the area
Dance halls
Billiard halls
Concert halls
Hot air ballooning
rubbish tip cleared to construct new houses
Highbury Fields – open space

20th C

the underground [including the Angel]
more theatres
Chapel Market
Open Spaces: Highbury Fields,
Culpeper Community Gardens

17th C

Sadlers Wells theatre
Printers
Papermakers
Breweries
gin distilleries
jewellers
watchmakers
townhouses
large rubbish tip at Mt Pleasant

19th C – Victorian Era

Residential urban area
Railway
Trams
Regent's Canal

21st C

Vintage shops
Antique shops
More markets
Art Cinemas
Stylish eateries
Islington
Planning

Design Tips:

Design TipCommentsActions
| | | |
| --- | --- | --- |
| Have an integrated approach | think about connecting the community | use a range of professionals for a solution that is accessible, comfortable and convenient for users |
| Follow the 4 Principles | for high quality design | see Islington's Local Plan |
| Create safe, attractive places | they should be sensitive to the special character of Islington | see Islington's Supplementary Planning Document |
| Contextualize the design to get the correct solution | show how it will fit in with landscape, traffic, activities and uses | use supporting documents such as a Design and Access Statement or Planning Statement |
| Consider the cumulative development of the local architecture | i.e. the way the historical aspect contributes to identity | look at variations in local landmark areas |
| Think: 'streetscape' | no (man) house is an island | look at Islington's diverse architectural history to see how the streetscapes have evolved |
| If you want to do a commercial application | understand the ethos for shops and restaurants | see Islington's Development Management Plan |
| If you are in a Conservation Area or a Listed Building | look at Islington's Heritage and Conservation policies | see Islington's Development Management Plan |
| Balance high quality design with access and movement | aim for efficient function, integration and optimal use of the site | consider vehicle access, transport and road links at the early stages |
| Be a sustainable development | think of social, economic and environmental factors | ask your architect to use environmentally sensitive processes and materials which are lasting and fit-for-purpose |
| Incorporate a green roof, wall, or pot garden | green infrastructure is now at the core of several aspects of good development | ask your architect to incorporate landscaping features in the build design |
| Improve the eco performance of existing buildings | it is not only new buildings but existing that can be improved. Your design will have better chances of approval if you can address its carbon output. | ask your architect to include smart home technology to reduce your carbon footprint |
| Think of health in terms of ventilation to avoid dampness, air quality, warmth, daylight and access to nature | the converse is disadvantageous to physical and mental health, especially for low income; disabled or elderly residents | check your architect is aware of social issues like this in their design process |
| Put people at the centre of your proposal | for a successful solution for all residents over the lifetime of the building. | think of the space in terms of sound as well as visuals. Will certain materials make it too noisy? See Islington's policy for Inclusive Design |
| Be aware of Islington's holistic viewpoint that all their policies point to the design process. | engage with prospective users as early as you can to inform your perspective | use the support facilities available for designers: ask your planning consultant to request a Design Review Panel at the early stages, so they can get your design checked at one of their Streetbook Surgeries. |
| Reinforce urban fabric | Islington's culture is rich yet street-based e.g. restaurant life | study streetscapes to get an idea of how to complement the local identity |
| Most sites in Islington are of high quality so any development should continue that standard and style | focus on continuation of local character and surroundings | follow the established urban form or building line |
| Seek to improve the site if the existing has a poor layout or design | the council will favour an improvement which reintegrates the area | ask your architect to create a much-improved design for the site |
For further reading, see Islington's Urban Design Guide.
FURTHER CASE STUDIES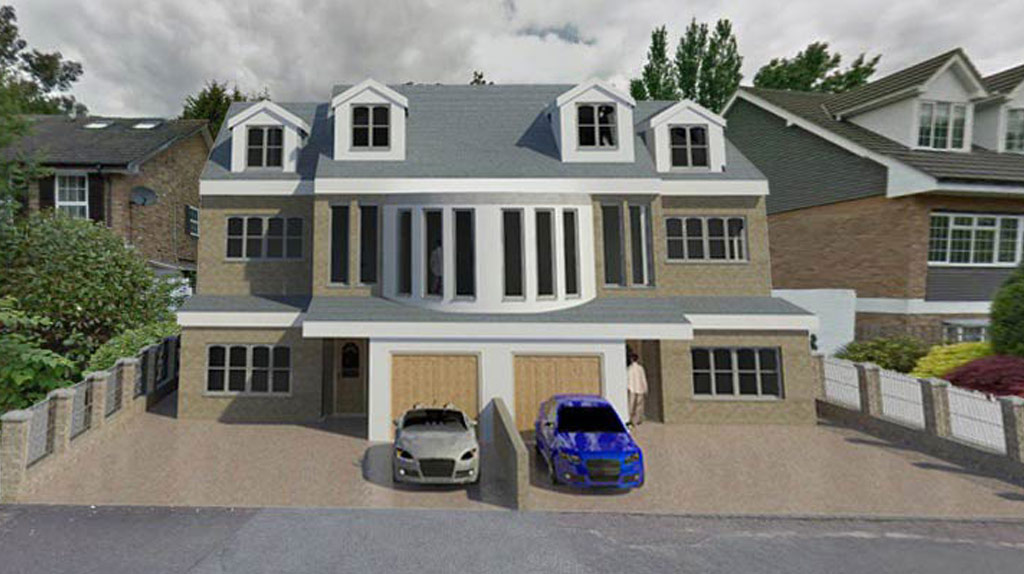 New Build Twin Houses
From a detached home to a semi-detached contemporary haven, Extension Architecture (EA) have developed a state-of-the-art design for this client.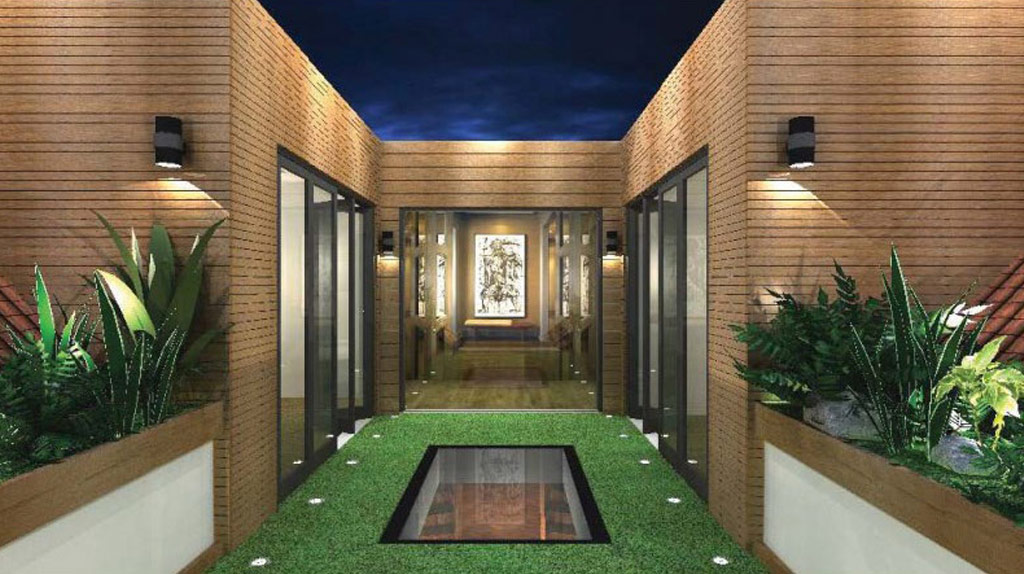 Loft Extension
We were appointed to produced a number of visualisations for our client for a property which our interior designer re-designed and presented to the client for approval.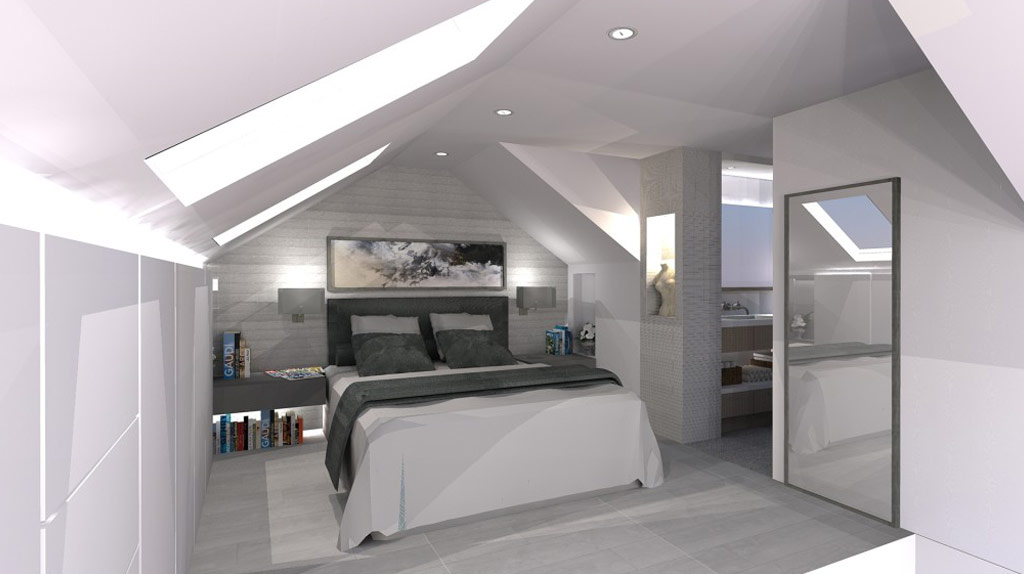 Copse Hill Loft Conversion
Extension Architecture helped a client realise their desire to extend their loft.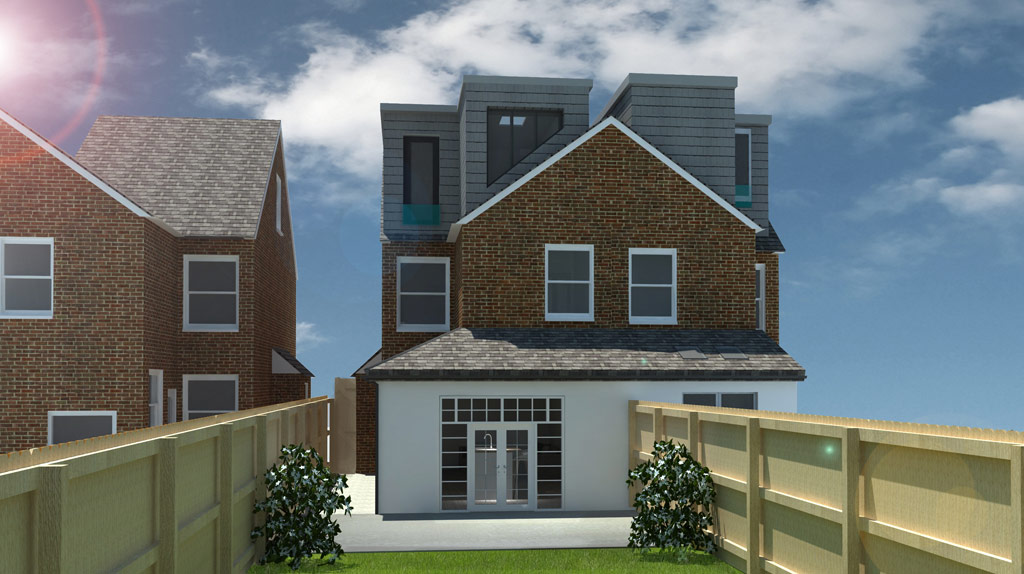 Side Extension and
Loft Conversion Project
Property is a detached Victorian building located in an area with mixed residential and commercial developments.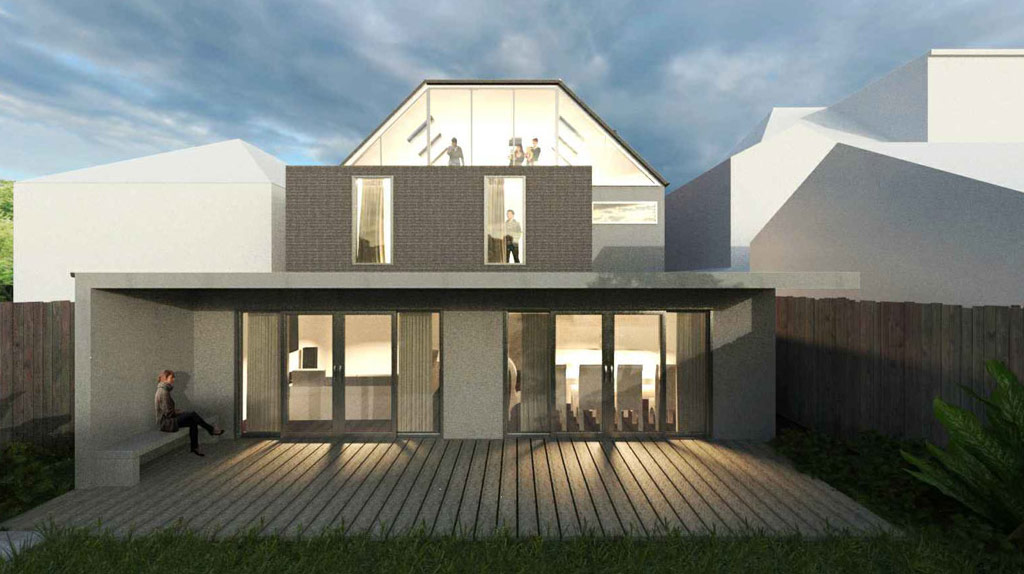 Double Storey Rear Extension &
Loft Conversion
The project included a double storey rear extension, loft conversion, internal
reconfiguration and a porch.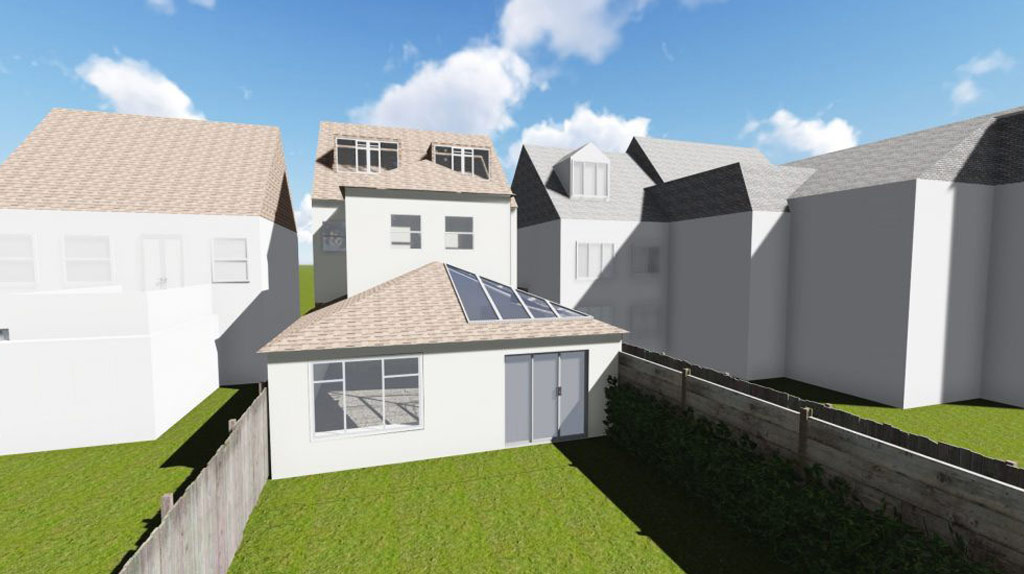 Skylight feature for
single storey rear extension
The project involved a conversion of a semi-detached house in the urban area, into 3 flats consisting of 2 x2 bedroom and 1 x 1 bedroom with parking spaces for 2 cars.
Other Case Studies
---
►

Residential
Single Storey Extension

Double Storey Extension

Convert to Flat

Loft Conversion

Basement Extension

3D Visualisation

►

Developers
New Builds

Change of Use