Architectural Drawings for our Loft Conversion and Roof Terrace project.
Brief for Loft Conversion and Roof Terrace
---
Our client wanted an architect to help submit planning 2 applications. The first was to create a roof terrace on top of the rear wing at the first floor level. It was a maisonette in a double storey Building.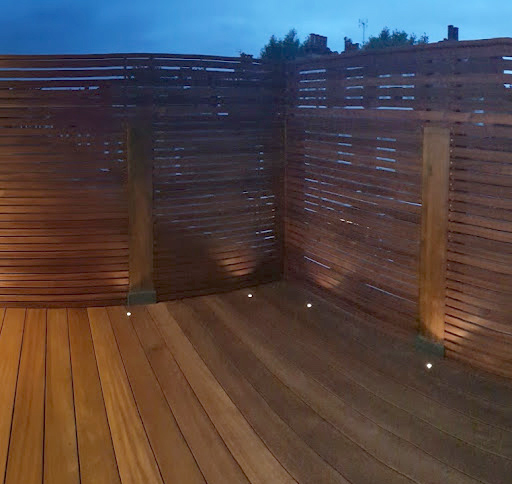 Project Trail for the Loft Conversion and Roof Terrace
Feasibility Study
Site Survey
Planning Application 1 for roof terrace
Design & Access Statement for Conservation Area
Planning Application 2 for dormer extension
Tender Packs
The application site is located along Wandsworth Bridge Road, above a commercial premises. The property is a maisonette on the first floor and loft levels. The purpose of the roof terrace proposal was to provide much needed private outdoor green space, as there is no garden access. It would not alter the street scene as it is only visible from the rear, with a part-alteration to the rear roof slope. There is a precedent case opposite the rear of the address, to which we proposed a similar design. Thus, we optimised our chances of approval by the Conservation Officers, by retaining consistency with the area. Ours would closely match the other in terms of symmetry, materials and dimensions. For example, the balustrade was frosted glass and metal.
A Conservation Area
The site falls within one of Hammersmith and Fulham's conservation areas: Hurlingham Conservation Area # 4. The proposal seeks to comply with the relevant Local plan policies with regards to the context of the local environment and its sympathetic integration with the general street scene of Wandsworth Bridge Road.
Careful consideration has been taken with the design of the proposed roof terrace, to ensure that it is sympathetic to the character and appearance of the Hurlingham Conservation Area, as well as its immediate surroundings.
Therefore the roof terrace has been planned to stay in-keeping with local precedents and not to detract at all from Conservation aesthetic appeal. It has been our focus to maintain the characteristic of the building and area. Parking considerations were unaffected by this proposal, as was the strength and look of the actual building.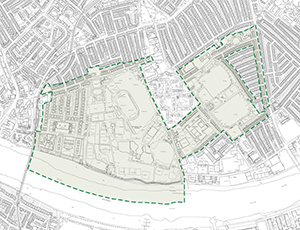 Water Levels
The address is also located within a flood risk area in Hammersmith & Fulham; Flood Risk Zone 3. However, this area benefits from formal flood defences (indicated on the key in figure 3). This proposal will not affect the grounds of the property. Flood-proofing has and will be considered where necessary and appropriate, but in this case it is inconsequential and irrelevant. That is because the proposed roof terrace is above ground level and will not have any adverse obstruction effects on the watercourse, floodplain or flood defences.

Local Information
Wandsworth Bridge Road has an abundance of services and amenities, close proximity to transport links: Putney Bridge, Parsons Green and Fulham Broadway and Imperial Wharf stations are within 10-15 minutes walking distance (as is the Chelsea Stadium.) The road looks leafy and green, with large desiduous trees lining the road. It gives onto Parsons Green – also with prolific large trees – making it attractive due to the open space. As well as the traditional London architecture, these are some of the features of a conservation area, as well as its proximity to the river.

Planning Application # 2
Our planning consultants advise that it is safer – in areas of contention – to submit separate applications for each scope. That way you will avoid being turned down for everything if it was only one thing that was recommended for refusal. Therefore the loft conversion and dormer extension was submitted as a separate application.
Update: in 2017 we did another project for him, to redesign one of the bathrooms. As it was internal, it did not require a planning application. Hence it was purely a project for our architectural design team. However, we also supplied Mechanical & Electrical Drawings to guide the builders, plumbers and electricians for the pipe and electrical layouts.
Contact Us for your Loft Conversion and Roof Terrace
To see some of our work in the style of classical architecture or modern architecture, look at our case studies, and to set up your telephone consultation or coffee presentation, contact us below. If you are considering a single storey extension and would like to discuss your house extension cost, do call us. If you have looked at architecture firms, we can guide you regarding the cost of extension projects. As well as the cost of building and extension, we can show you a presentation of previous examples of extensions or roof terraces we have created.
If you have some rear extension ideas, we can do a mini-feasibility study for free for you, regarding your local planning authority's policies. We have done many loft conversions South London in particular so, if you would like to simply extend, let us use our expertise in internal space design to create great new living spaces for your family. If you live in the Southwest of the capital, then we are local architects for you. Even if your project is for renovation or house refurbishment only, we can guide you and offer you our support services for the construction phase and interior design. Most of our experience is in London architecture, so we have experience of loft design and home extensions with all the LPAs and strong rapports with some of the Planning Officers.
Related Projects
---