Brief
---
Our brief was to maximise the living space at the rear of the house via a single storey rear extension. We also implemented a beautiful garden design with a new patio, decking and levelling of the garden heights. In order to enable the addition of the new extension, we had to arrange for a manhole to be relocated.

We also did building regulations drawings for our client's proposal to satisfy Building Control. We included detailing for the joining of the old and new floors; for wall details below ground; for roof abutment & eaves detail; for the inspection chamber plan & section and for pipe projection details.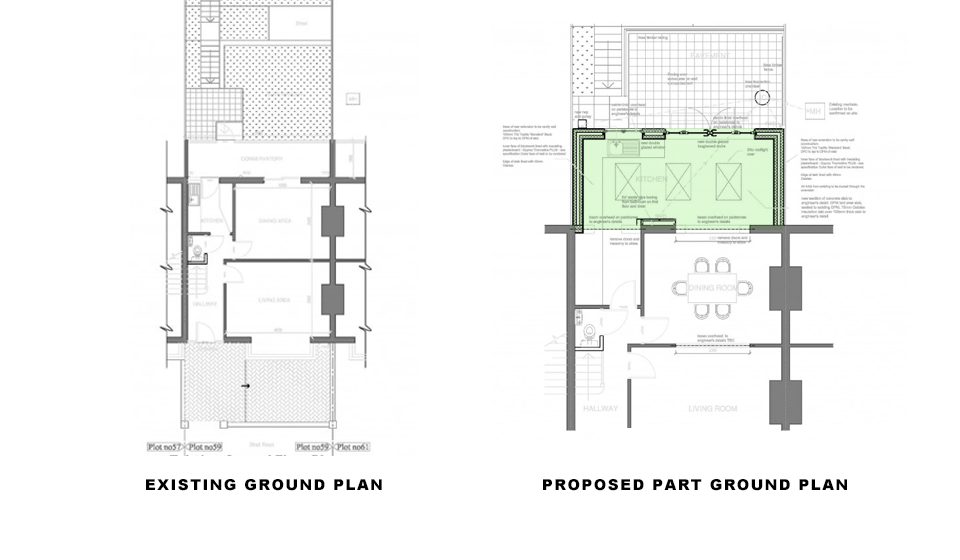 Do ask us if you would like us to add Building Regulations drawings to your quote. Building Control is the next stage after you have consent from the Planning Department. This is your pre-construction stage when drawings are presented to the Building Control Department of your local council. They are concerned about safety issues regarding fire escapes, foundations and steels. They also look at the suitability and quality of materials such as insulation.
How we can help with your single storey rear extension
---
We can also help with general questions about planning permission for extensions, or how far you can extend under Permitted Development. We can help you understand why you will need to satisfy the Building Control department of your local council even for a small side or single storey
rear extension.
If you want a two storey side extension we can help you make a successful application in most cases. We offer and 3D Immersive Design package which is an effective tool in convincing planning officers of the aesthetics of your build. Pre-planning Applications: We also suggest the pre-app. route in the event of any contention with a proposal. See the Pre-app. section on the Planning Portal See the Pre-app section on the Planning Portal for more details. This used to be called 'outline planning permission'.
We can guide you re estimated build costs and whether or not you would need planning permission for a conservatory and if so, what kind of permission
will suffice. We will tell you how to get planning permission, explain permitted development rules and let you know if your permission is still valid. We let you know about the council's planning application fees, to which we don't add VAT. We offer to submit your application and liase with officers on your behalf for no
extra charge.
Related Projects