Plots for sale
---
You can find building plots for sale and land for sale with planning permission on auction lists around the home counties and beyond, although larger plots are difficult to find in the capital. However, small plots of land for sale can be found in London. If you are looking to buy land with planning permission, give us a call on 0203 409 4215.
We like to network with new and established developers regarding mutual opportunities. If you are looking for investors, we can recommend a feasibility study for the proposal on your building plot, then invite investors to a presentation on your behalf.
Woodland
Even if you are looking for woodland for sale with planning permission, we can help. Many of our projects have been in beautiful, Green Belt areas. We can advise you about development sites for sale according to the local planning policies.
Looking for new woodland plots is clearly desirable, and although beauty spots are pro-tected, we know how to approach such contention via recommending modifications to your proposal that comply with conservation policy. We can recommend planning support documents, and can also commission these statements or reports externally on your behalf.
  Outstanding spots are not completely out of reach, if you hire a
good planning consultant and architectural designer.
In addition, we can prepare planning drawings, building regulations drawings, 3D immersive renders. We can also commission technical services like structural engineers and topographical or party wall surveyors.
Helping you find your land
for sale with planning permission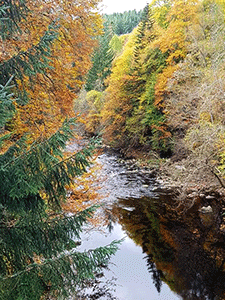 Send us your details and we can arrange a meeting where we can present similar project examples of residential building plots for sale.
So whether you are looking for some land for sale with planning, or you already own your plot, we can help you either to develop or to gather investors. If you are at the first stage of looking for sites for sale or plots of land with planning permission for sale, we can help if we know of any plots in that area.
Also, we can recommend optimum planning routes, dep-ending on any constraints such as Green Belt, Con-servation Area, Grade I or II Listed Building, Open Metropolitan Land, Local Area of Special Character or an Area of Out-standing Natural Beauty.
Larger developments
If you are looking at plots of land for sale to become larger develop-ments, we can recommend the pre-planning application route and the inclusion of a supporting statement called a Design and Access State-ment. See also our article for developers if you are interested in investment land, farmland for sale in the UK or land with planning permission for townhouses or start-er homes. We can advise of local deficits to optimise the chance of planning approval on your land for sale with building permission.
We can help you find either building land for sale or land for sale with planning permission.
Give us a call today: 0203 409 4215. See also our related article.