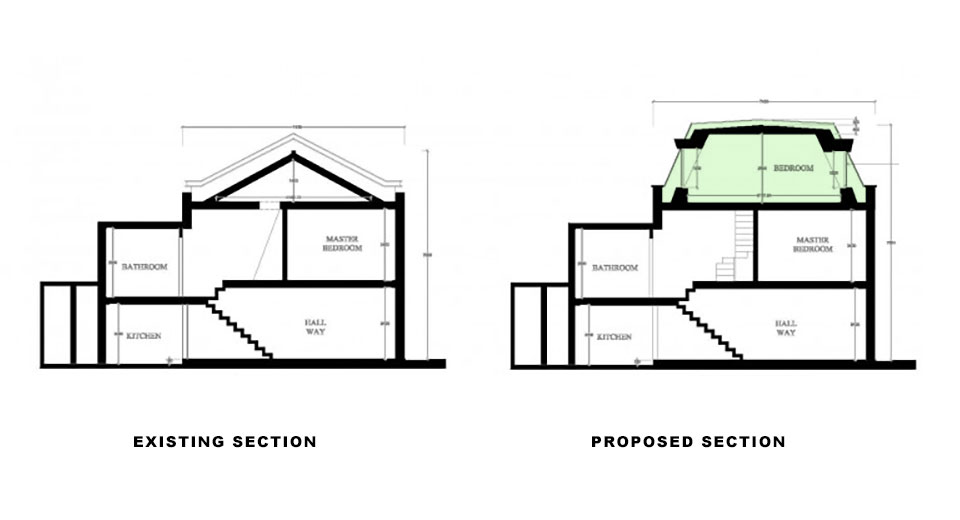 Brief
---
This project was to add a large bedroom via a loft conversion with a mansard roof, as opposed to the conventional dormer. Much of Kensington & Chelsea is comprised of various Conservation Areas. Planning Applications in Conservation Areas are slightly trickier, because they all need a supporting statement called a Design & Access Statement. This was one of the reasons for choosing the mansard style as opposed to a conventional rear dormer. Conservation officers are more particular regarding aerial views and rear views than for non-conservation proposals.
Design
Fortunately this design was passed, as some boroughs such as Newham only allow mansards if they are set back so as to be invisible from the street. That restriction would have rendered this conversion almost futile, as the additional room would be a lot smaller.
The street scene was only affected by the addition of two skylights, the heightening of the ridge and the gradient of the pitch. Previously the house on the right had a higher roofline, but our new roof was set slightly higher than the right hand neighbour and quite a bit higher than the left hand neighbour. However, the rooflines of the street scene continue to be interesting and pleasing, which proves that planning departments will pass what is deemed to be aesthetic and uncontentious.
The section plans give the best view of the changes to this home. A mansard roof is basically what looks like the top has been cut off and the sides have been made a lot steeper. This is popular because it gives a lot more headroom than the traditional loft room, and probably a similar amount of headroom to a full dormer, whilst retaining a more pleasing external design.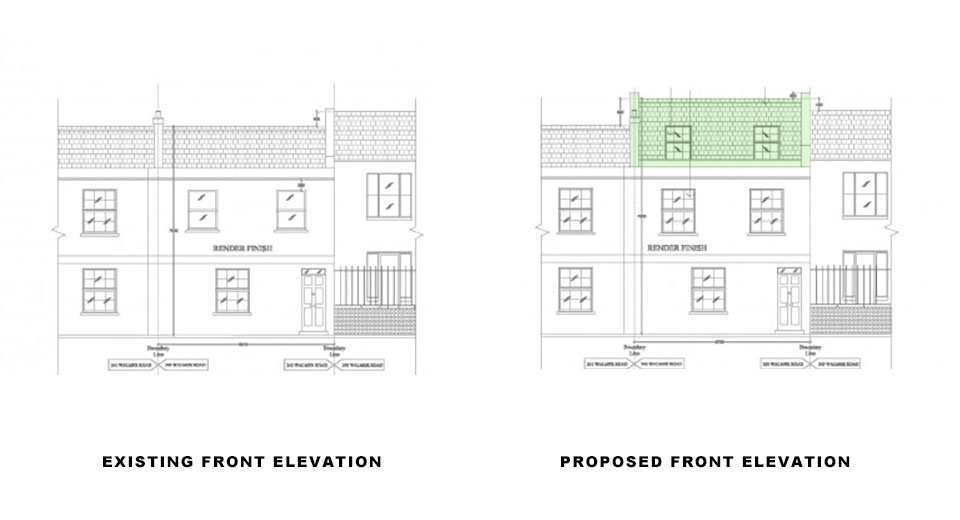 How we can help
If you would like to do a loft conversion, we can help with planning and design. We can also help with general questions about planning permission for extensions, or how far you can extend under Permitted Development. We can help you understand why you will need to satisfy the Building Control department of your local council even for a small side or single storey rear extension.
If you want a two storey side extension we can help you make a successful application in most cases. We offer and 3D Immersive Design package which is an effective tool in convincing planning officers of the aesthetics of your build. Pre-planning Applications: We also suggest the pre-app. route in the event of any contention with a proposal. See the Pre-app. section on the Planning Portal. See the Pre-app section on the Planning Portal for more details. This used to be called 'outline planning permission'.
We can guide you regarding your estimated build costs and whether or not you would need planning permission for a conservatory and if so, what kind of permission will suffice. We will tell you how to get planning permission, explain permitted development rules and let you know if your permission is still valid. We let you know about the council's planning application fees, to which we don't add VAT. We offer to submit your application and liaise with officers on your behalf, for no extra charge. You can call us on 0203 409 4215.
Related Projects
---