Borough: Wandsworth
Date of obtaining planning: 2016
Date of commencement of construction: May 2017
Budget: Approximately £150,000
Existing m2: 70m2
Proposed m2: 100m2
Project Type:Loft conversion
Planning procedure: pre-planning, flood risk assessment, construction method statement, topological survey, arboricultural survey, main planning application, planning committee, non material minor amendment application and approval with minor planning conditions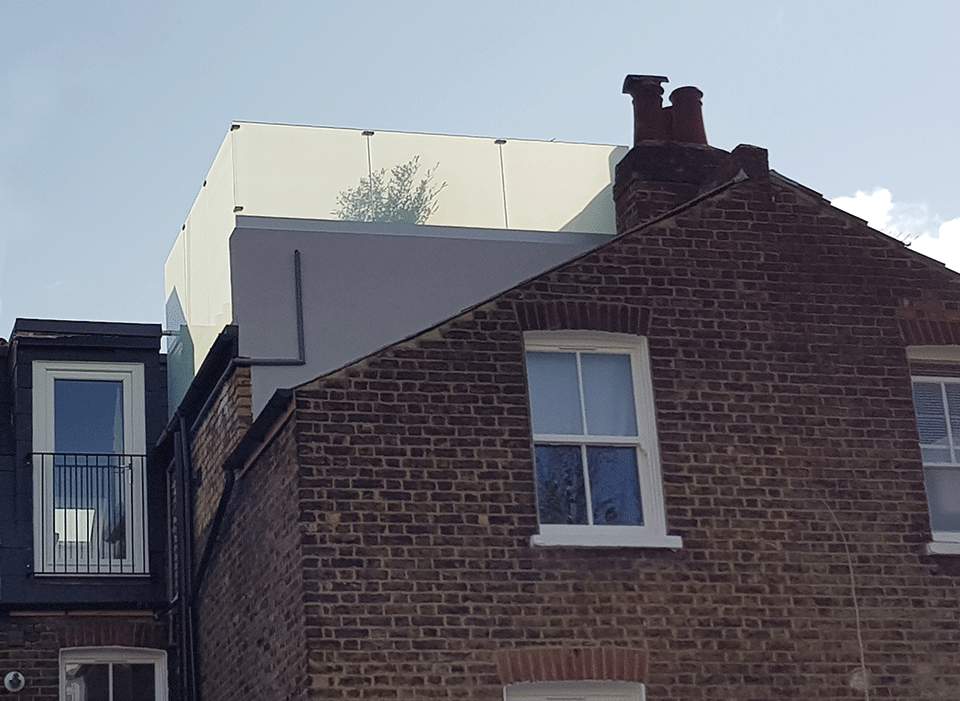 Brief
This small-scale developer wanted planning consent to extend his rental flat in Wandsworth via a loft conversion, skylights, Juliette balcony and a rear roof terrace. Because he booked Extension Architecture for stages all the way to construction and beyond, we were able to create beautiful new spaces to upgrade his property to a smart professional let.
We designed all the interiors and installed 3 shower-rooms and the up-to-the minute kitchen which features corner carousels, LED uplighters and simple, handle-free drawers with soft gliders. Where space was limited we used a sliding door, showing how small flats can still be luxurious with expert planning and design. We placed the dishwasher beside the sink (as it should ideally always be), and made sure the power points were a safe 1 metre from the taps. Although space was precious in the small flat, we used an American fridge as they really are becoming the new standard rather than luxury appliance and no longer just for larger families.
The bedrooms have power points in the wardrobes for TV installation opposite the fitted headboards. The wardrobes were built in by a joiner, which – although quite expensive – adds a lot of value to the property. Down lighters were placed near the wardrobe for better illumination of the wardrobe interiors.
On one of the fitted wardrobes we added a contrasting border to match the handles. This had the appearance of hardwood, but was actually a veneer, which is more cost-effective. Also, where space was tight, we used accordion hinge doors to fold in half. We also installed a sturdy desk feature in the storage area by the shelving. We added neat storage cupboards in the eaves and used power points which featured USB ports also.
The light switches were designed together to be controlled as one way, so that they could be turned on at the door. This meant that the lamps and downlighters could be turned off remotely upon exit like a hotel room. We experimented with lighting in the hallway and angled the spots to throw light circles on the wood floor.
The roof terrace had metal & opaque glass balustrade screens to prevent overlooking. Fortunately there was precedent for the terrace – which is a popular concept – though seldom achievable, due to intrusion issues. On the tiled floor we added lighting detail.
The living spaces have modern features such as a fireplace which needs neither gas plumbing nor a chimney flue, state of the art radiators and a moveable wall bracket for the TV. For the wood edging, we used eggshell finish paint, which is slightly shinier than satin. It is better not to use matt as it is too easily scratched.
In the open kitchen / living area, we added several light switch schemes so that residents could choose from various ambient settings to suit their mood. If you would like a London architectural practice to help you with planning consent or a planning appeal for your single storey extension, loft conversion or roof terrace, contact us today.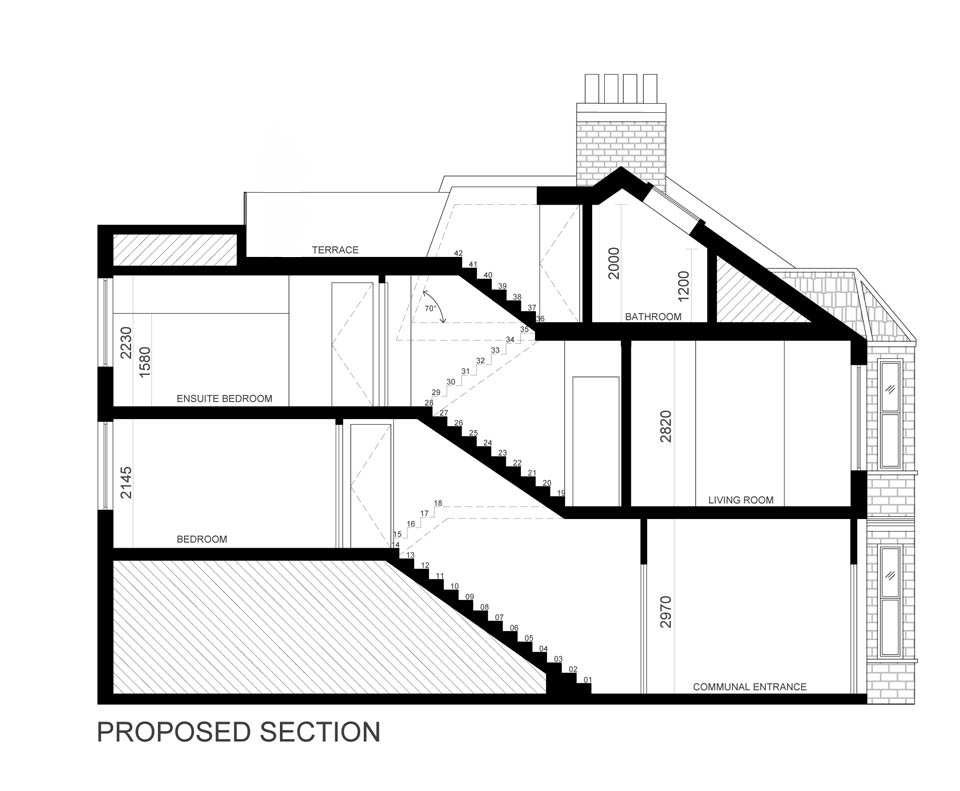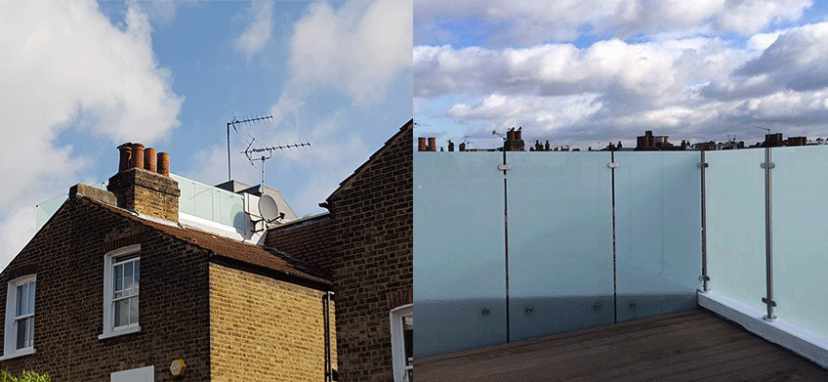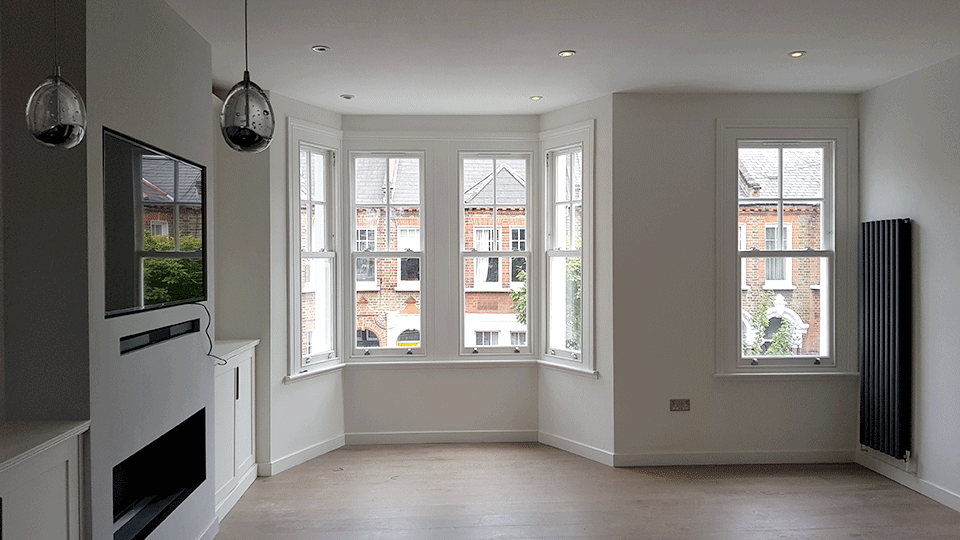 How we can help you
---
We can also help with general questions about planning permission for extensions, or how far you can extend under Permitted Development. We can help you understand why you will need to satisfy the Building Control department of your local council even for a small side or single storey
rear extension.
If you want a two storey side extension we can help you make a successful application in most cases. We offer and 3D Immersive Design package which is an effective tool in convincing planning officers of the aesthetics of your build. Pre-planning Applications: We also suggest the pre-app. route in the event of any contention with a proposal. See the Pre-app. section on the Planning Portal See the Pre-app section on the Planning Portal for more details. This used to be called 'outline planning permission'.
We can guide you re estimated build costs and whether or not you would need planning permission for a conservatory and if so, what kind of permission
will suffice. We will tell you how to get planning permission, explain permitted development rules and let you know if your permission is still valid. We let you know about the council's planning application fees, to which we don't add VAT. We offer to submit your application and liase with officers on your behalf for no
extra charge.
Related Projects