The humble staircase, such an everyday thing that you probably don't think about them very often. As architects, stairs are something we think about a lot! We specialise in double storey extensions and loft conversions, so stairs are an important aspect on most of the projects we work on. How else would our clients access the upper floors of their lovely new extensions!
Used in just about every building type, a stairway can be discreet and unobtrusive or used to make a statement, making them a stylish design feature. Classic or modern, in this article we look at some of the most common types of stairways, building materials and planning. Let's take the first step….
Traditional type stairs
The most popular and frequently used staircase styles are straight stairs. The 'straight' refers to the tread, rather than the direction of the staircase. Straight stairs can change direction by either 90 or 180 degrees. A quarter landing staircase will change the direction by 90°, while a half landing staircase will spin you around by 190°. Straight stairs with landings are considered the safest stair style, as the landing provides a rest place. 
If your home is short for space, as many London homes are, why not consider incorporating storage into the design of your straight stairs? The additional cupboards and shelving are really handy if space is at a premium. Another popular option is to have a workspace in the recess underneath the stairs. A great option if you work from home or need a space where the kids can do their homework!
 
Stairs in home extensions 
When planning a double storey extension, the staircase is an important part of the design and the stairs you choose need to reflect your lifestyle and interiors. If you favour a modern look, with the staircase really making a statement then 'floating' or suspended stairs will look great. Although expensive, they will give your extension a bold look. Similarly, spiral stairs work very well in double storey extensions.
However, these types of staircase need to be chosen with care, neither styles are great if you have small children, or if you have had a glass (or two) before bed! Consider how often you will use the stairs, a high traffic staircase needs to be safe, so a straight stair style could be the better option.
If you are planning a loft conversion, again, you will need to consider how to access your new space. A common solution for loft conversions are alternate stairs. These are a great way to save space as the tread takes up half the room a normal straight stair case would. Again, this type of stair isn't a good idea with young children so carefully consider the options before choosing your staircase.
Stylish looks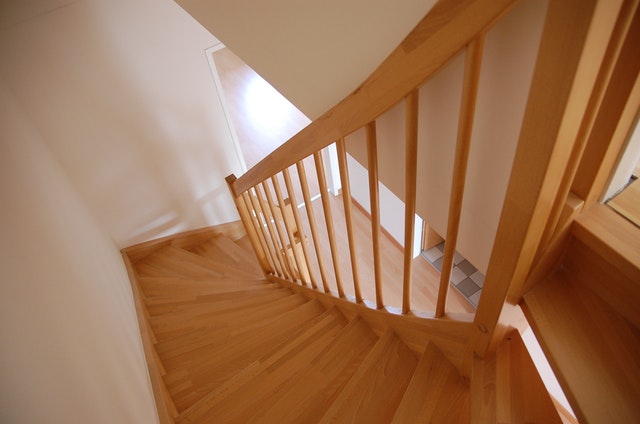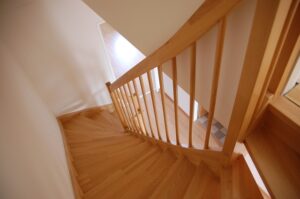 Another thing to consider when choosing a staircase is the building material and style. Classic stained and varnished wood is considered neutral and will fit in with most interiors. White painted wood will give a traditional style a modern twist.
If you want something a more contemporary, consider the different types of banisters available, frosted glass screens will make a strong statement and look striking. There are lots of different glass styles and metals that can be incorporated into your design. Other popular materials for balusters and balustrades include wood and stainless steel.
Again, just consider what will suit your lifestyle – glass and metal might not be the best materials around children, or on staircases that are used a lot.
Regulations
An area you won't have considered, even if you have thought about your new staircase are the regulations around design. Yes they do exist! Even in private properties. This is an area we take care of when you select us to look after the design of your home extension or loft conversion.
The most important staircase regulation to take into account is the step 'rise' and 'going' measurements. On a domestic staircase the measurements are a space of 220mm for both. In a nutshell – it's the amount of space you have to place your foot on the step, and the height of the step.
Other regulations include those around the number of steps, the 'nosing' length (the tread hangover), maximum gaps in open riser staircases, headroom and maximum stair widths. But, don't worry about any of those things, it's all taken care of by us!
Your staircase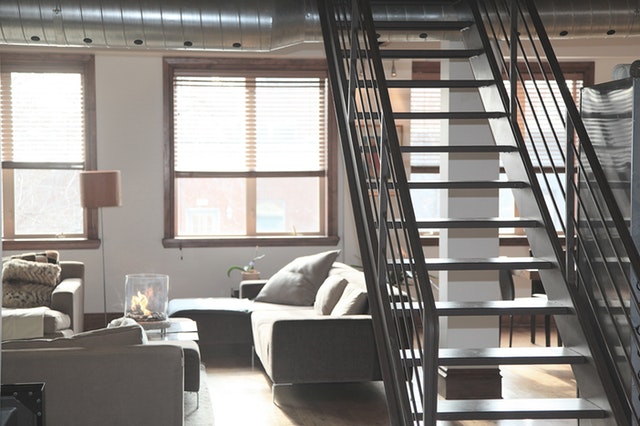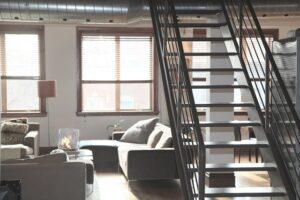 If you are thinking about staircase choices for your double storey extension or loft conversion, or if you are still at the beginning of the process and need help with an extension then please get in touch. We can also assist with interior remodelling, in which case staircases need replacing or moving.
Get in Touch
Email us at [email protected] or phone 0203 409 4215. On our website, you'll also find a Request A Free Quote form, which you can send to us and one of our friendly and experienced team will get back to you right away.