The benefits of a pitched roof for your extension

It's durable
A pitched roof's design naturally deals with the elements better, it tends to make use of more durable materials and it will last longer than a flat roof without the need for extensive maintenance. A pitched roof offers better insulation than a flat roof, too, so it'll help keep your energy bills down.
It blends in more naturally with the rest of the building
Planning departments tend to look favourably on pitched roofs for loft extensions London, as they tend to fit in more sympathetically with the style of older housing stock.
It gives you more scope for design creativity
Pitched roof extensions mean you can create a better sense of space and light with higher ceilings, vaulted ceilings, or sloping ceilings. You can also make use of interesting architectural features such as beams, or install skylights to create a truly bright space with the help of architects in London.
Problems associated with choosing a pitched roof extension
It costs more
Put simply, a pitched roof extension will cost you more to build than an equivalent one with a flat roof. This is because the materials are more expensive and there is more structural engineering involved, so you'll simply have to pay that bit more
It takes longer
The other challenge pitched roof extensions face is the extra time it takes to build them in the first place – so you'll have to pay more in labour, and cope with the disruption caused by your building works for longer.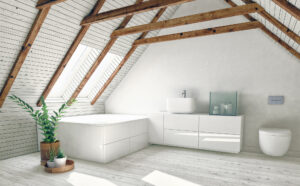 The costs of your pitched roof extension
To a certain extent, how much your pitched roof extension will cost depends on your budget and the type and size of extension that you're planning to build.
The smallest, simplest builds could cost around the £30,000 mark, but larger or more highly specified projects could go to £80,000 or even more.
The main factor in cost is size, but the complexity of a job will increase your costs too: can you do it under permitted development rules or do you need full planning permission? How easy is access to the site? These are the sorts of issues that will push your costs up.
Another important factor to consider is the need to budget for unknown contingencies – so make sure you have around 10-15 per cent of your overall budget set aside for unexpected extras.
Whatever your dreams for your pitched roof extension plans, at Extension Architecture we can help you with every step of the process, from planning to completion.