Double Storey Rear Extension in Islington, London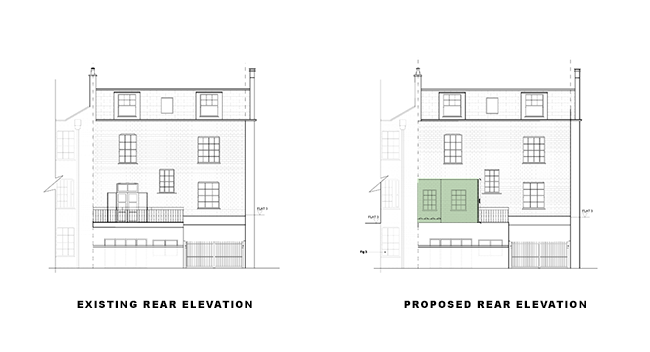 Additional storey above an existing extension,
creating a double storey rear extension in Islington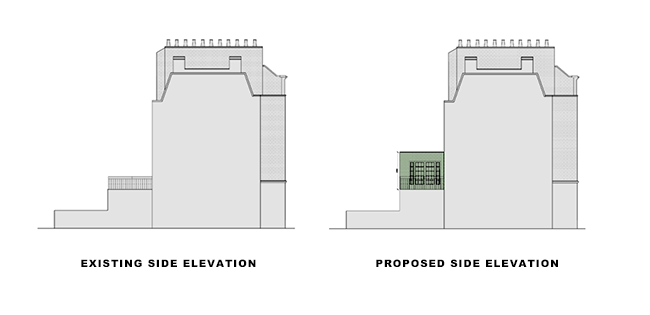 Brief
---
Double Storey Rear Extension in Islington: this project was for an additional Storey at the rear on an existing terrace, extending the living space, with internal configurations within a four-storey property. Much of Islington is made up of conservation areas, so there needed to be a Design and Access Statement submitted in support of the application, as in every application in conservation areas. Barnsbury is the largest of the ten conservation areas in Islington, and has been declared to be 'of outstanding importance' by Islington Planning Department's Conservation Officers. .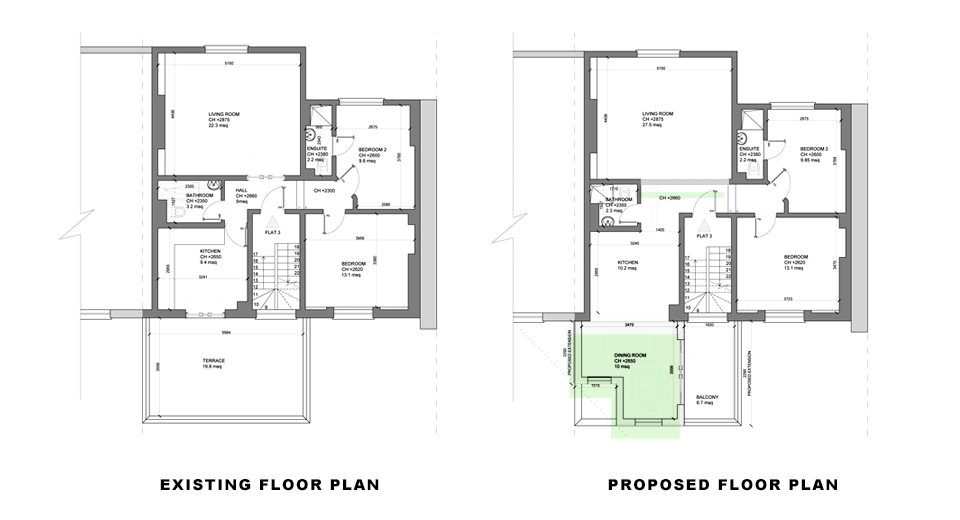 The statement we commissioned was to illustrate that the addition to the property would be respectful to the host dwelling and sympathetic to the neighbouring properties and surrounding area. Therefore the styling had to match with the existing property by using red bricks and traditional white sash windows. A flat roof (with a skylight) was proposed to allow more natural light to come into the property.
In addition to the Design and Access Statement, we advised him to take the pre-planning application route which is beneficial because we always go to the meeting with two design options, the first being more ambitious and the second being less contentious. Also we can follow the pre-app. advice which gives the main application a very good chance of approval. (This is preferable to going all the way to full planning, then facing a refusal.)
This was a good project for us because we were able to get over some planning hurdles: the extent the client wished to project his build onto the roof terrace went beyond the 45o angle, therefore obstructing his neigbhour's natural daylight via overshadowing. Therefore we created a slight L-shape by taking a bite out of the corner.
This project was also enjoyable since it was an opportunity for our team to use their design skills to create a pleasing extension within the planning constraints of Islington's conservation policies. Since these drawings were done, the client has requested 2 modifications: one is to create a small terrace on the 'bite', and the second is to have a small balcony area at the other side of his extension. See the revised drawings below.
Double Storey Rear Extension in Islington, London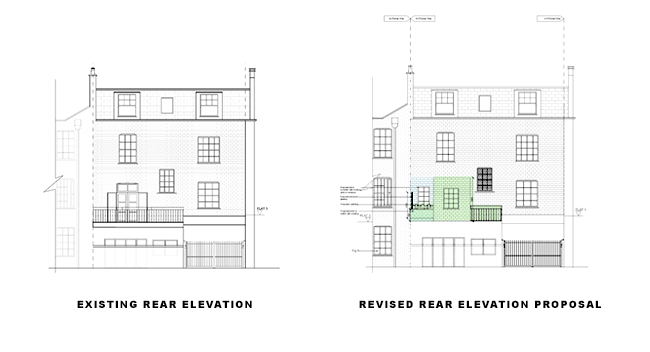 We also did Building Regulations Drawings and Construction Drawings for him. Our services cover every aspect of your build proposal, so do call us for a free consultation. Whether you would like a double storey rear extension in Islington or Isleworth, we can help forecast the cost of extension work, submit your planning application and support you at the pre-build and construction stages. If you are wondering about a side extension or loft conversion cost, we are a phone call away. We have a lot of experience with kitchen extensions, so no job is too small.
Have a look at our 3D Immersive Design render service which really helps get contentious proposals approved by the planning officers. This is partly because 3D is easier to visualise, and they look at 2D drawings most of the day. Our proposal was approved by Islington Council. Our planning service always offers a second option for free with your planning drawings; although with our 3D Immersive Design package, we create unlimited revisions until clients are very pleased with the proposal.
Even our basic 3D service is an effective tool for convincing planning officers that your build will not be contentious but will blend with and enhance its surroundings. Please peruse some other case studies. See also the page on our projects in Islington borough .
Planning Success
Our team has planning consultants as well as architectural designers, who can help you to make a strong application. As mentioned, our 3D Immersive Design package is an effective tool in convincing planning officers of the aesthetics of your build. We would also suggest the Pre-planning Application route, in the event of any contention with a proposal. (This used to be called 'outline planning permission'. See the Pre-app section on the Planning Portal for more details.)
With us you can understand why you will need to satisfy the Building Control department of your local council, even for a small single storey rear or side extension. The council's planning application fees will be set out clearly for you, to which we don't add VAT. We offer to submit your application and liaise with officers on your behalf for no extra charge. You can call us on: 0203 409 4215.
Other Projects
---