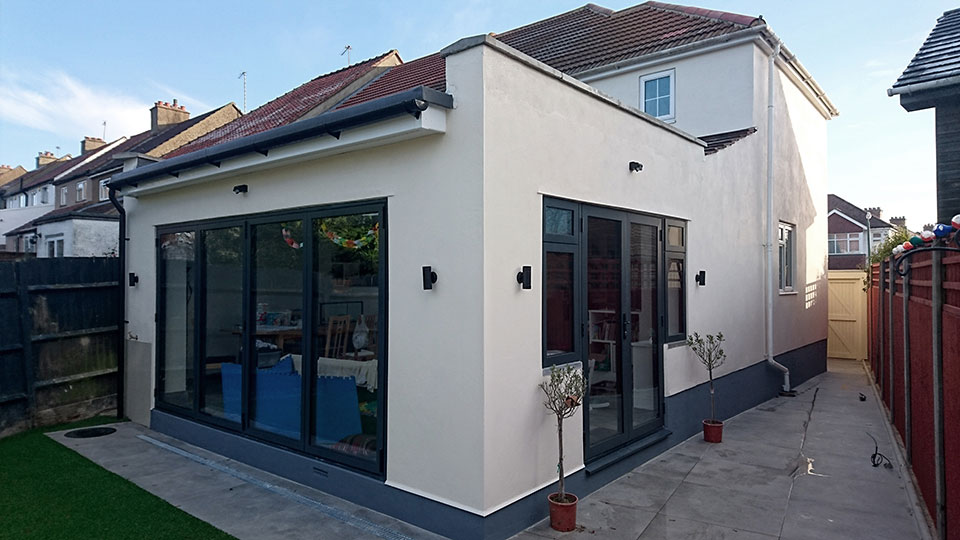 Brief
This family wished to create a new play space for their two very young children via a single storey rear extension of 4.5m to his four-bedroom house. These children were lucky because their new playroom was flooded with light with our design which had bi-fold doors to the rear, French doors on one side and three skylights in the roof. As well as letting in more light, this added another entrance, also enabling play. The family landscaped the area surrounding the accesses with artificial turf to further enhance the children's safety and play value. The children were so young that the second was not even born when the client approached us. Whilst one may think a playroom is for toddlers and slightly older children, it is actually ideal for a new baby to have a well-designed space with plenty of natural light to rest and play in for part of their day. (It is also sometimes thought that babies don't do much until they can move around, but this is also incorrect. All day they are learning through visual information. That is why some of their wall charts and mobiles use bright colours or high contrast, which is thought to be more stimulating. Natural light dancing across the play space created an environment which was emotionally peaceful for a young baby in the most informative stage of his / her development.)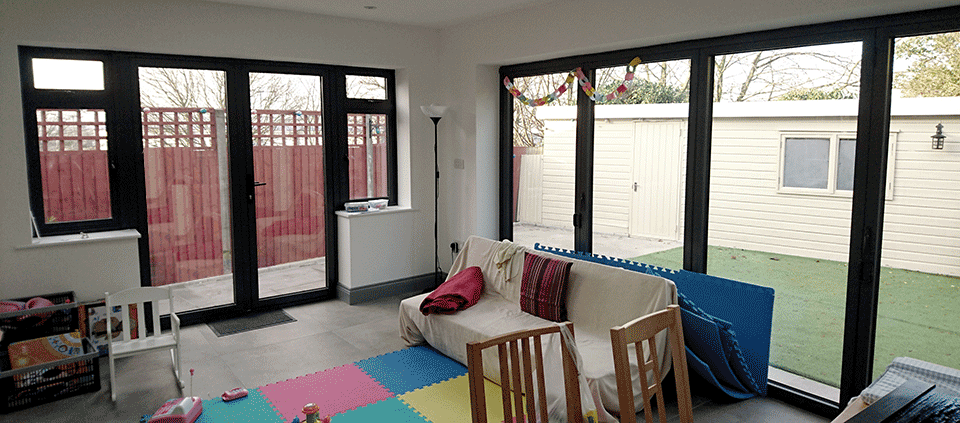 They wanted to keep intrusion to the main house at a minimum during the build, hence there were no internal reconfigurations to the rear living spaces. We simply created an opening around the previous rear double door to begin the build. In addition, we retained the pitch angle of the existing roof and used a flat roof on the extension instead of a pitched roof or alterations to the roof of the host building.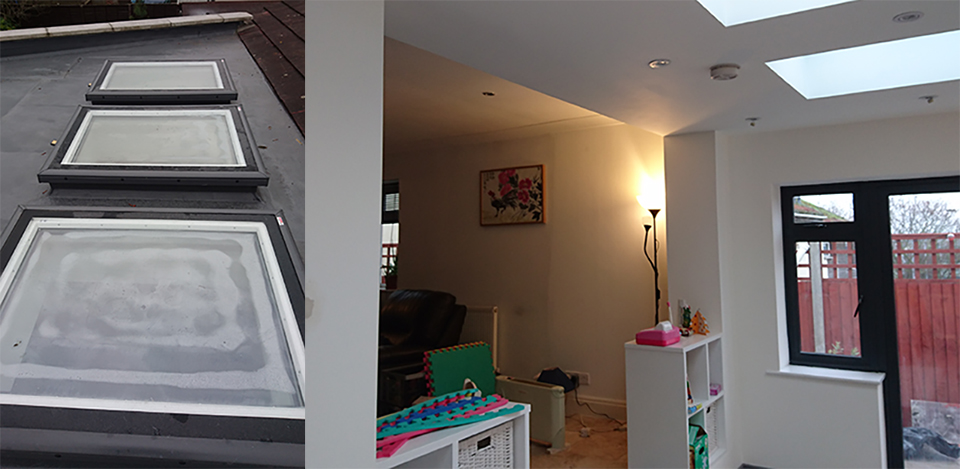 Roof lights and architrave to main building.
After this Single storey rear extension project in Sutton, we also did the Building Regulations drawings and commissioned a structural engineer to satisfy Building Control of the safety of their build. Next we did construction drawings to guide the builder regarding the best way to plan for the electrical wiring etc. The client also chose to do the tender pack stage with us, giving them control over choosing from like-for-like builders' quotes. The builders we recommend all use JCT contracts, which further protect the client. Lastly we did Contract Administration for them, to manage the build and any snagging or disputes. We normally charge a low percentage of the build cost for this, but sometimes we do this for a fixed fee, as in this case.
Bespoke Architectural Design
We can create a great architectural design which will be a pleasure for your family in terms of functionality and added living space. If you would like to know about extension costs or need some help with kitchen extension ideas, do contact us and tell us what styles you prefer so we can plan your design. Our 3D Immersive Design package is effective for convincing planning officers of the aesthetics of your build. These visuals are photo-realistic and are useful to see your build before it happens. They are also handy for friends and relatives who want to view your proposal as well as for convincing neighbours and planning officers. For some examples, please see the link above.
How we can help you
We can also help with questions about planning consent for loft conversions, or what you can achieve under Permitted Development.or whether you would need planning full permission.We can help you get planning permission, or let you know if your permission is still valid. We don't add VAT to the council's planning application fees, when we submit your application and liase with officers on your behalf. There is no extra charge for this. Alternatively we sometimes suggest the pre-app. route in the event of any contention. See the Pre-app section on the Planning Portal for more details. We can help you understand why you will need to satisfy the Building Control department of your local council even for a small build.
Added Value
If you are wondering what home improvements adds most value to a house, we can talk about that too. We can guide you re estimated build costs for
a loft conversion, rear extension or to add a driveway. We can indicate the design & build costs as well as the resale value added. Please get in touch for a
free quote.
Related Projects
---