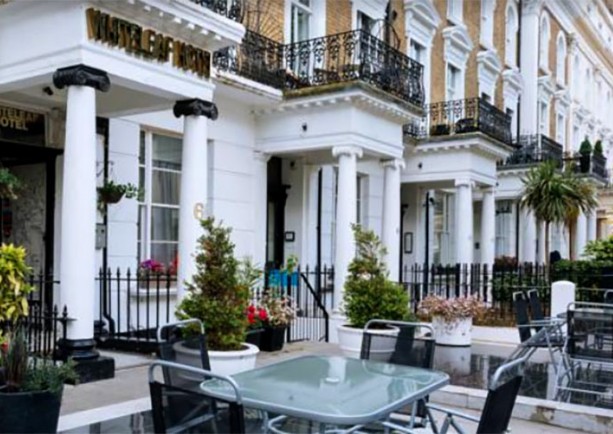 Date of obtaining planning for New Developments North London project: January 2016
Borough: Westminster
Project Type:Addition of one floor above hotel premises use class C1.
Date of commencement of construction: (complete)
Budget: Approximately £0.85 million
Existing area: 360m2
Proposed area: 450m2
Planning procedure: Pre-planning, Construction Method Statement, Main Planning.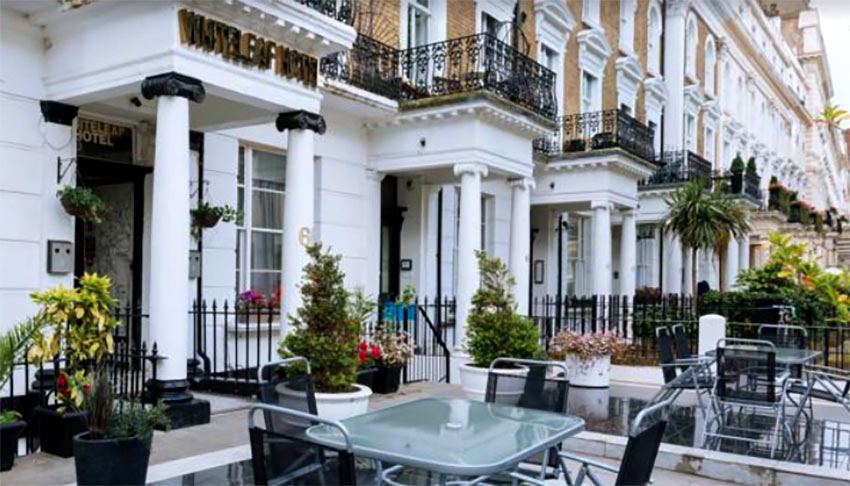 Fresh hotel façade – plus additional storey – by new build architectural practice; Extension Architecture.
New Build Architect Brief
---
The Bayswater London postcode is a prime location for hotels in central London, and a bastion of London tourist accommodation. The White Leaf is one of the hotels in W2, near Bayswater tube station. The owners asked us to prepare 3D renders in order to visualise what the new façade of a hotel would look like with the addition of a further storey. London architects' practice: Extension Architecture were also instructed to prepare options to refurbish the hotel interior (including FF&E (furniture, fixtures and equipment) and soft furnishings in the bedrooms, a new restaurant interior and bar interior.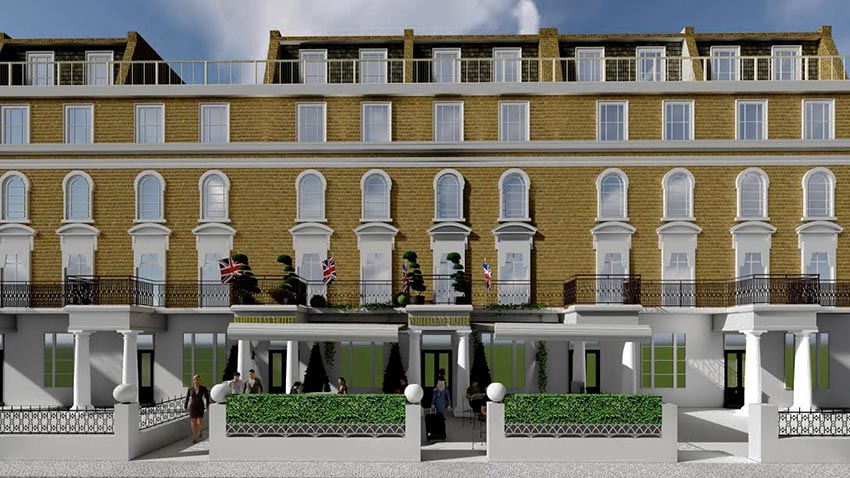 Various façade design options as 3D renders.
Additional London architects' experience
As well as being a new build architects' practice, we have refurbished a lot of hotels in London and abroad. (We like to design hotels from scratch where possible too.) Property refurbishment proposals are never too small for us. We do take residential and commercial fit out, refurbishment and renovation projects, as well as the hotel interior design commissions in our portfolio. Some of our interior fit out work (and refurbishment projects) has been for hotels near Heathrow as well as Central London.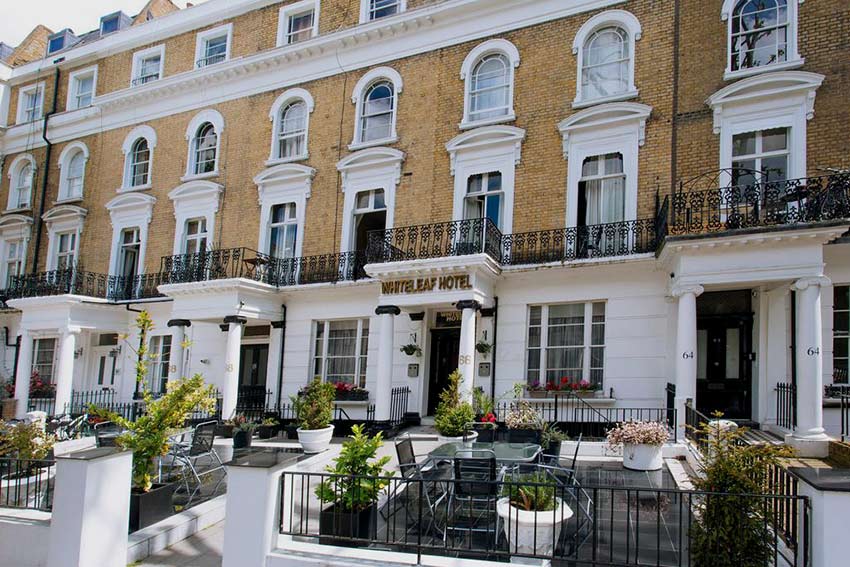 Bring Your Design To Life
Extenstion Architecture's design team use the most advanced visualisation and 3D modelling techniques to visualise concepts provide accurate modelling of flows, tolerances, sight lines and functionality of architects' designs. Technological advances now allow for virtual and interactive 3D visualisations of proposals to be created, lessening the use of traditional planning proposal methods. View our 3D rendering case studies for some examples.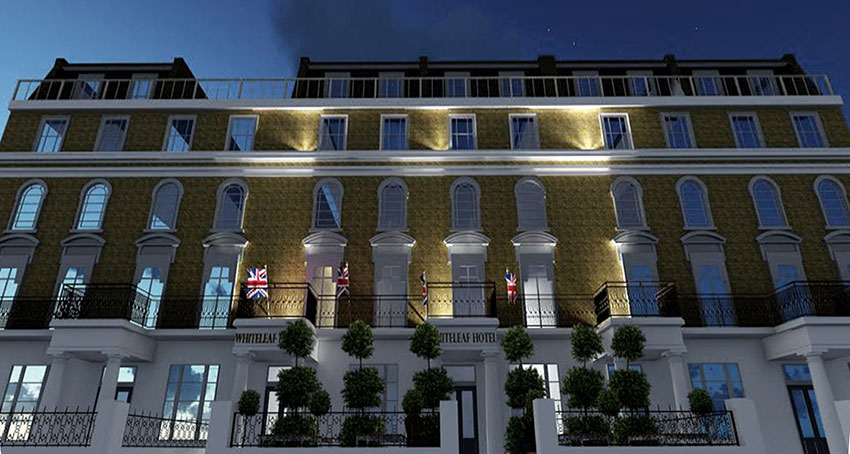 The Benefits of 3D
Some of the benefits of Using 3D Visualisation are that rather than doing a 3D physical model it is more cost effective and less time consuming to prepare a 3D visual for better understanding.
The finishes for the 3D visualisations can be tailored to the needs of each client: from basic to high quality renders, dependent on the necessity of the details. These are highly convincing to planning officers of the parameters and look of your proposal. They like looking at 3D renders as a welcome break, after looking at 2D drawings all day long.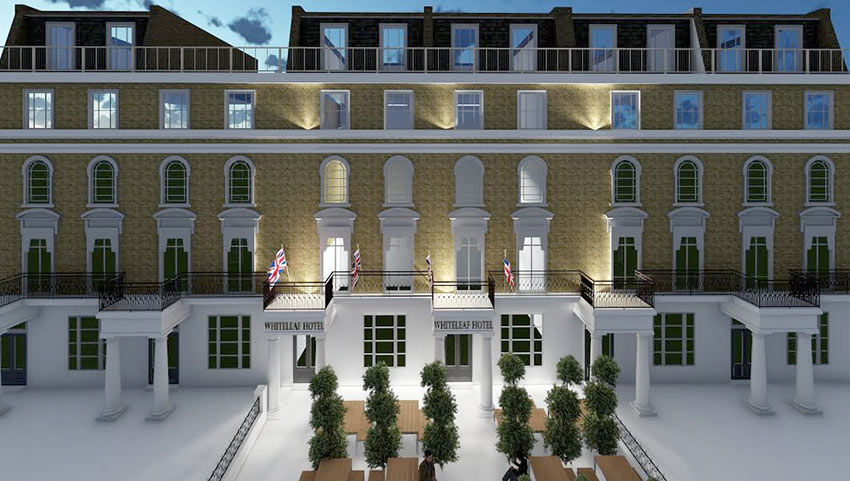 Finishing Stages for new build architects' projects
We have both fit out contractors and refurbishment contractors who we can refer to help you manage your project. For the Construction Phase, we have the Tendering Process which we support with our Tender Packs service. We also have Contract Administration manage the build for you. For larger projects such as this, we do Project Management which includes 9 visits at critical stages in the construction phase. (Residential builds have Contract Admin which is less intensive in terms of visits.) If our Interior Design service is instructed, we would guide the installation of the fit-out as per the scheme that had been agreed.
Contact Us
---
Get in touch for a free consultation about your ideas, whether it is refurbishment, a commercial development or home improvement. If you would like to simply chat through some options, we can indicate which of our design services would help you the most. You can call us on 0203 409 4215, or send your details via the button below. Our planning department will call you back and email you our brochure.
Related Projects