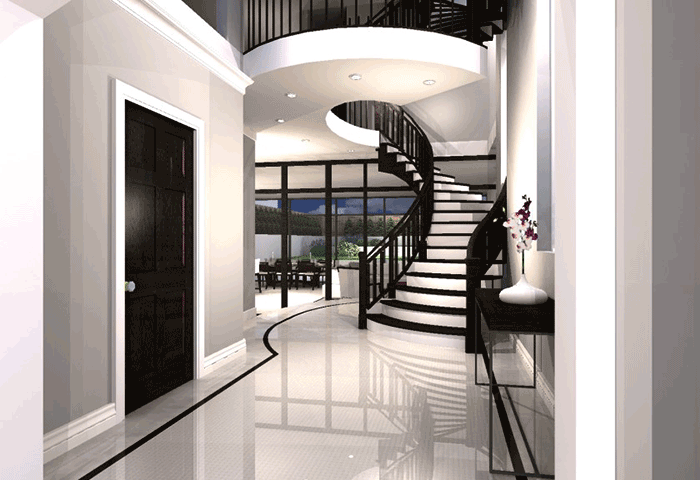 Brief
---
We were asked to create some 3D visuals for this beautiful property in Wimbledon. As you will see from the drawings, the main design feature to be added was this beautiful oval spiral stairwell.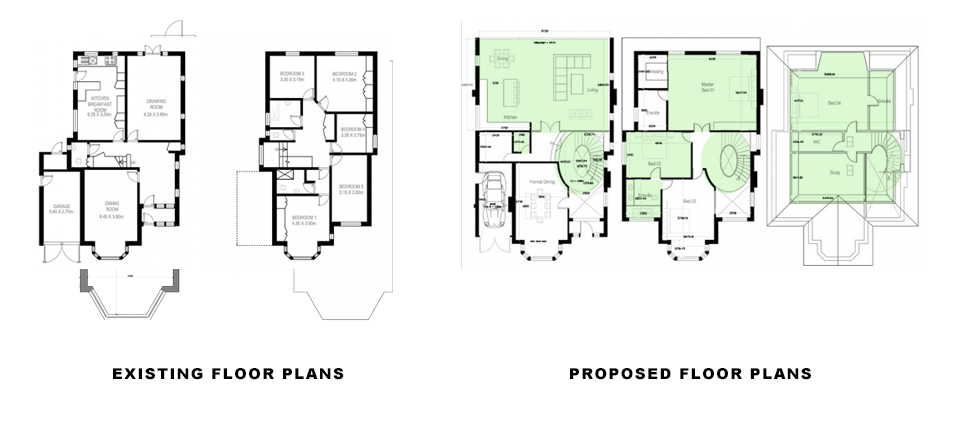 Design
The colour scheme used greys and cream hues to create a very calming effect. We created an external render to show the new driveway and landscaping at the front. It is a good idea to incorporate a night-time lighting scheme to really show your building off. In this case we did not change the actual facade at the front line of the house, but were able to show some lighting for the exterior of the house with this render. We think the result shows that the driveway and facade really deserved this lighting design.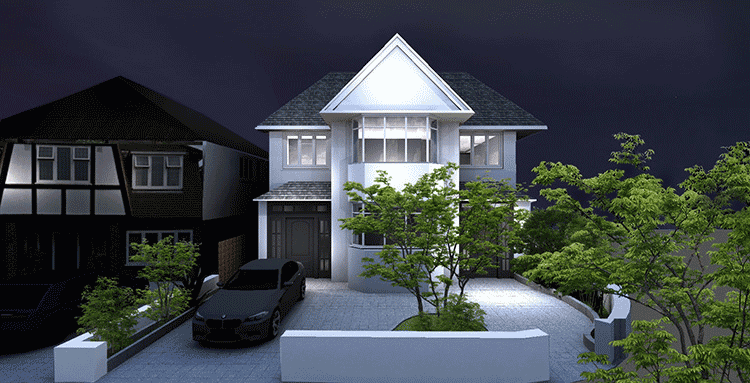 3D Visuals
This render of one of the reception rooms on the ground floor shows the oval spiral stairs in the background. At this point, the client can ask for alterations to their proposal, since the render also performs the function of a sketch, as well as a visual.
Have a look at some of our other projects in Merton.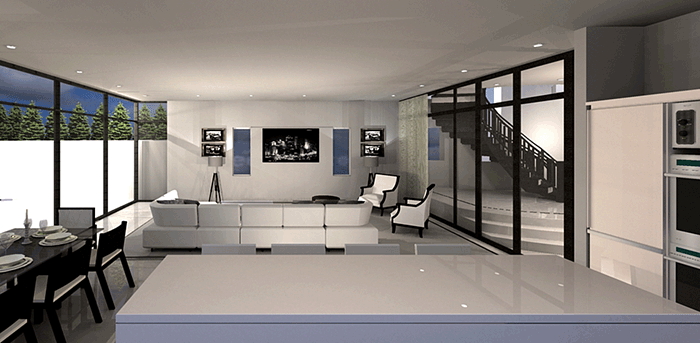 We can help
---
Whether you live in Wimbledon or Wanstead, we work within the M25 and the home counties. We can also answer questions about getting your planning consent for an extension, and discuss what you can achieve under Permitted Development. 
If you need planning full permission, we can help you get it or we can let you know if your permission is still valid. We don't add VAT to the council's planning application fees when we submit your application, and we liaise with the planning department on your behalf. There is no extra charge for this.
We sometimes suggest the pre-app. Route, in the event of a slightly contentious proposal. See the Pre-app section on the Planning Portal for more details. We can also help you understand why you will need to satisfy Building Control even for small projects.
Value Added
We can guide you re estimated build costs whether you want an ambitious new development or a loft conversion. We can also design a great rear extension or garden room to increase your property value, and create 3D visuals to get your planning permission. As well as the design & build costs, we can indicate the resale value likely to be added via your development
Bespoke Design for your Ambitious Development
If you are wondering what adds most value to a property, we can give you a great design which will be good for residents in terms of practical functionality, aesthetics and increased value. If you would like to have a discussion about development costs or if you just want to bounce off ideas for home improvements, please contact us so we can help you plan your proposal.
Architecture companies in London
If you are thinking of hiring a local architect or consulting the London architects list for a residential architect, have a look at some of our case studies. Extension Architecture are expert at home extensions & house design, with vast experience as London architects. Based in Battersea, we have built many projects locally in Wandsworth, Kensington & Chelsea, Kingston, and Richmond, as well as in other boroughs across London such as Westminster, Camden, Islington, Brent, Harrow and Sutton.
Other Projects