Find out our services for Dormer Loft Conversion
What are you interested in?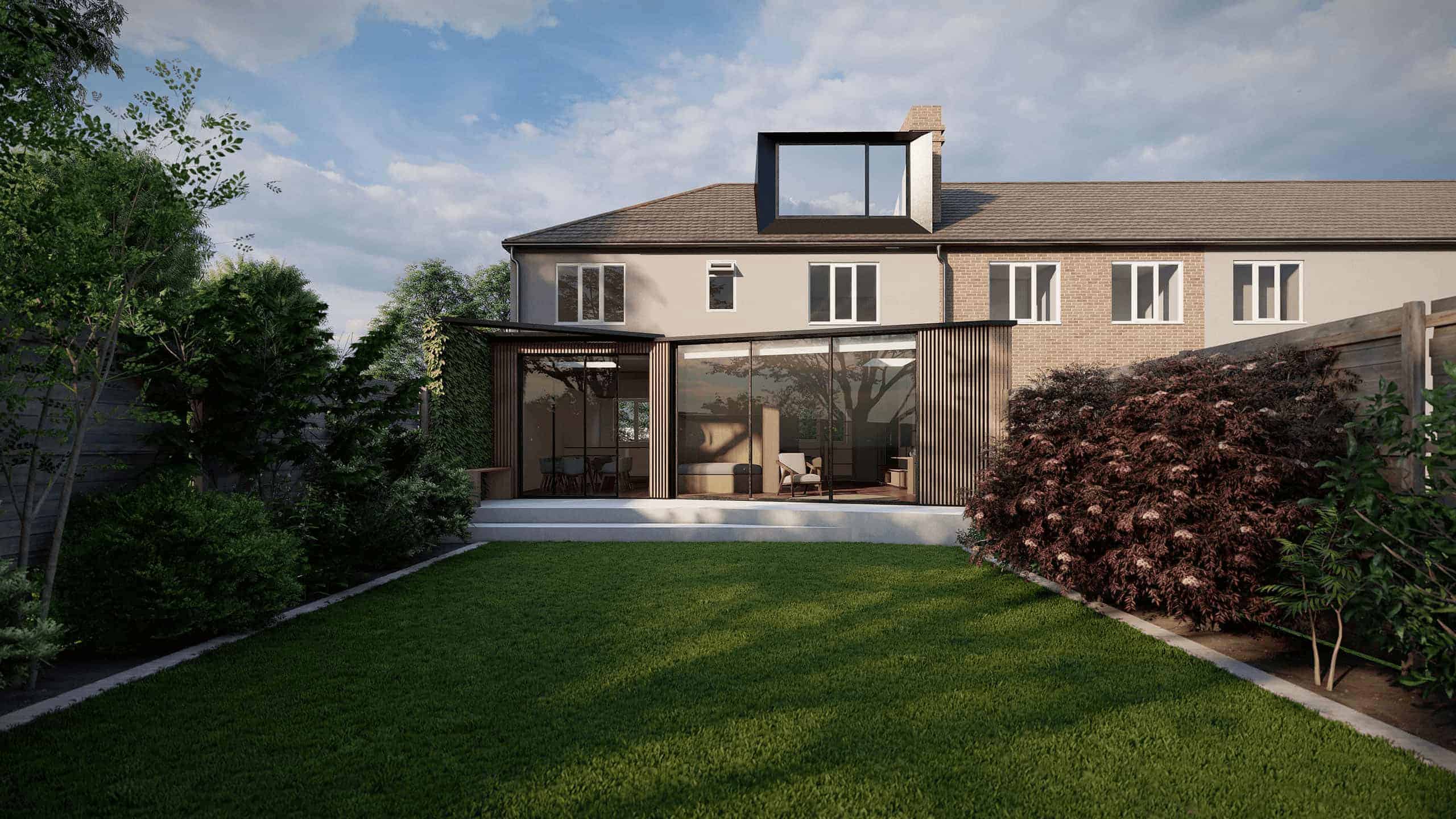 Our Services for Dormer Loft Conversion
When considering a loft extension or conversion, there are multiple types of extension to consider and this may be persuaded by the property type or conservation related constraints. A dormer loft conversion is where you extend the roof through a protrusion, and is one of the most commonly seen loft extensions throughout the UK today.

Inside dormer loft conversions, it is likely that you will find a master bedroom with private en-suite and walk in wardrobe, or in other cases an additional two bedrooms with a shared bathroom. Whichever you opt for, you can be guaranteed to boost your properties value by adding an additional 50-75% of usable space in whichever configuration you need.

If you need advice on your plan for a dormer loft conversion, need help understanding dormer loft conversion cost, or simply want to discuss your intentions with an experienced architect and planning consultant, contact us today to book in a site survey and get the exciting journey started!



Everything you need to know about Dormer Loft Conversions
A dormer loft conversion is a horizontal extension at loft level, creating a box-like structure to the rear, side or occasionally the front of your property. Dormer loft conversions can be applied to almost all property types. With a dormer loft conversion, you not only add a significant amount of floor space, but also maximise the ceiling height as far as the existing ridge height. Typically, the ideal height is between 2.3m to 2.6m, with an absolutely minimum of 2.1m acceptable by both planning authorities and building control.

Does my dormer loft conversion require planning approval?

A dormer loft conversion is catagorised as permitted development as long as it meets the following criteria:

1. Materials must remain similar to the existing property.
2. The volume of enlargement shall not exceed 40 cubic meters in the case of a terrace or semi-detached house, or 50 cubic meters in the case of a detached house (including any previous additions).
3. The dormer loft extension shall not exceed the maximum height of the original roof.
4. No part of the addition should extend beyond the front roof slope – front dormers are not considered permitted development.
5. The eaves of the original house must be retained or reinstated.
6. The roof enlargement should remain 200mm away from the existing eaves (measured diagonally).
7. Must not include balconies, verandas or raised platforms.

Some cases where a dormer loft conversion are not considered permitted development is when these rights are removed, for example if your property is situated within a conservation area, article 4 direction or on other designated/protected land. Another example is if your property is a flat/apartment, as you will then be required to go through the local authority to obtain planning consent.

In either case, it is highly recommended that you consult an experienced dormer loft conversion architect, such as ourselves, to ensure that your project meets the requirements. We also highly recommend you apply for a lawful development certificate if utilising your permitted development rights, as this will ensure that you face no legal issues, planning enforcement, or issues with the future sale of the property. 


Loft Conversion with Dormer Ideas
When designing the perfect dormer loft conversion, there are two main elements to consider:
1. External
The simplest way to obtain planning permission for your dormer loft extension is via the permitted development route. This means that you can either apply for a lawful development certificate from your local planning authority before the works or afterwards. Under permitted development, there are certain guidelines that must be respected when it comes to your dormer loft extension, which is why it is important to consult an experienced architect so that you can ensure – especially if you are considering building before applying – that your extension or conversion ticks all of the boxes.
If you are looking for a modern dormer loft conversion, for example one which uses contemporary materials as opposed to the conventional tile-clad options that match the existing property, then you will need to apply under a householder application. However, most LPAs are hesitant to approve dormer conversions, especially on the side of a property, therefore we always recommend to firstly apply for a LDC to get the massing approved, and then follow it up with a householder extension to modernise the proposal.
2. Internal
Once you have the externals figured out, the internal arrangement is the most flexible and personal consideration to make. This is where you are free to choose the perfect arrangement for you, and depending on the available loft space, achieve your dream space.
One common configuration is to utilise a large loft space and create a stunning master bedroom, en-suite, and maybe even a walk-in-wardrobe, elevating the property value and creating a practical and enjoyable space for you to enjoy. In addition to this, this form of dormer loft extension also frees up a potentially large bedroom on the ground floor, which may become a secondary master, guest room or entertainment room at your discretion.
Another loft conversion idea would be to add two new bedrooms in the loft space, either adding bed-spaces or freeing up space on the first floor for a large, full-height master suite.
Cost of Dormer Loft Conversions
Converting your loft is one of the easiest and most cost-effective ways to boost the square footage of your home. If you're looking for more space and to add value to your property, it pays to find out if there really is cash in the attic!
A dormer loft conversion offers some of the best returns when it comes to investing into a house extension London compared to the cost, and with almost 30% of your home's floor space tied up in your loft, why not go up? This means, you don't have to deal with extortionate stamping costs, or, sacrifice desirable garden space with conventional house extensions. 
 A dormer loft conversion in the UK can cost anywhere from £800-1800 per square meter depending on the specifications and fit-out you are looking for. This is not including any specified sanitary-ware or bespoke windows, therefore it should be anticipated that this estimate will go up according to your design style and tastes.

If you need expert advice on dormer loft conversion cost, get in touch today to speak with one of our advisors to see how we can help you!
EA Dormer Loft Conversion Service Typically Includes:
Extension Architecture is a UK-based architecture and planning company that offers a range of services, including dormer loft conversions. A dormer loft conversion involves extending the roof of your home to create more headroom and usable space in your loft, typically by adding a dormer window or roof extension.

Initial consultation: During the initial consultation, an architect or designer from Extension Architecture will visit your home to discuss your requirements and assess the feasibility of the project.
Design and planning: Once you've agreed to go ahead with the project, the architect or designer will create a detailed design plan, taking into account your preferences, budget, and any planning restrictions or regulations.
Construction: Once the design is finalized and all necessary approvals have been obtained, Extension Architecture's team of builders and contractors will begin the construction phase, working to the highest standards of quality and safety.
Finishing touches: Finally, once the construction phase is complete, Extension Architecture can help you add the finishing touches to your new space, including lighting, flooring, and decorating.
Dormer loft conversions can be a great way to add valuable living space to your home, and Extension Architecture's experienced team can help ensure that your project is completed to a high standard. When considering a dormer loft conversion, it's important to work with a reputable company like Extension Architecture to ensure that the project is completed safely and efficiently, and that you're getting the most value for your investment.
Dormer Loft Conversions with Ensuite & Semi-Detached Dormer Loft Conversions:
Dormer loft conversions with ensuite: If you're looking to create a luxurious and practical new space in your home, a dormer loft conversion with ensuite could be a great option. This type of loft conversion involves creating a new bedroom and bathroom in your loft, complete with all the fixtures and fittings you need for a comfortable and stylish space. Extension Architecture's dormer loft conversion with ensuite service typically includes all the design, planning, and construction work needed to create a beautiful and functional new space in your home.
Semi-detached dormer loft conversions: If you live in a semi-detached house, a dormer loft conversion can be a great way to add more living space to your home while also maintaining the overall look and feel of the property. With a semi-detached dormer loft conversion, the dormer is designed to complement the existing roofline of your home, ensuring that the new space looks natural and seamless. Extension Architecture's experienced team can work with you to design and build a semi-detached dormer loft conversion that meets your needs and enhances the value of your home.
By working with a reputable company like Extension Architecture, you can ensure that your project is completed to the highest standards of quality and safety, and that you're getting the most value for your investment.
Frequently Asked Questions about Extensions
What's the cost of Loft Conversion?
The average cost of a loft conversion typically ranges from around £30 000 to £80 000, but this can differ depending on the specification you are looking for in the final result. All loft conversions are different and cost will depend on a few practicalities such as your style of house, it's location, whether you need full planning permission and of course, your budget. These factors will contribute to the kind of loft conversion you choose that will maximise space and work best for your home.
Rule of Thumb: As there are many variables to the costs of your project, it is good to have a general idea of how the budget will be spread and how the costs for professionals will impact the total cost: Architects London average fees 10% / Administration fees: 1% / Structural angineer: 4% / Surveyors: 3% / Contractors:30% / Materials 20% / Fittings 5% / Glazing: 15% / VAT 20%
Do I need planning permission for a Single Storey Extension?
The good news is, if you live in a terrced or semi-detached house in 2020, Local Planning Authorities have relaxed the rules and allow for extensions to go to 6 meters . If you live in a detahced house, single storey rear extensions can be up to 8 meters in depth. Just be aware that if your property type is a flat, maisonette or in a conservation area, then you will need full planning permission.
Side Extensions: Side extensions fall under permitted developent if they do not extend more than half the width of the original house. You can extend a maximum of 3 meters as long as it is a single storey extension and does not extend pas the front elevation.
Will a single storey extension add property value?
Research carried out by Nationwide shows how home improvements and home extensions can add significant value to your property. Adding a double bedroom to your house and an en-suite can increase value by 23%. Adding square footage with a kitchen extension and more in general a single storey rear extension will boost the value of your property by 13%.
Please see our video for your Extension
I'm highly recommending Extension Architecture for their expertise to turn around a difficult planning application that I had refused from 2 other architects and they managed to get my additional new house at the end. A 3 year journey, but it was well worth it! I cannot appreciate enough their planning knowledge, and also now we are breaking ground. Their tender pack has saved me alot of hassle in choosing material inside the house myself. Especially their kitchen design has been great and cannot wait to see it realised. Thanks for all your input so far…
★★★★★
Delighted with the application approval that we got yesterday. As discussed initially, we were dubious of our chances as our property in Weybridge sits in a flood risk area + conservation area. But our full application for the 4m extension to the rear have been approved without any hassle. Also Elmbridge council was able to give us the approval within 7 weeks, so an added bonus. Thanks Especially to Youno who was very helpful in outlining all the pitfalls and guiding us to this position.
★★★★★
Thank you for your efficient service. Really impressed with the level of service and the speed!
★★★★★
Working with Nadir at Extension Architecture was a truly trouble-free experience. They explained the process and was always at hand whenever I had questions. I trusted their judgement whenever they provided amendments to my initial plan and was thoroughly happy with the end result! 11/10
★★★★★
Beautiful extension, Thank you!
★★★★★
Previous
Next